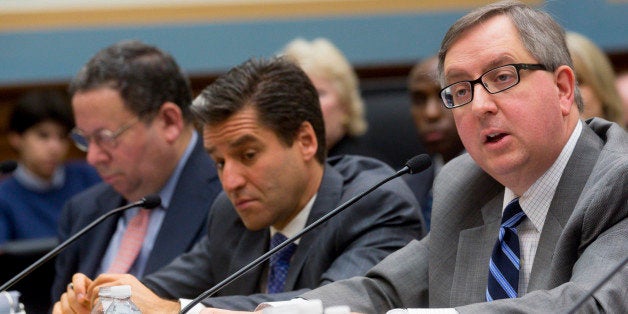 The Public Interest has been tarnished, stained and harmed and it is time for a course correction of oversight, accurate data, investigations and enforcement of the laws. It is time to not only re-evaluate the public policies that govern communications services in America, but fix what's broken -- finally.
New Networks Institute filed a Petition for Investigation & Complaint with the FCC as well as the New York State Public Service Commission (NYPSC) in January, 2015 against Time Warner Cable and Comcast.
To start, we are calling for a halt to the proposed Time Warner Cable-Comcast merger and we have laid out a series of next steps and investigations that need to be done immediately.
Simply put, one has only to examine this mark up of this Brooklyn New York, Time Warner Cable Triple Play bill (October, 2014) to realize something is terribly wrong, which we will lay out in detail. But these issues impact ALL services and from ALL carriers, who have established the same harmful business practices.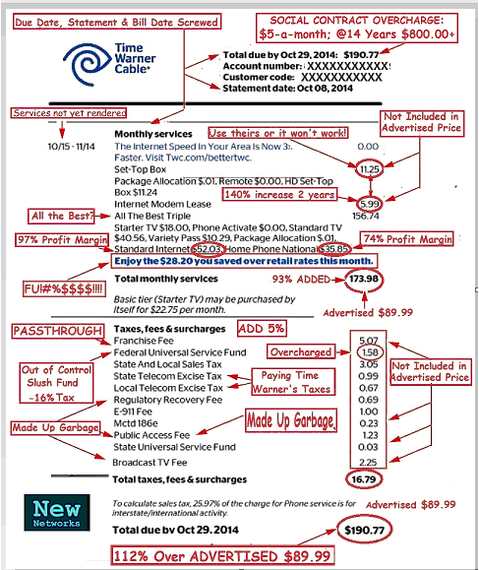 The idea that Comcast and Time Warner Cable, who were two of "the most hated companies in America" in 2014, have proposed a merger that would give one company monopoly control over cable services in the United States (or a duopoly where the other companies have the same problematic business practices) shows just how far we have fallen as a nation to protect the public interest. Besides controlling the cable wires and the broadband, Internet and cable service over those wires, Comcast also owns a large swath of the content on these networks, from NBC to Telemundo, and even movie studios, including Universal Pictures, and cable networks, including Bravo and the Syfy channel.
We will focus on five mostly unexplored areas and supply facts, data and analysis as to why this proposed merger needs to be halted, but more importantly five areas we believe need immediate investigation.
Time Warner's "Triple Play" bill exposed questionable business practices and charges including 'made up fees', billing errors, as well as deceptive and possible Truth-in-Billing and Truth-in-Advertising violations. These problems are not restricted to Time Warner but are industry-wide.
Time Warner & Comcast's "Social Contract" with the FCC. In 1995 an actual agreement called the "Social Contract" was put in place to have the cable companies upgrade their networks and provide broadband and Internet services to schools in their territories. The FCC allowed 'temporary' rate increases of up to5.00 a month; 'temporary', as the Contract expired at the end of 2000. Time Warner (at least) never stopped charging customers the extra fee nor is there evidence that the Company wired the schools as required. Moreover, Time Warner and Comcast's profit margins for "high-speed Internet" were 97% in 2013; the "Social Contract" additions became pure profits, but cost every cable subscriber hundreds of dollars.
A recently filed consumer protection action was filed with the Albany New York Supreme Court against Time Warner and it reveals multiple issues, including customer service problems, selling broadband/Internet services that were not delivered, among other harms to customers. These problems are not restricted to Time Warner but are industry-wide.
22 Years of Continuous Rate Increases Means There has been No 'Effective Competition'. Using actual bills, we found that Time Warner's Brooklyn New York's prices for 'regular' cable service increased 306% from 1992-to-November, 2014, from22.95 a month to93.16 a month. The "Triple Play" bill shows that this was from made up fees, deregulation of the set-top box (with no alternative), pass-through taxes, and simply because there are no other options; at best, some markets have a 'duopoly' which is ineffective for controlling prices or problems with service.
Multiple Cross-Ties with Verizon's Wireline and Verizon Wireless, and with Time Warner and Comcast Need Immediate Attention. The FCC and DOJ allowed Verizon Wireless to create a marketing deal with both cable companies to bundle the wireless service with the cable service in areas Verizon has refused to upgrade to FiOS. But what was unexamined is the fact that Verizon Wireless has a sweetheart deal with Verizon wired companies, such as Verizon New York, for use of the networks - as Title II. This means that the wired, wireless, and cable companies are colluding to control almost ALL communications services.
In short, we are not simply asking that the FCC reject the proposed Time Warner-Comcast merger but to start immediate investigations of the cable companies' business practices. It is time to actually fix the problems everyone in America knows about and is experiencing. These investigations must be done in conjunction with the state commissions, the Attorney General's offices, and the Federal Trade Commission (FTC), as the communications bill is no longer one service or covered under one jurisdiction. With the sales of the triple play and other marketing packages, these issues impact all communications services -- wireline, wireless or cable company supplied cable TV, broadband, Internet, phone, and wireless services.
The FCC and State Commissions Must Focus on the Public Interest.
The FCC has obligations to make sure that the Public Interest is being served. Moreover, the FCC's actions are supposed to be informed by competition principles.
"Congress has directed the Commission to review transactions involving licenses and authorizations under the Communications Act and to determine whether the proposed transaction would serve 'the public interest, convenience, and necessity'."
"The commission shall approve the application unless it finds that the applicant, the proposed transferee or the cable television system does not conform to the standards established in the regulations promulgated by the commission pursuant to section two hundred fifteen of this article or that approval would be in violation of law, any regulation or standard promulgated by the commission or the public interest."
The FCC Must Examine Competition.
"I believe, as the Commission has consistently recognized, that the FCC's actions should be informed by competition principles. These principles look to the impact of practices on consumers and the public interest, not just on competitors. They are designed to be fact-based and data-driven. They reflect a common-law belief that the experiences of the present are, to paraphrase Justice Holmes, as important as the logic of the past. They should be applied in a rigorous manner

"But, the 'public interest' standard is not limited to purely economic outcomes. It necessarily encompasses the 'broad aims of the Communications Act,'3 which include, among other things, a deeply rooted preference for preserving and enhancing competition in relevant markets, accelerating private-sector deployment of advanced services, ensuring a diversity of information sources and services to the public,4 and generally managing spectrum in the public interest. Our public interest analysis may also entail assessing whether the transaction will affect the quality of communications services or will result in the provision of new or additional services to consumers."
Does the merger increase competition? No. Is there competition today? No.

Customers Are Not Happy about Their Communications Providers.
Do people know something is wrong? Emphatically yes.
The American Customer Satisfaction Index survey outlined that the cable companies are 'the most hated companies in America. The Wire (The Atlantic.com) put it this way:
"The American Customer Satisfaction Index, put out quarterly by the University of Michigan's Ross School of Business, is 'considered the most comprehensive customer satisfaction survey in the United States' ... Time Warner was at the bottom of the barrel with a score of 56/100. This is actually the lowest score of all time."
"High prices, poor reliability, and declining customer service are to blame for low customer satisfaction with pay TV services."
All of this also matches the recent FCC Commissioner Clyburn's Reddit fiasco where the Commissioner did an "Ask me anything" (AMA) session. Adweek's headline says it all:
"An FCC Commissioner's Reddit AMA Went About as Terribly as You'd Expect. Mignon Clyburn gets buried under a downvote avalanche"
As we will discuss, the regulators have encouraged and exacerbated these problems over the last decade through a lack of oversight, enforcement, basic data collection and to be blunt -- ignoring fundamental issues.
The question really is -- what steps are the FCC and state commissions going to take to fix these problems -- now that it has been brought to their attention?
On the mergers--Why would any regulator give companies major new benefits, including more market power, when there is collusion with the only major competitor, Verizon, where the previous agreements to wire the schools were ignored while the companies continue to collect money after the contract expired, or that the communications bills are now Christmas trees for the companies with different buckets of revenues hidden on unreadable bills?
It is time for investigations. Period. It is time to fix what's broken as everyone reading this knows something is wrong; they may not be able to articulate all of the problems but, one thing is certain-- this merger proposal should be killed and the FCC needs to finally do the right thing and take the companies to task, not kowtow to their wishes.
Ironically, the New York State Public Service Commission's motto on their web site has been:
"Ensuring safe, reliable service at just and reasonable rates since 1907."
But this sentiment is now in jeopardy. Time Warner's rates are no longer just and reasonable and services are no longer being 'reliably' delivered.
I note-- Imagine my surprise to see that from the time we filed on January 23rd, 2015, this motto, which had been there for decades, was replaced. The new tagline is "State of Opportunity". Does this reflect a new vision - opportunity for the companies, I wonder?
Popular in the Community