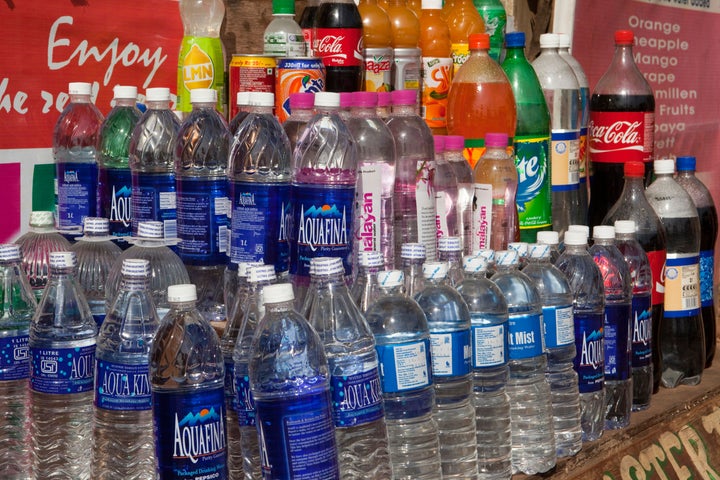 "Ludicrous." "Bogus." "Illogical."
Scientists and public health advocates expressed frustration on Friday as the U.S. Food and Drug Administration announced it will continue to allow the chemical bisphenol-A in food and beverage containers.
The decision denied a request from the Natural Resources Defense Council to ban some uses of BPA -- such as in plastic food packaging and coated metal cans -- that may introduce the hormone-scrambling substance into Americans' diet.

"We believe FDA made the wrong call," Sarah Janssen, senior scientist in the public health program at the NRDC, said in a statement. "The agency has failed to protect our health and safety -- in the face of scientific studies that continue to raise disturbing questions about the long-term effects of BPA exposures."

As The Huffington Post reported on Thursday, a court gave the FDA until Saturday to answer the 2008 petition filed by the environmental group, which referenced health effects linked to BPA. That list includes conditions that include asthma and diabetes, with fetuses, babies and young children at greatest risk. Some scientists think that hormonal changes during pregnancy, triggered by exposures to endocrine disruptors such as BPA, may also increase the risk of behavioral disorders including autism and attention deficit hyperactivity disorder.
But the regulator was unconvinced. "The FDA has carefully reviewed your citizen petition and has determined that it failed to provide sufficient data and information to persuade the FDA to initiate rulemaking," the agency's letter of response said. "The FDA is denying your citizen petition in its entirety."
The chemical industry applauded the announcement. "FDA's decision today, which has taken into consideration the best available science, again confirms that BPA is safe for use in food-contact materials, as it has been approved and used safely for four decades," Steven G. Hentges of the American Chemistry Council, a lobbying group for the plastics industry, said in a statement.
Frederick Vom Saal, an expert on BPA at the University of Missouri-Columbia, said he was not surprised, given the FDA's record on the issue.
"You've got an agency that is being told by hundreds of scientists with hundreds and hundreds of scientific publications that this is dangerous," Vom Saal told The Huffington Post. "But they essentially ignore all independent academic science."
As Vom Saal noted, the FDA has defined "safe" in its regulatory documentation as "a reasonable certainty in the minds of competent scientists that the substance is not harmful under its intended conditions of use."
"Apparently none of these scientists publishing all these papers are considered competent," Vom Saal said, referring to his own place on that list. (Vom Saal's papers on BPA have been published in top scientific journals including Nature and the Proceedings of the National Academy of Sciences.)
The studies referenced by the FDA in support of its decision included research funded by industry and by the FDA. The agency's research has been widely criticized. "This is bogus," Vom Saal said. "It's absolutely ludicrous."
Laura Vandenberg, a postdoctoral fellow in biology at Tufts University, called the FDA studies "illogical." In one of the studies that found no BPA in human blood after exposure to canned foods, researchers never actually measured the amount of BPA in the participants' diet, she noted. Further, the detection limit for that study was four times higher than in previous studies. As a result, it may have missed levels of BPA that could pose health hazards.
Vandenberg published a study earlier this month that showed minute amounts of endocrine disruptors such as BPA may mix up hormonal signals. "Chemicals that act like hormones are going to be potent and effective at extremely low doses," Vandenberg told HuffPost, "because hormones are potent and effective at extremely low doses."
"They picked these studies as the gold standard, suggesting people have nothing to worry about, instead of using the 20-plus studies from all over the world that have looked at humans and have all reported measurable levels of BPA in human blood," said Vandenberg. "They have rejected the majority of the data that is available in favor of two highly flawed studies."
Douglas Karas, an FDA spokesman, emphasized in a statement that the agency's decision is not a "final safety determination on BPA, but rather a "decision on the NRDC petition."
"The next decision the FDA should make is to remove 'responsible for protecting the public health' from its mission statement," Jane Houlihan, senior vice president for research of the Environmental Working Group, said in a statement. "It's false advertising. Allowing a chemical as toxic as BPA, and linked to so many serious health problems, to remain in food means the agency has veered dangerously off course."
Related
Popular in the Community