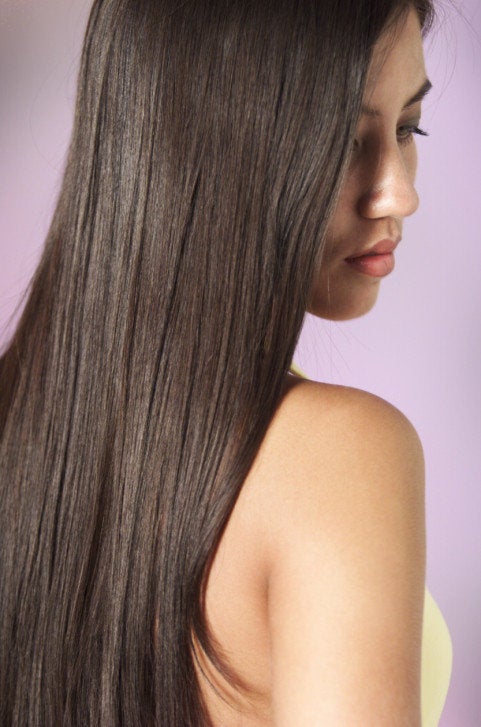 Following in the footsteps of Australia, Germany, France, Ireland and Canada, the United States Food & Drug administration has officially acknowledged that the Brazilian Blowout, a haircare product, is dangerous. But while the aforementioned countries have banned the pricey mane-straightening treatment from its shores, the FDA is giving the Brazilian Blowout until mid-September to shape up -- or risk being pulled from store shelves.
At the root of the problem is the dangerously high level of liquid formaldehyde in the product, known to cause nervous system disorders, chest pain, vomiting and rashes (to name a few). The FDA confirmed that some Brazilian Blowout samples contained up to 10.7% of the offending chemical. Time notes that the Cosmetics Ingredient Review Expert Panel considers 0.2% to be a safe level.
The FDA also determined that Brazilian Blowouts are "mislabeled" because the bottles incorrectly state "No Formaldehyde" or 'Formaldehyde Free." A report by the Environmental Working Group determined that 68% of top U.S. salons use "formaldehyde-based hair solutions," according to California Watch.
In an August 22 letter addressed to the Mike Brady, the CEO of Brazilian Blowout, FDA acting director Michael W. Roosevelt outlines the chief complaints against the hair smoother and says,
"You are responsible for investigating and determining the causes of the violations identified above and for preventing their recurrence or the occurrence of other violations. It is your responsibility as a manufacturer to ensure that the products your firm markets are safe and otherwise in compliance with all applicable legal and regulatory requirements."
In response, Brady told Today that the whole thing is just a "misunderstanding" and that "we are delighted to be working with the FDA in demonstrating that the Brazilian Blowout complies with both state and federal guidelines."
The effects of a Brazilian Blowout straightening treatment can last up to 12 weeks, according to its site, which means that some women would only need to visit the salon four times a year (a little pain in exchange for beauty isn't unheard of). But for a salon worker, the effects of repeated exposure to the burning chemicals could be devastating.
According to the Wall Street Journal, Jennifer Goeres-Arce, a stylist in Escondido, California, says "I went to the doctor and was put on an inhaler" two months after she started treating her clients with the straightener. Her testimony was entered as evidence in California Attorney General Kamala D. Harris's request for an injunction against Brazilian Blowout, notes WSJ. The case was filed in Alameda County Superior Court on April 6, 2011, reports the Los Angeles Times.
Depending on whether Brazilian Blowout can get its act together before September ends (which is not looking likely, judging by their CEO's utter denial of a problem), you either have a few days left to get your final stateside Brazilian blowout -- or you can sit back and let the carcinogenic product (and unrealistic expectation for stick-straight hair) fade out. Celebrate those curls!
Related
Popular in the Community