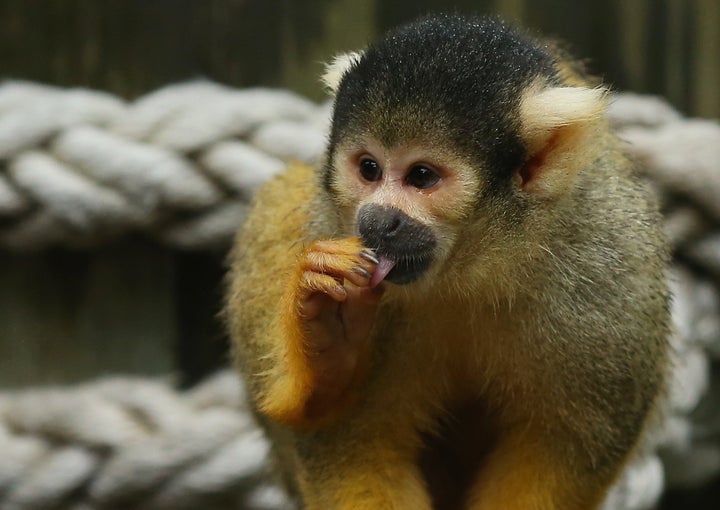 The U.S. Food and Drug Administration has shut down an experiment on nicotine addiction that used squirrel monkeys as test subjects.
Twenty six monkeys — 20 involved in the study and six that were not — will be moved from Arkansas' National Center for Toxicological Research to a sanctuary, The Washington Post reports. The agency hasn't announced where the sanctuary is located, though it told the Post the process of moving the monkeys could take a long time.
The study, which began in 2014, involved the monkeys self-administering nicotine doses by pulling a lever until they were addicted. Then, scientists lowered the doses and observed the effects.
By the summer of 2017, four of the test monkeys had died, according to The New York Times. Three died while being given anesthesia while catheters were put in them, and the fourth died from gastric bloat.
The group's campaign against the research gained more steam in September, when famed primatologist Jane Goodall wrote an open letter to FDA Commissioner Scott Gottlieb, calling the testing "shameful." Goodall cited practices such as restraining the monkeys and subjecting them to the side effects of the nicotine ― including vomiting and diarrhea ― as "unnecessary and cruel."
That same month, Gottlieb put a hold on the study and ordered a review into the well-being of the animals.
In a statement released Friday announcing the end of the study, Gottlieb said that while the animals were "safe and being well cared for," the review had raised some concerns, including a "generalized lack of adequate oversight" and "repeated reported deficiencies" on the part of a third-party animal welfare contractor.
"It is clear the study was not consistent with the agency's high animal welfare standards," Gottlieb said, adding that the agency "will place the monkeys involved in a new permanent sanctuary home, which will provide them with appropriate long-term care."
His statement included a series of other steps he said the FDA will implement to improve its animal program. Those steps include establishing an Animal Welfare Council to oversee all animal research conducted by the agency.
Clarification: This article has been updated to reflect that the White Coat Waste Project is a group that opposes taxpayer-funded animal experiments.
Related
Popular in the Community