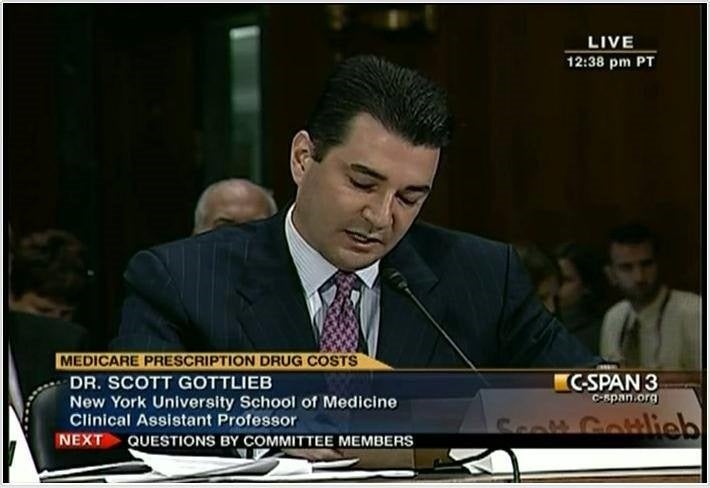 This week, all the attention's on Judge Neil Gorsuch, President Donald Trump's nominee to become an associate justice of the U.S. Supreme Court.
But there's another position in play: Tomorrow (April 5), the Senate Committee on Health, Education, Labor and Pensions will hold a confirmation hearing for Scott Gottlieb, who's in line to head the Food and Drug Administration.
It would be a return trip to the agency for Gottlieb, who was a deputy commissioner under President George W. Bush. Gottlieb, whose stance is relatively deregulatory, wrote in 2012 that "a few key structural reforms" could improve the FDA's "counterproductive" culture. He also wrote about the agency's "cumbersome [drug] approval process," which dovetails with Trump's description of the FDA as "slow and burdensome" — though many note that the U.S. drug approval process is already the speediest in the world.
But Gottlieb has held posts that could please people on both sides of the aisle. He's worked at FDA in two other capacities, besides being deputy commissioner, and he's been a clinical assistant professor at New York University's School of Medicine since 2011.
More controversial is Gottlieb's history of working with pharmaceutical companies. According to his personal financial disclosure, Gottlieb has been on the boards of directors of eight pharmaceutical companies and one laboratory company, and is still on the board of four of them. He's also a member of the product investment board at GlaxoSmithKline, the world's sixth-largest public pharmaceutical company.
Gottlieb's non-board positions in health-related companies have also been numerous, from serving as acting CEO and director of Cell BioTherapy, Inc., an animal medicine company, to being a venture partner at New Enterprise Associates, a venture capital firm that invests in technology and health care companies.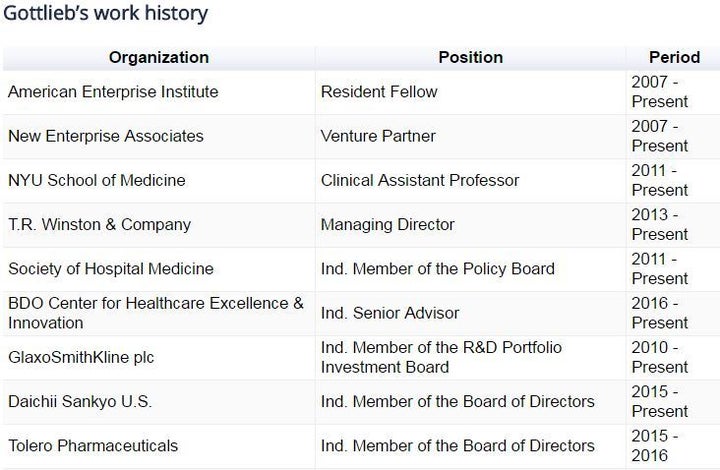 Critics believe that appointing Gottlieb, a fellow at the conservative American Enterprise Institute since 2007, would invite conflicts of interest and other ethics troubles.
"The major problem is that he has deeply-rooted ties to big pharma that span more than a decade," said Michael Carome, director of Public Citizen's Health Research Group. "His ties include receiving hundreds of thousands of dollars in payments to be a consultant and a speaker; he's a venture partner at a venture capitalist company that funds multiple large and small companies that do work on biopharmaceuticals and medical devices; and he is someone who in addition to being entangled with multiple industry ties, he's advocated for a dangerous deregulatory approach to the review of medications."
The pharmaceutical industry has rewarded Gottlieb well. Over the past 12 months, GlaxoSmithKline paid him more than $87,000, and Daichii Sankyo U.S. sent over $52,000 his way. Tolero Pharmaceuticals paid him $35,000, and he exercised and sold another $193,111 in Tolero stock options.
For more information, including sources of income exceeding $5,000 per year (lots of speaking gigs there) and employment agreements and arrangements that Gottlieb had in the past 12 months, check out his personal finance disclosure statement.
For his part, Gottlieb, in his ethics agreement, says that for a period of one year, he'll recuse himself from FDA decisions involving the companies where he currently holds positions. That year-long firewall would begin as soon as he resigns from the firms. A similar recusal would apply to his consulting clients, but the one-year period would be retroactive to the last date he did work for them. For companies in which he has financial interest, like Collective Health and Golden State Medical, the recusal would last until he divests his stock — but would apply only to issues that, to Gottlieb's knowledge, have "direct and predictable effect[s] on the financial interests" of the organizations.
Carome's not convinced that those recusals will suffice. "The letter basically affirmed what we already knew: That he's entangled in a wide web of financial conflicts of interests. No amount of recusal will disentangle himself from all those conflicts of interests," he said. "He's going to be involved in decisions that will impact the bottom line of these companies for years."
Alternatively, Paul S. Ryan, vice president of policy and litigation at Common Cause, acknowledged that Gottlieb's plan of recusal and divestment fits the bill of what's expected of federal employees. "It sounds like he's doing the right thing, the required thing, when he divests from the pharmaceutical companies," he said.
But Ryan also raised Gottlieb's potential to return to work in the pharmaceutical industry after having overseen it. Trump's executive order on ethics restricts how soon a govenment official can take a job lobbying for an organization; Gottlieb's case is different, Ryan said. "[W]e're talking about going to work at a company and getting a big paycheck after having done things to benefit that company during your time as a federal employee." That situation's not unique to Gottlieb, of course.
James Shehan, head of the FDA regulatory practice at Lowenstein Sandler, is more heartened by than worried about Gottlieb's background. Regarding what some perceive as potential conflicts of interest, Shehan said, "To me, it's indicative that he's familiar with a lot of the issues that are relevant to FDA because he's been continuously involved with them for many years. And I kind of expect him to be a good FDA commissioner."
"To me, the question is never does someone have a potential conflict of interest — it's how do you deal with it," he added.
Here are the organizations listed in Gottlieb's ethics letter, with the recusal terms for each of them.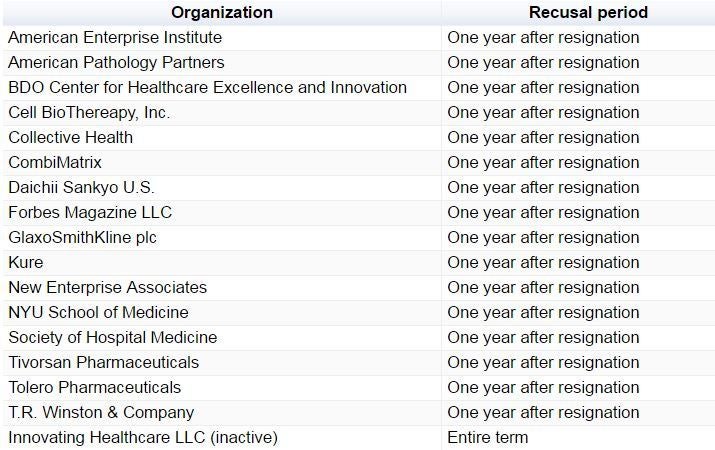 Gottlieb's Senate confirmation hearing is scheduled to begin at 10 a.m. tomorrow, April 5.
Calling all HuffPost superfans!
Sign up for membership to become a founding member and help shape HuffPost's next chapter
BEFORE YOU GO