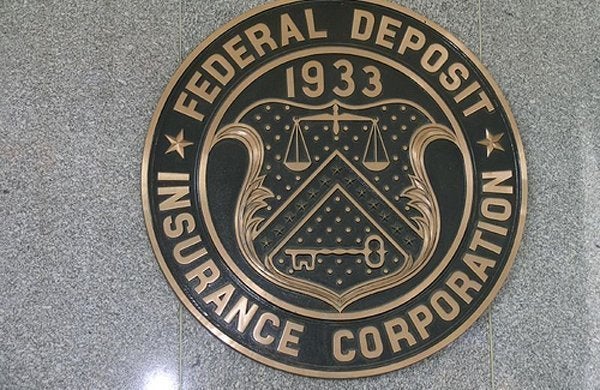 WASHINGTON -- Federal bank regulators are scrutinizing more than 150 home loan-related lawsuits directed at lenders and mortgage companies, a top official at the Federal Deposit Insurance Corporation plans to say Thursday, underscoring the threat the largest U.S. banks face from faulty and improper mortgage and foreclosure practices.
The revelation will likely add to large banks' woes, as the five biggest servicers -- Bank of America, JPMorgan Chase, Wells Fargo, Citigroup and Ally Financial -- currently face up to $30 billion in penalties from state attorneys general and federal agencies for wrongful foreclosures and other mortgage-related misdeeds.
Lenders and servicers, which collect borrowers' monthly payments and foreclose on them when they fall behind, face 67 pending class-action suits in more than 20 states that challenge foreclosures based on so-called "robo-signing" and other poor documentation practices, according to FDIC Director of Depositor and Consumer Protection Mark Pearce's prepared remarks for a Thursday congressional panel.
The companies face 57 additional suits in 25 states over alleged improprieties resulting from loan modifications in the Obama administration's signature foreclosure-prevention initiative, known as HAMP, and 24 lawsuits over non-HAMP modifications, according to the remarks. Further, investors in mortgage securities have filed 21 suits that allege misconduct and seek to force banks to buy back the loans at face value, an outcome that could cost banks hundreds of billions of dollars.
The FDIC is also tracking separate suits launched by state attorneys general in Ohio, Nevada and Arizona against Ally and Bank of America.
Regulators sanctioned the banks in April, saying at the time that they expected the firms to improve their procedures and compensate abused homeowners.
But those findings were based on bank-provided information and their own limited review of less than 3,000 loan files. And in that case, regulators didn't act until reports emerged of banks' shoddy practices. Private litigation -- and the discoveries they could produce -- could yield nuggets about poor behavior that regulators missed.
Regulators guide banks in deciding how much money to put aside to guard against losses -- cash that otherwise could be used to pad their profits -- and approve requests to pay dividends to shareholders or buy back shares to drive up the company's stock price. Concerns over lawsuits -- and the merit of plaintiffs' claims -- could derail banks' financial plans.
Bank of America shares are down 22 percent over the last three months in New York Stock Exchange composite trading. JPMorgan has slid 15 percent, while Wells Fargo has declined 13 percent. Citigroup has dropped 8 percent.
"Servicing problems continue to present significant operational and litigation risk to servicers and originating banks," Pearce plans to say, according to a copy of his prepared remarks.
For the larger economy, the lawsuits represent potential pitfalls that could delay a broader recovery.
"The housing market cannot heal and recover until mortgage servicing and foreclosure problems are resolved and systems are adequate to the task at hand going forward," according to Pearce's prepared remarks. "A comprehensive resolution for past servicing errors is essential to the recovery of the housing market and greater economy."
The five largest servicers, which collect payments for three out of every five home loans, are engaged in discussions with state and federal authorities to settle accusations of defective and sometimes-illegal foreclosure practices.
"Poor mortgage servicing practices have both contributed to the creation of the housing crisis and acted as an impediment to its resolution," Pearce plans to say, according to his prepared remarks.
A recent Treasury Department audit of the 10 largest servicers in the HAMP program found that four of them needed "substantial improvement." The remainder were found to need "moderate improvement." None passed with flying colors.
Pearce says in his prepared remarks that about 90,000 homeowners are contesting their foreclosures in court, an indication of poor mortgage and foreclosure practices. As a result, the average foreclosure took nearly nine months to process as of December, according to Pearce's remarks. It took just four months as of 2007.
Popular in the Community