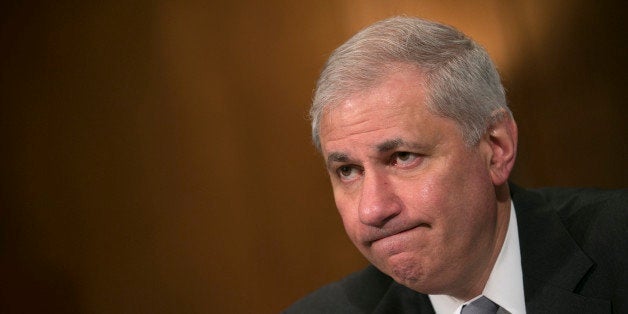 WASHINGTON -- House Republicans torched FDIC Chairman Martin Gruenberg Tuesday, accusing him of allowing federal regulators to pursue personal vendettas against payday lenders and gun dealers under the guise of a program designed to keep criminal money out of the American banking system.
Over the course of two grueling hours, Gruenberg avoided defending himself or his regulators from Republican attacks over Operation Choke Point, a Department of Justice initiative that the GOP has long alleged to be a secret Obama administration plot to destroy whole industries it disapproves of.
Gruenberg appeared to be pursuing a strategy of appeasement early on, telling lawmakers that the FDIC should be faulted for failing to communicate to the public that it did not, in fact, want banks to cut off legitimate businesses from the banking system. His inability to counter GOP attacks only provoked further Republican aggression, and by the end of the hearing, Rep. Sean Duffy (R-Wis.) was comparing Gruenberg to former IRS official Lois Lerner and calling for his removal from office.
"You're abusing your power," Duffy said. "You say, 'I don't like these industries. And I'm gonna use -- just like Lois Lerner -- the power that I have at the FDIC to target these industries, and I'm gonna put them out of business. And I'm not going to have a public debate, because people like the Second Amendment and they like their guns. I'm going to do it behind closed doors, under the cover of darkness, and put these folks out of business as a bureaucrat and as an 'activist' ... I think the buck stops with you. I don't think you should chair the FDIC."
Gruenberg responded to this assault, as he did to dozens of others throughout the hearing, by stating that he had cooperated with an investigation from then-House Oversight Committee Chairman Darrell Issa (R-Calif.) last year, and asked the FDIC's inspector general to investigate the allegations. He made no effort to counter the claims of abuse of power or that his regulators had acted improperly.
The FDIC chair capitulated in the face of GOP evidence that was not only weak, but a dramatic departure from the conspiracy theories Republicans advanced regarding Operation Choke Point over the past year. Neither Duffy nor any other Republican at the hearing offered a single instance of even one worker who had lost a job as a result of the FDIC's actions, or any business that had actually been forced to close its doors.
Republicans have contended for more than a year that Operation Choke Point is a coordinated, multi-agency scheme by the Obama administration to destroy payday lenders, gun dealers, tobacco retailers and other sectors of the economy that President Barack Obama disfavors. On Tuesday, the GOP entirely abandoned this line of attack, instead setting its sights on abuses by individuals at the FDIC.
It was a remarkable shift. While Issa, Duffy and others have portrayed an out-of-control DOJ hellbent on assailing certain industries, the department never actually published or discussed any list of businesses that banks could not work with. That list actually came from a journal article -- not a formal regulation -- published by the FDIC in the summer of 2011, nearly two years before DOJ launched Operation Choke Point.
The FDIC also didn't participate in Operation Choke Point. The journal article did, however, warn banks that a host of industries -- including telemarketers, payday lenders, sweepstakes, online gambling, pornography and others -- were well-known in the payment processing world for defrauding consumers. The FDIC drew its list from similar "high risk" merchant lists that the payment processing industry keeps on its own.
After Republicans began howling about Operation Choke Point, however, the FDIC issued formal regulatory guidance rejecting the list, and agency officials have repeatedly testified before Congress that they had no interest in persecuting whole industries, only companies engaged in fraud.
Petty fraud is a big deal. As Rep. Al Green (D-Texas) pointed out at Tuesday's hearing, more than 31 million fraudulent transactions are logged each year, for a total of over $6 billion. To date, DOJ has three Choke Point settlements under its belt. One against Four Oaks bank from last January, and two others in March of this year against Plaza Bank and CommerceWest Bank. The allegations against all three are riddled with consumer horror stories: The banks processed hundreds of thousands of bogus transactions, as consumers complained of having their money simply stolen from their bank accounts by scam artists. The banks all enjoyed handsome profits from fees charged to process those transactions.
As a law enforcement strategy, Operation Choke Point is pretty ho-hum. For decades, anti-money laundering laws have required banks to ensure that they aren't moving money on behalf of criminal enterprises. It's a basic element of preventing a host of financial crimes, from petty fraud to international sanctions.
Duffy and other Republicans have publicly assailed DOJ over Operation Choke Point in prior hearings. But the closest thing to a smoking gun that the GOP has yet produced is a February 2013 letter from an FDIC regional director. In October 2014, Issa and Rep. Jim Jordan (R-Ohio) noted that the letter did indeed appear to pressure a bank -- whose name the lawmakers redacted -- against doing business with any payday lenders. This, the congressmen insisted, proved that the federal government was "forcing banks to terminate the accounts of legal businesses disfavored by the Administration."
But Issa and Jordan did not redact the state agency with which the FDIC had been working, namely the Ohio Department of Financial Institutions. Ohio law caps interest rates on short-term loans at 28 percent, effectively banning payday lending, which has traditionally charged much higher rates. The FDIC, in other words, was warning a bank against processing payments for illegal businesses. That an Ohio state regulator was involved might have thrown cold water on the big government conspiracy theories, since Ohio Gov. John Kasich is a Republican.
But when several lawmakers confronted Gruenberg with the letter Tuesday, he didn't mention the legal status of payday lending in Ohio. He disavowed the letter entirely, saying it was "not consistent" with FDIC policy. Duffy hammered Gruenberg over the point, noting that the regional director who wrote the letter was still employed, to which Gruenberg replied that his conduct was "under review."
Gruenberg never once defended the value of protecting consumers or the banking system against fraud. He never pointed out that an attack on bad apples within the FDIC is a far cry from the GOP's prior claims of a conspiracy around Operation Choke Point. He never even suggested that Republicans were taking quotes out of context. In the process, he appeared to vindicate more than a year of Republican attacks on the administration, and to guarantee more in the weeks and months to come.
REAL LIFE. REAL NEWS. REAL VOICES.
Help us tell more of the stories that matter from voices that too often remain unheard.
BEFORE YOU GO
PHOTO GALLERY
Scenes From 114th Congress And Capitol Hill