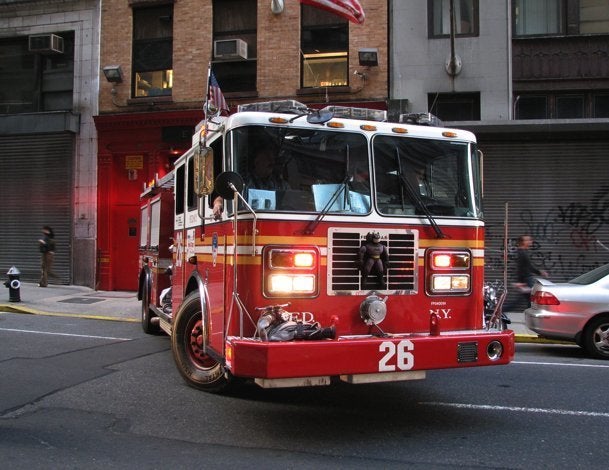 New York City is way too fond of its firefighters.
I'm speaking collectively. Individually, you can't be anything but grateful to people who take the kind of risks firefighters take. That makes us loathe to say anything negative about the department they represent -- so much so that I couldn't get to my second sentence before apologizing for what I'm trying to say.
Our awe of what they do has made us way too reluctant to look closely at the way the FDNY operates. The discrimination lawsuit on the department's much-disputed entrance exam has produced testimony that ought to have the city reeling.
"Boys being boys," the department's former Assistant Commissioner for Personnel, Patricia Kavaler, called the incessant, and apparently often successful lobbying for jobs for the friends and relatives of FDNY insiders. (It certainly wasn't girls being girls, since only about one quarter of one percent of the city firefighters are female.)
New York has the least diverse fire department of any major U.S. city, and what we've learned during the current court hearings is that blacks and Hispanics who don't bother to try to take the FDNY test under the assumption that the whole system is gamed for white guys are absolutely right.
Even when a candidate has a history as a wife-beater, we learned, he can pass the department character investigation if he has firefighter friends or relatives. (Describing what she said might be a typical lobbying call on behalf of a spouse-abuser, Kavaler said: "The wife took him back, ... he could still be a good firefighter.")

Two ex-cops who had been involved in the Amadou Diallo tragedy applied to become firefighters and were accepted. Both of them had been acquitted of criminal charges in the killing of Diallo. But wouldn't you think that spraying an innocent West African immigrant with 41 bullets because you got scared when he reached for what turned out to be his wallet shows a serious lack of judgment?
Richard Levy, the lawyer for the Vulcan Society, an organization of black firefighters, asked FDNY Director of Candidates Investigations that very question.
"No," said Tow. And that was that.
The Vulcan Society filed discrimination charges against the department in 2002, when less than 3 percent of the firefighters were black. Today, the FDNY had yet to crack the 4 percent barrier, even though the city's police department has managed to get itself to nearly 17 percent black and 18 percent Latino. (About 7 percent of the firefighters are Hispanic.)
The police department numbers aren't ideal in a city where the majority of the residents are minority, but the cops have clearly been making much more of an effort.
Maybe that's because they felt the pressure. Police officers get in the face of New Yorkers every day. They're very welcome when you need them, but on an average day, a law-abiding New Yorker is more likely to be irritated by a cop than rescued by one. It's in the nature of their crowd-controlling, traffic-directing, jaywalk-ticketing job.
Firefighters are never an irritant. Something's burning, they come and put the fire out. People are stuck in a perilous situation, they bring them to safety. End of story. Feel the love.
The lack of public scrutiny has allowed the department to become astonishingly insular and hidebound. During the hearing, federal Judge Nicholas Garaufis looked at a 2007 memo to FDNY Deputy Commissioner Douglas White, detailing complaints about cheating on the most recent firefighters' test. The author, an FDNY official in charge of recruitment and diversity, complained that there were too few proctors for the test, that the ones who were there were inept, that the exam itself was "miserable" and its administration a "disaster."
Garaufis said if he had gotten such a report, "I'd jump out of my skin," and he dragged in White, who apparently managed to hang onto his skin with a high degree of serenity. He testified that he'd passed the memo on to someone else, who told him it was unfounded.
White also said the department tries "to be sympathetic" when considering candidates' past histories. That's something the friends and relatives of FDNY insiders take for granted, having been coached by their mentors on exactly what to expect in the character investigation. Probably not the case for outsiders. In the Village Voice, Steven Thrasher wrote that he knew a candidate who had lived in fear that "a speeding ticket could end his dreams."
This has got to stop. If we love the fire department, we need to put on some heat.

Calling all HuffPost superfans!
Sign up for membership to become a founding member and help shape HuffPost's next chapter