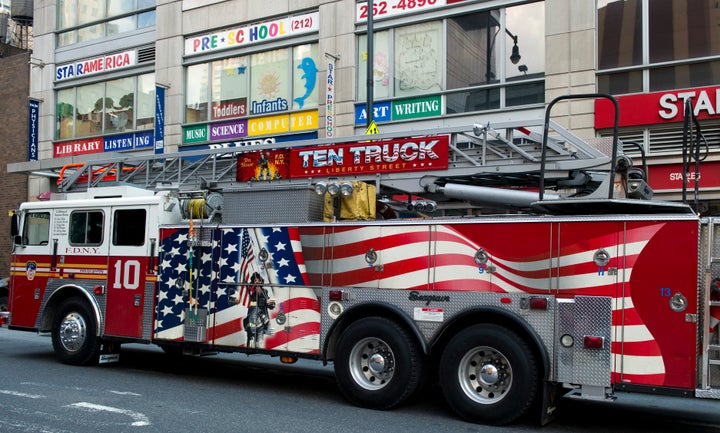 New York City could have to pay upwards of $128 million in back wages to minorities who weren't hired after taking the Fire Department's entrance exam, a federal judge ruled Thursday. US District Judge Nicholas Garufis also ordered that the department hire 293 black and Latino applicants.
Garufis ruled last year that the FDNY discriminated against minority applicants with its entrance exam. CNN explains:
The lawsuit alleged that the exams had little to do with firefighting and instead focused on cognitive and reading skills. Because of the hereditary nature of the fire department, white candidates were recruited and supported throughout the application process by family or neighborhood contacts and whites consistently passed while minority candidates failed.
Thursday's ruling comes after nearly four years of litigation. The payment will be split up among 2,200 minority applicants from 1999 and 2002, and "will be subject to reductions for the actual earnings of each plaintiff during the period," according to The New York Times.
Captain Paul Washington, a member fo the Vulcan Society, a fraternity of black firefighters, told The Times, "The Vulcan Society has been fighting for almost 75 years to open the doors of the Fire Department to black firefighters. This is a great victory for those who have been excluded from serving our city because of their race."
Meanwhile, a whole new batch of applicants are getting ready for this year's entrance exam. 61,000 people, 23 percent of whom are black and 23 percent Latino, are applying for a few thousand jobs. The New York Daily News also reports that a record number of women, 3,481, are taking the test this year, more than three times the number who applied the last time the test was issued in 2007.
Correction: This article incorrectly stated that 97 percent of New York City firefighters are white. 91 percent of New York City firefighters are white. Only 3 percent of New York City firefighters are black.
Related
Popular in the Community