New York City's Firemen's Memorial sits on a quiet corner of the Upper West Side in Manhattan. On one side, there's a carving of a firefighter atop a horse-drawn fire engine speeding toward billowing smoke. On the other side, an inscription:
To the men of the fire department
of the city of New York
who died at the call of duty
soldiers in a war that never ends
this memorial is dedicated
by the people of a grateful city
Over the last century and a half, almost 1,150 New York City firefighters have died in the line of duty, many of them on Sept. 11, 2001. It's a dangerous job, especially in a city like New York, where buildings reach high into the sky, and the ground underneath is a beehive of subways, gas lines and miles of steam pipes.


Firefighters observe a moment of silence for the 10th anniversary of the Sept. 11, 2001, terrorist attacks on lower Manhattan at a memorial service at the Firemen's Monument at Riverside Park. (Photo by Mario Tama/Getty Images)
It's the same sense of duty that drove the firefighters of yore to run into burning buildings that drives the firefighters of today to do the same. The desire to be a firefighter is perhaps best summed up in an oft-cited speech reportedly made by New York City Fire Chief Edward Croker around 1910.
"I have no ambition in this world but one, and that is to be a firefighter.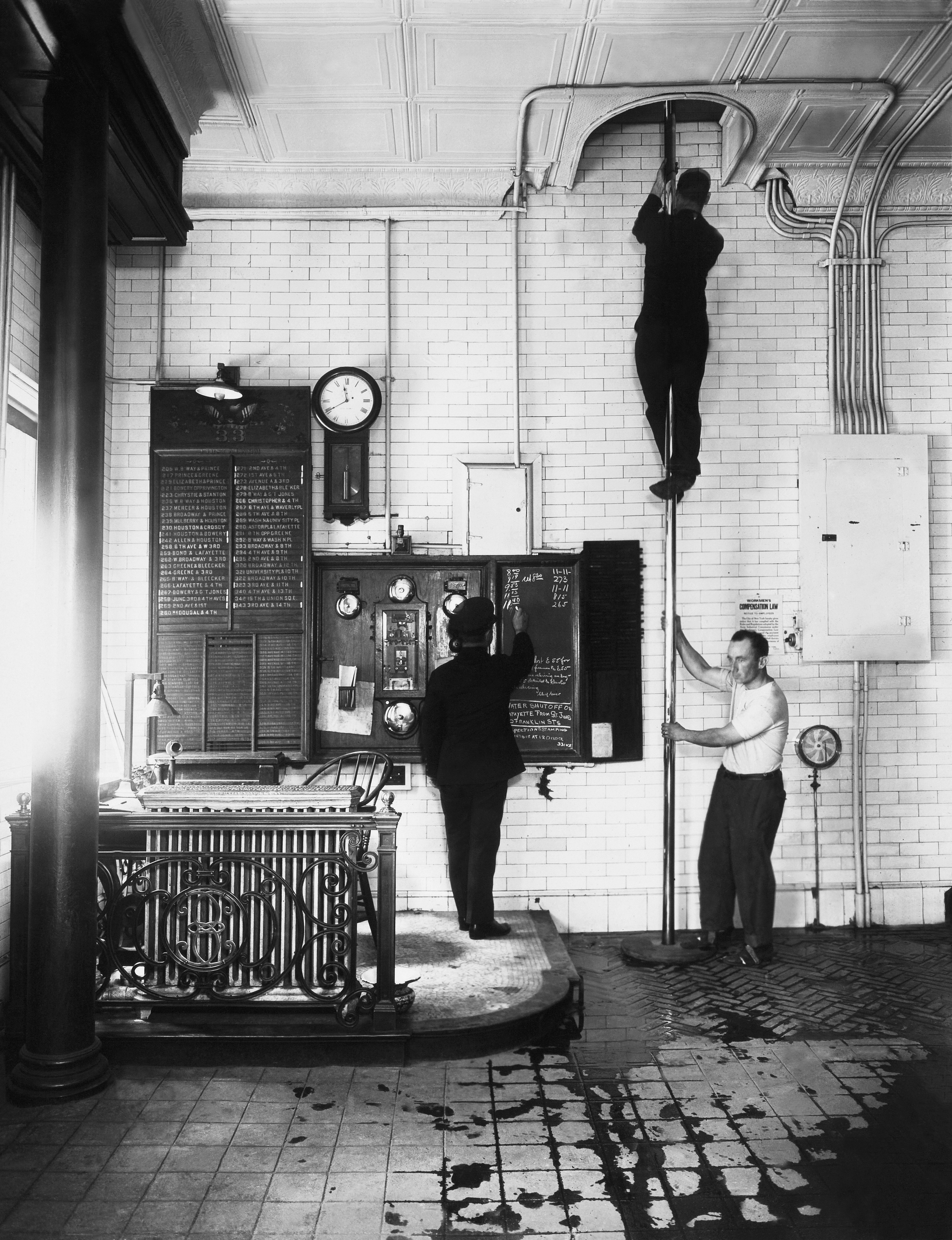 New York firefighters circa 1900. (Getty Images)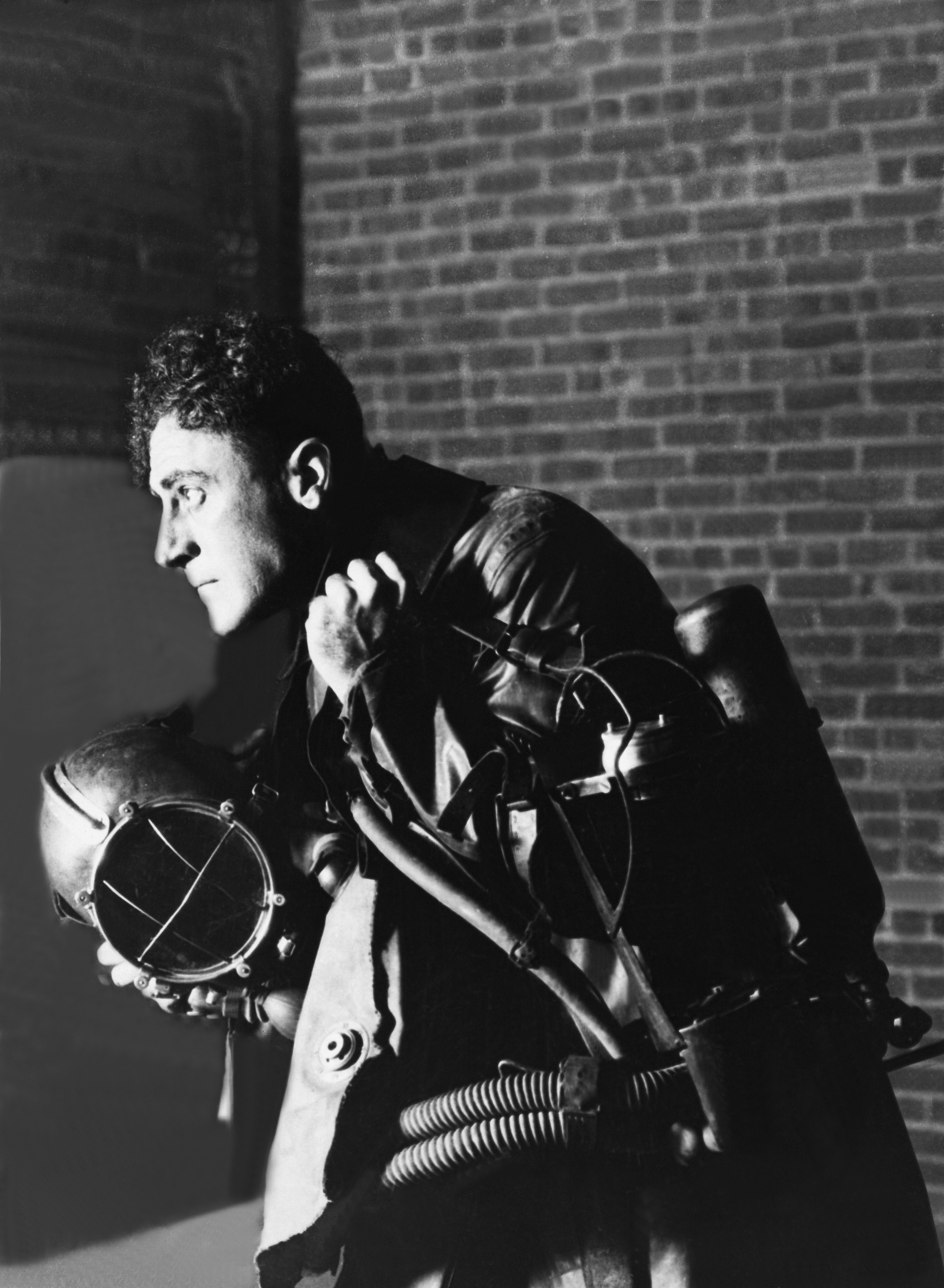 New York firefighters circa 1900. (Getty Images)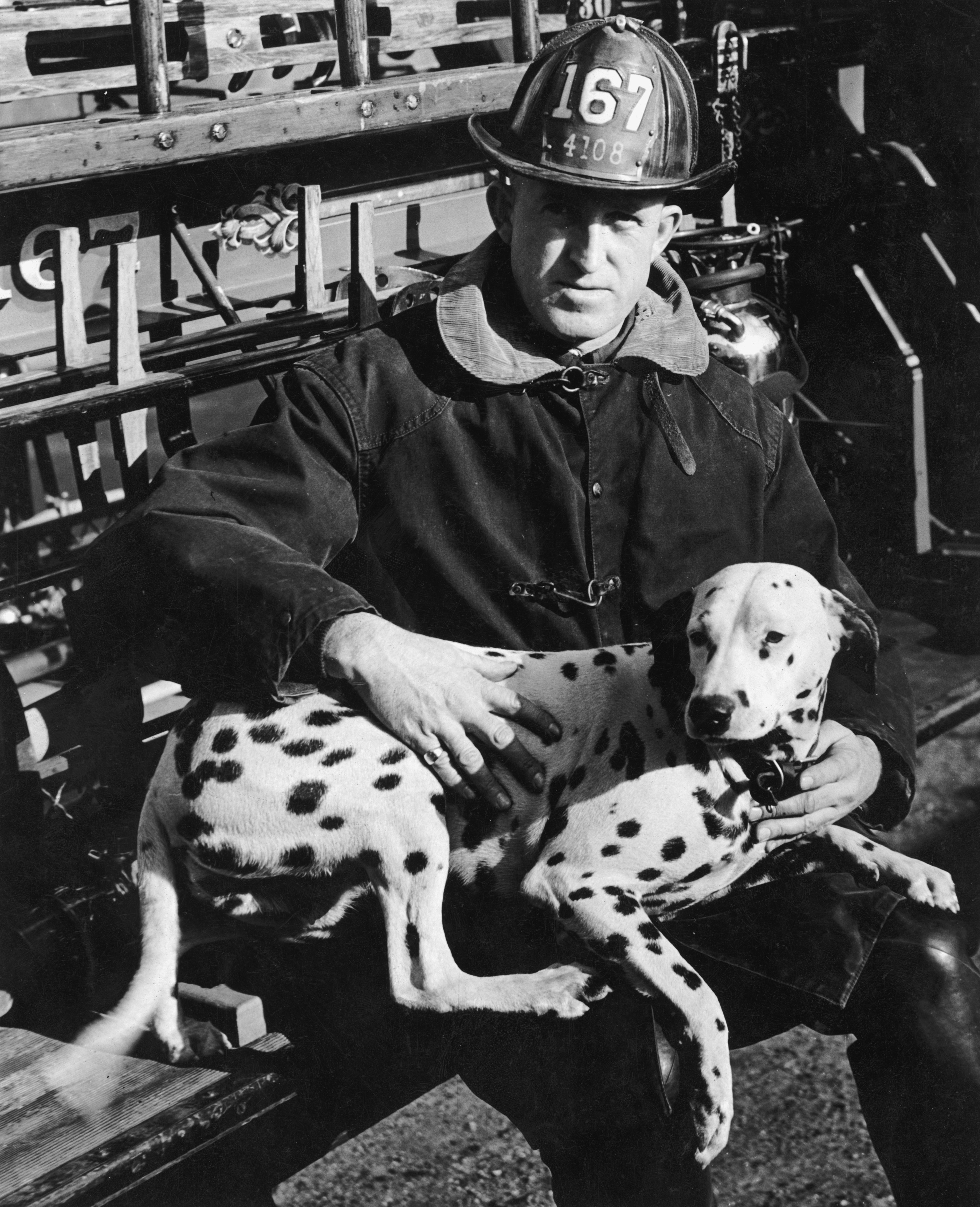 A fireman from Fire House No. 167 sits on the running board of a fire truck with a dalmatian in his lap. (Getty Images)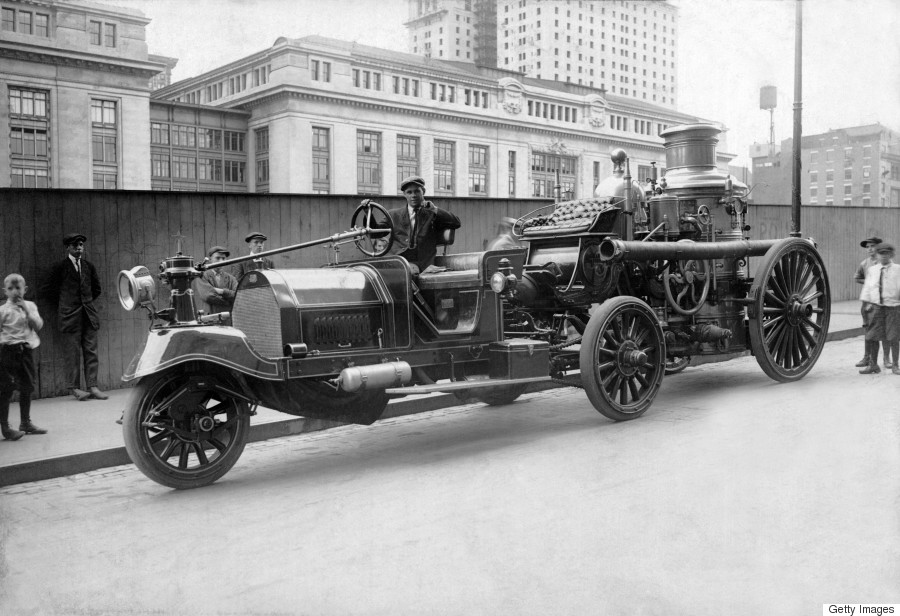 An NYC Fire Department five-wheel fire engine, 1913.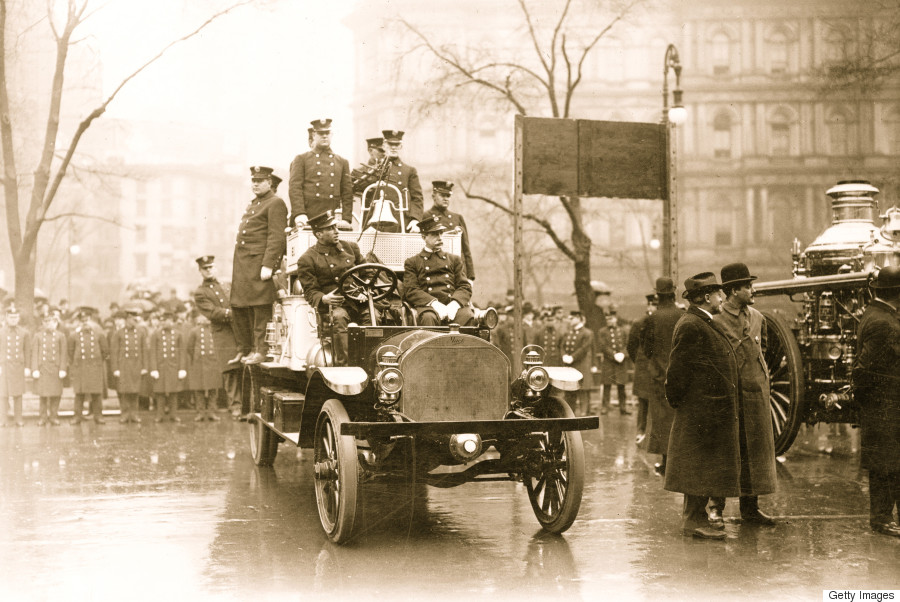 The men of Fire Company Engine No. 91, on their first trip in 1914.
"The position may, in the eyes of some, appear to be a lowly one; but we who know the work which the firefighter has to do believe that his is a noble calling.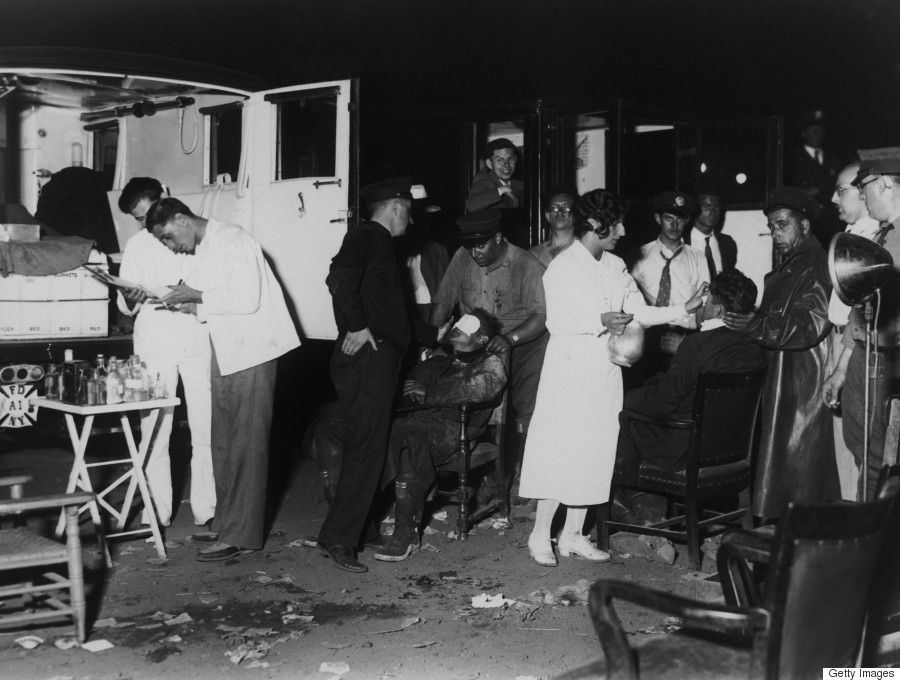 A medical unit of the FDNY tends to the victims of a fire, circa 1925.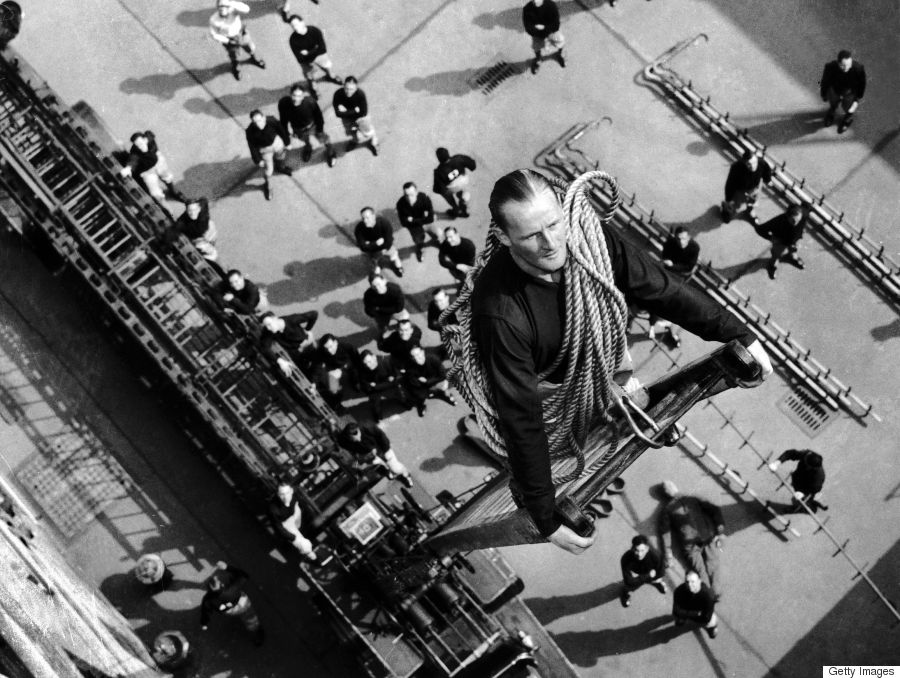 A firefighter trains to climb up with a rope at the barracks in New York on Oct. 12, 1937.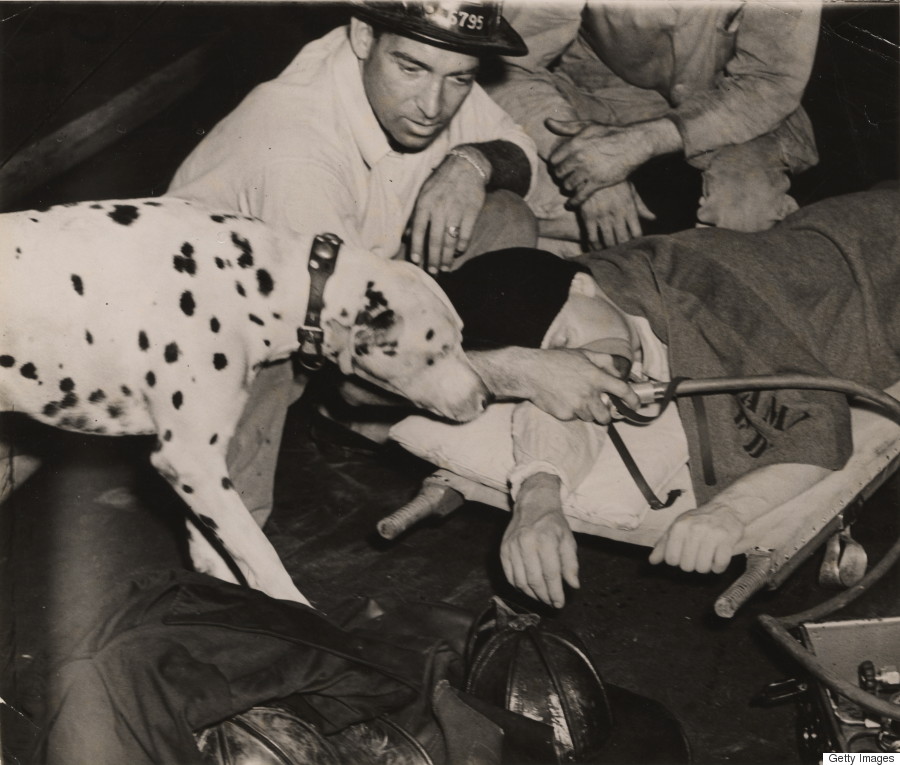 As fire department mascot Boots watches, a firefighter holds a respirator over the mouth of a comrade, one of eight firefighters overcome by smoke in a building fire in New York on Aug. 1, 1944. All the firefighters survived.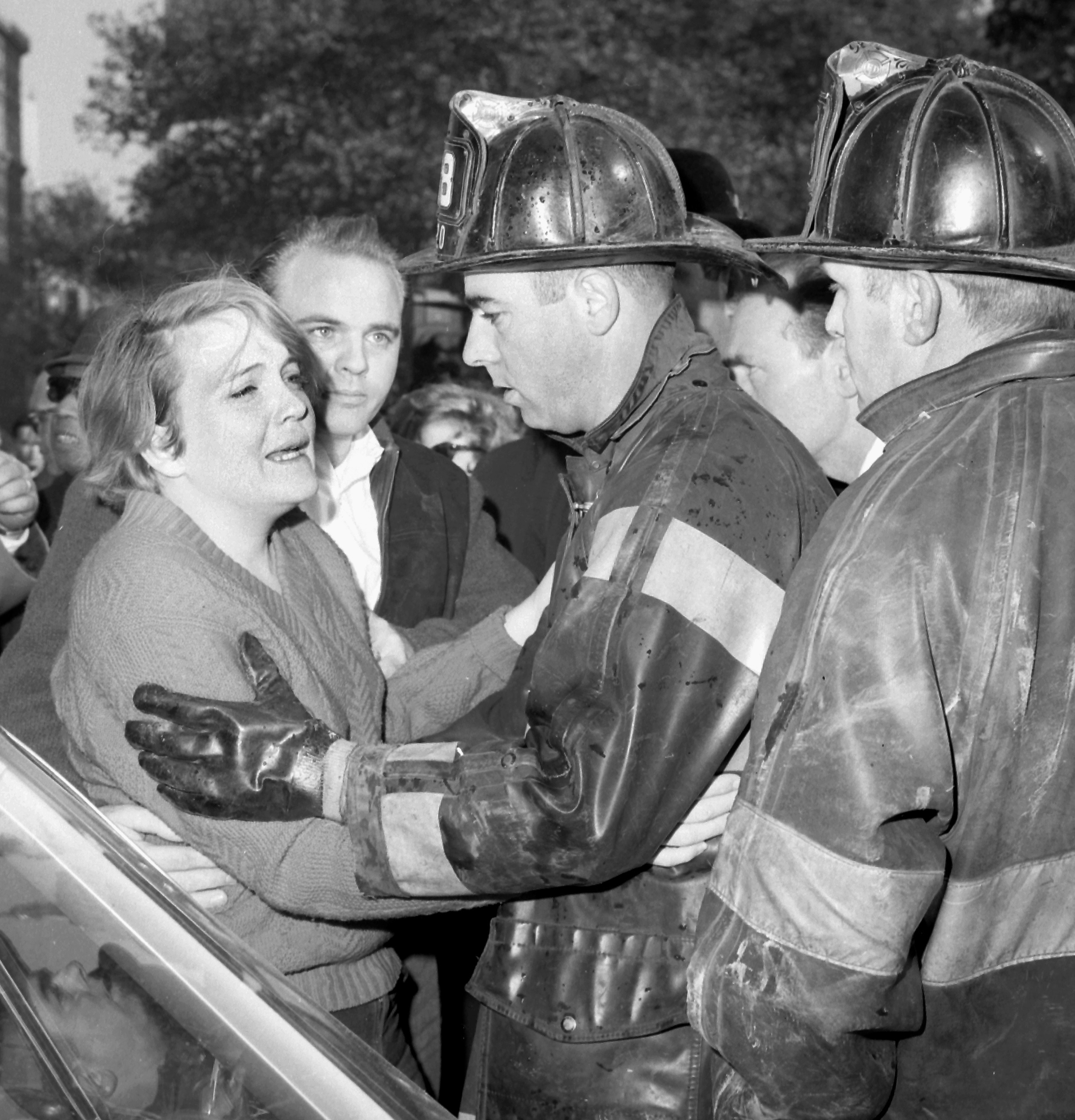 Smoke could be seen from the upper floors of buildings all over Manhattan from an inferno that took the lives of 12 city firefighters on Oct. 16, 1966. The men were trapped while fighting fire in a drugstore on the ground floor of 6 E. 23rd St., off Broadway. Ten plunged to death when the floor collapsed and two others died in the store. Fear and memory of grief are apparent in the face of Virginia Galanaugh as she asks firefighters about her husband: "He's all right, isn't he?" But her husband, James, was one those killed in the five-alarm blaze. "Oh,no," she sobbed, "not again." Her father, John Laurance, a veteran of 18 years in the fire department, died in a Brooklyn blaze on Aug. 20, 1955. (NY Daily News Archive / Getty Images)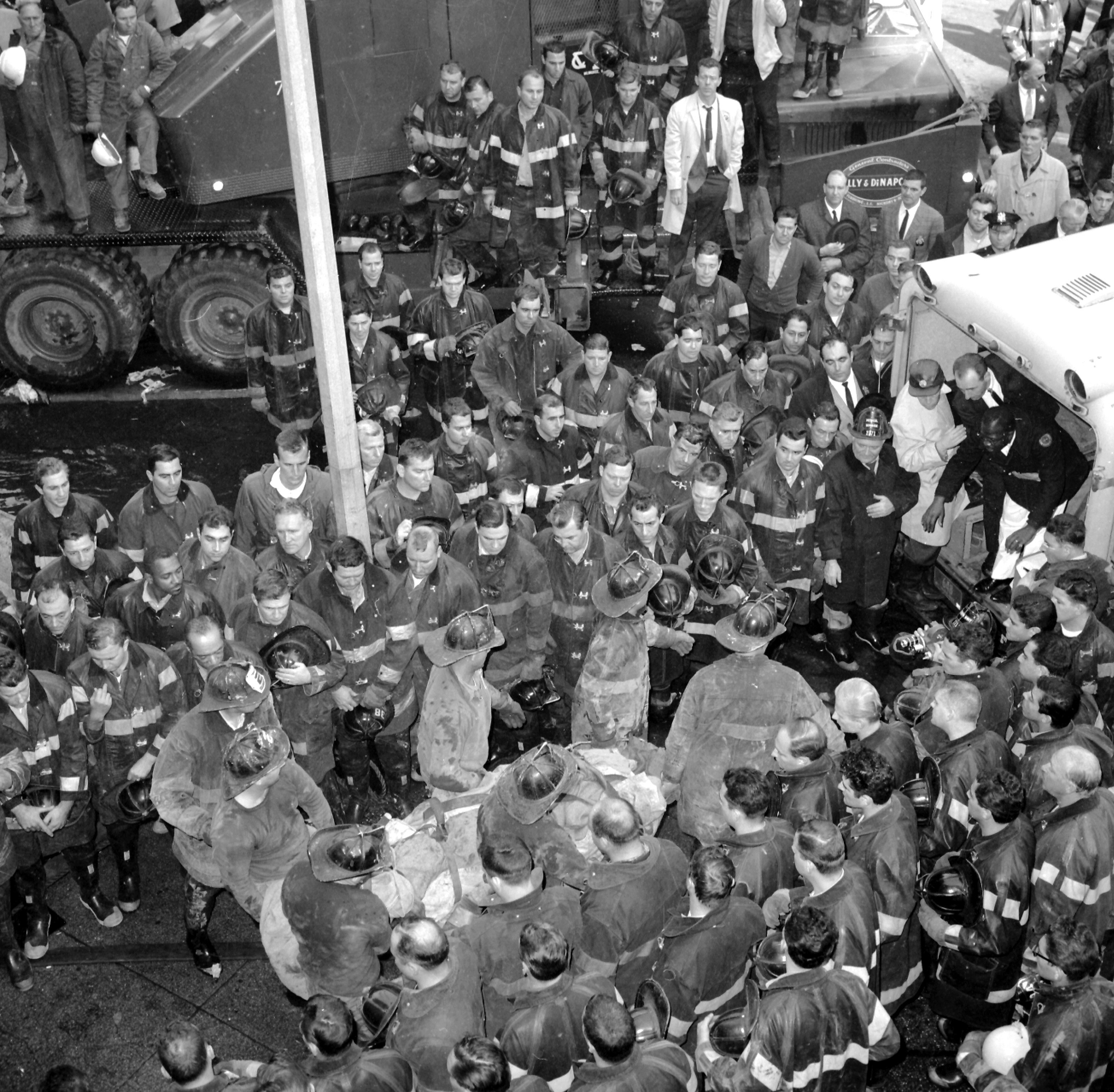 Firefighters look on as their fallen comrades are carted away from the Manhattan drugstore fire that claimed 12 lives on Oct. 6, 1966. (NY Daily News Archive / Getty Images)
"There is an adage which says that, 'Nothing can be destroyed except by fire.'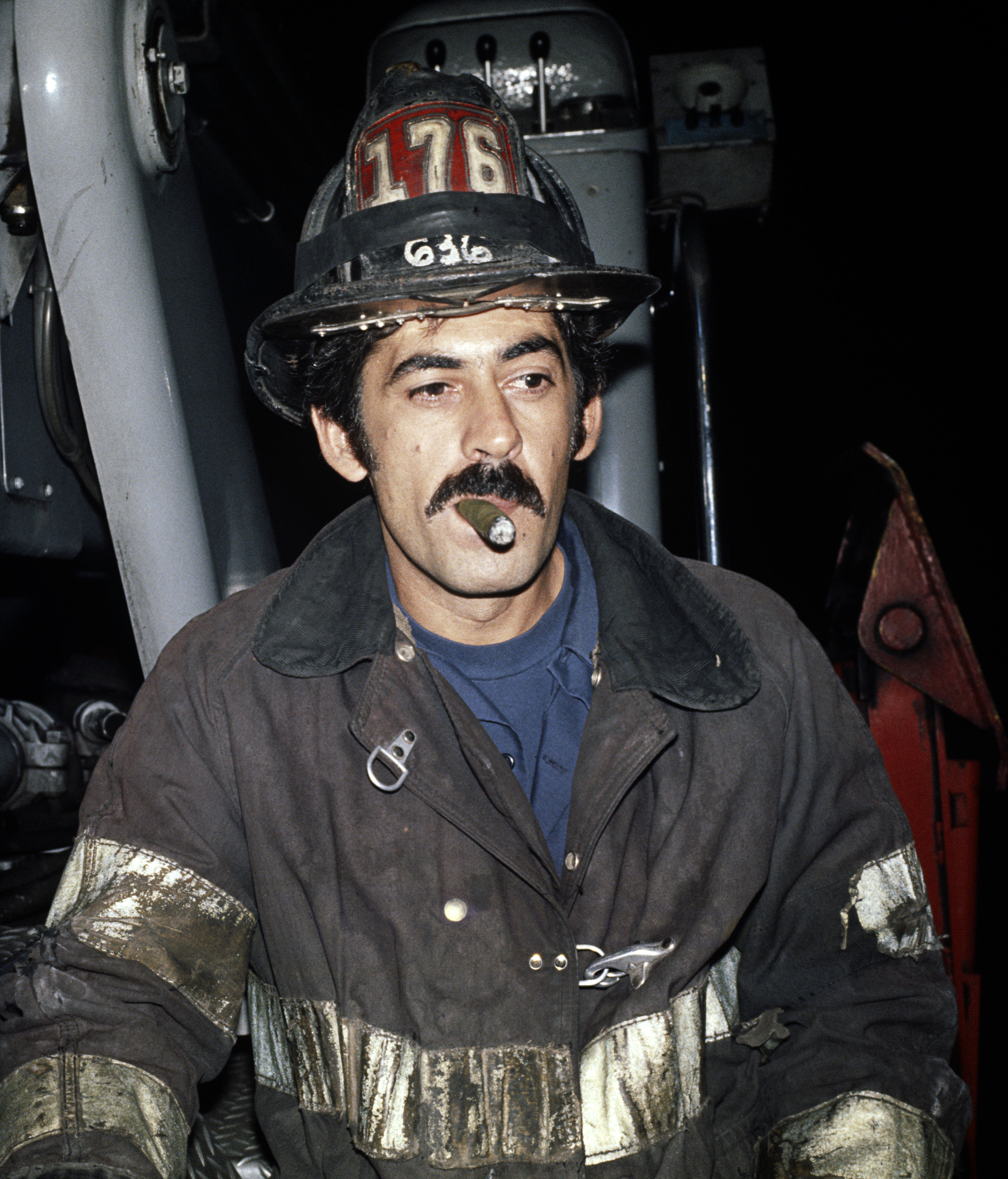 A firefighter in August 1977. (Getty Images)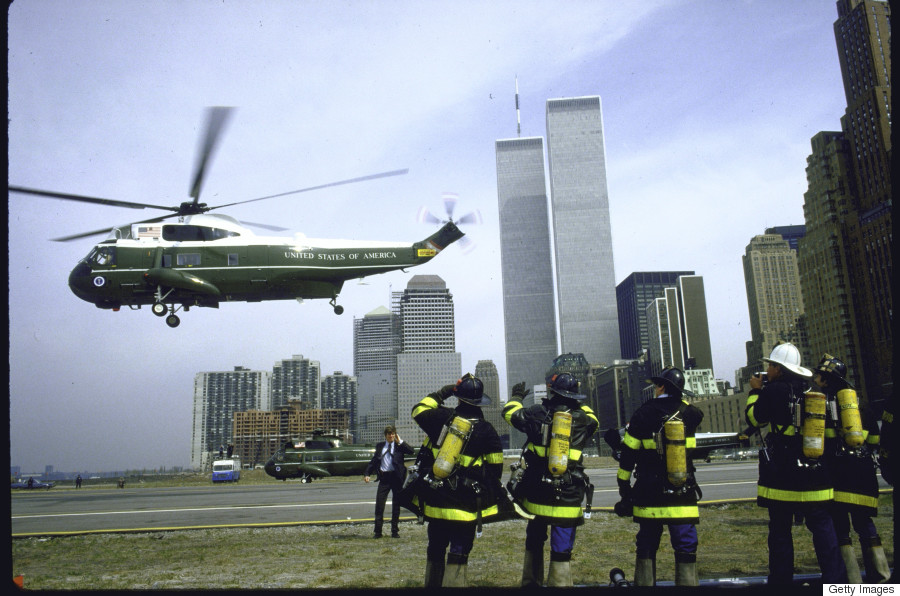 Fully equipped firefighters watch as the presidential helicopter lands on March 1, 1985.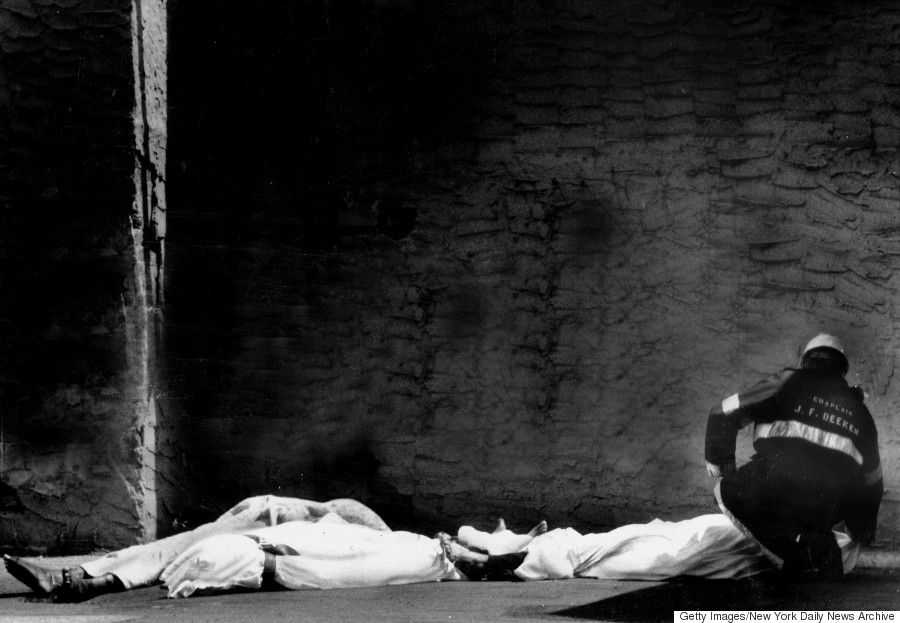 The Rev. Julian Deeken, a fire department chaplain, administers last rites to covered bodies at a temporary morgue that was set up at the scene of a five-alarm fire in the Bronx that erupted in the basement of El Hoya Social Club on Aug. 21, 1988.
"We strive to preserve from destruction the wealth of the world which is the product of the industry of men, necessary for the comfort of both the rich and the poor.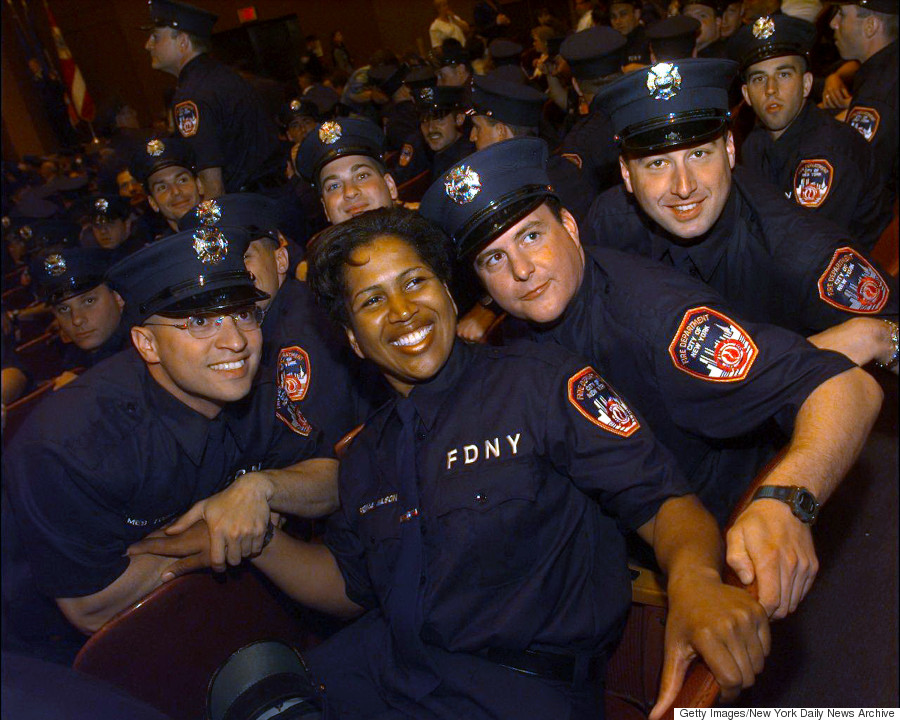 Regina Wilson, with fellow graduates at Brooklyn College, joins just 10 other black women in the 11,000-member fire department on May 6, 1999. She was the only woman in her class and the first African-American woman to join New York's bravest in 15 years.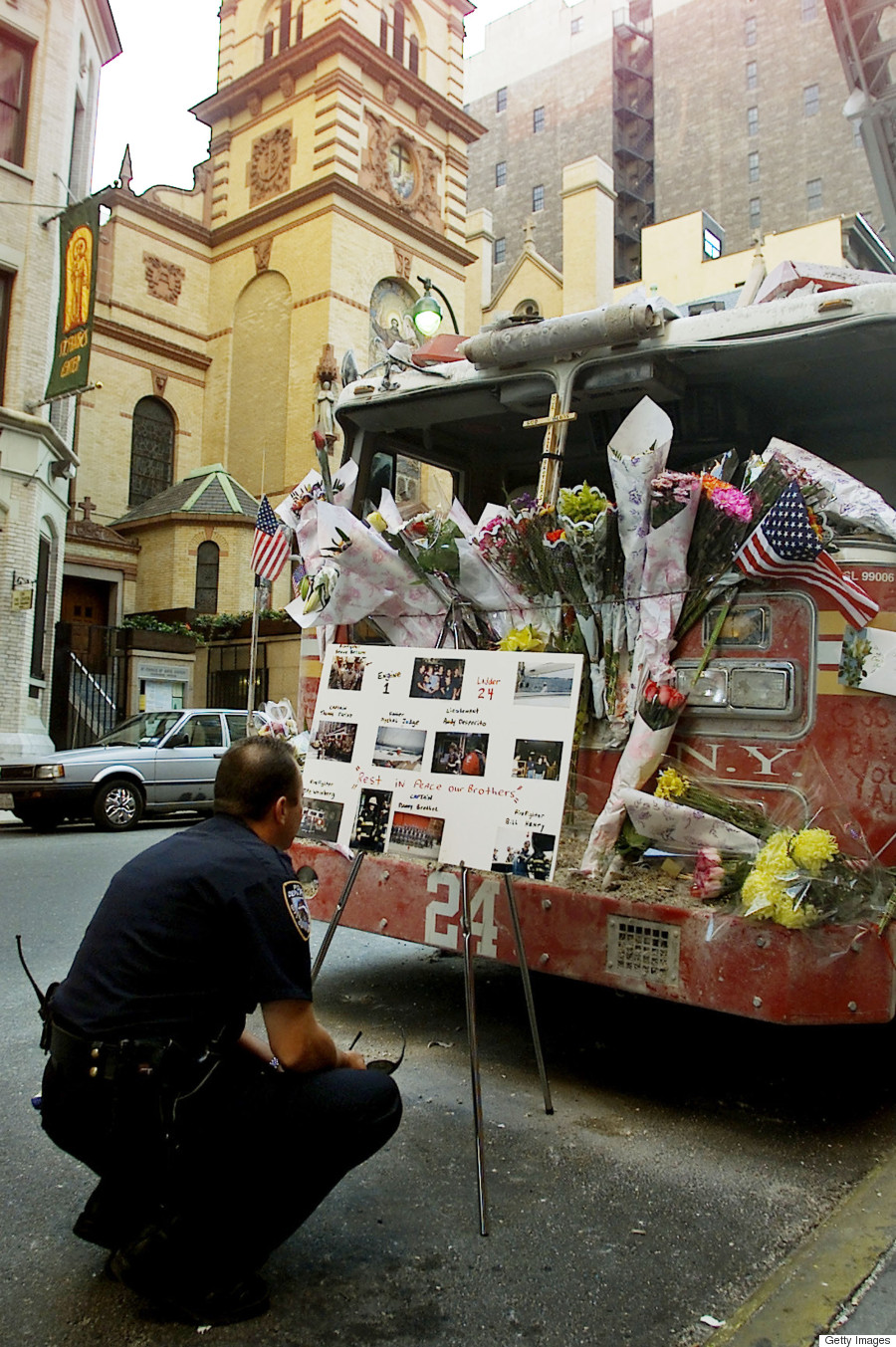 A New York City police officer pauses at a memorial on the fire truck of Ladder Company 24 in New York City on Sept. 13, 2001, two days after the terrorist attack on the World Trade Center.
"We are defenders from fires of the art which has beautified the world, the product of the genius of men and the means of refinement of mankind.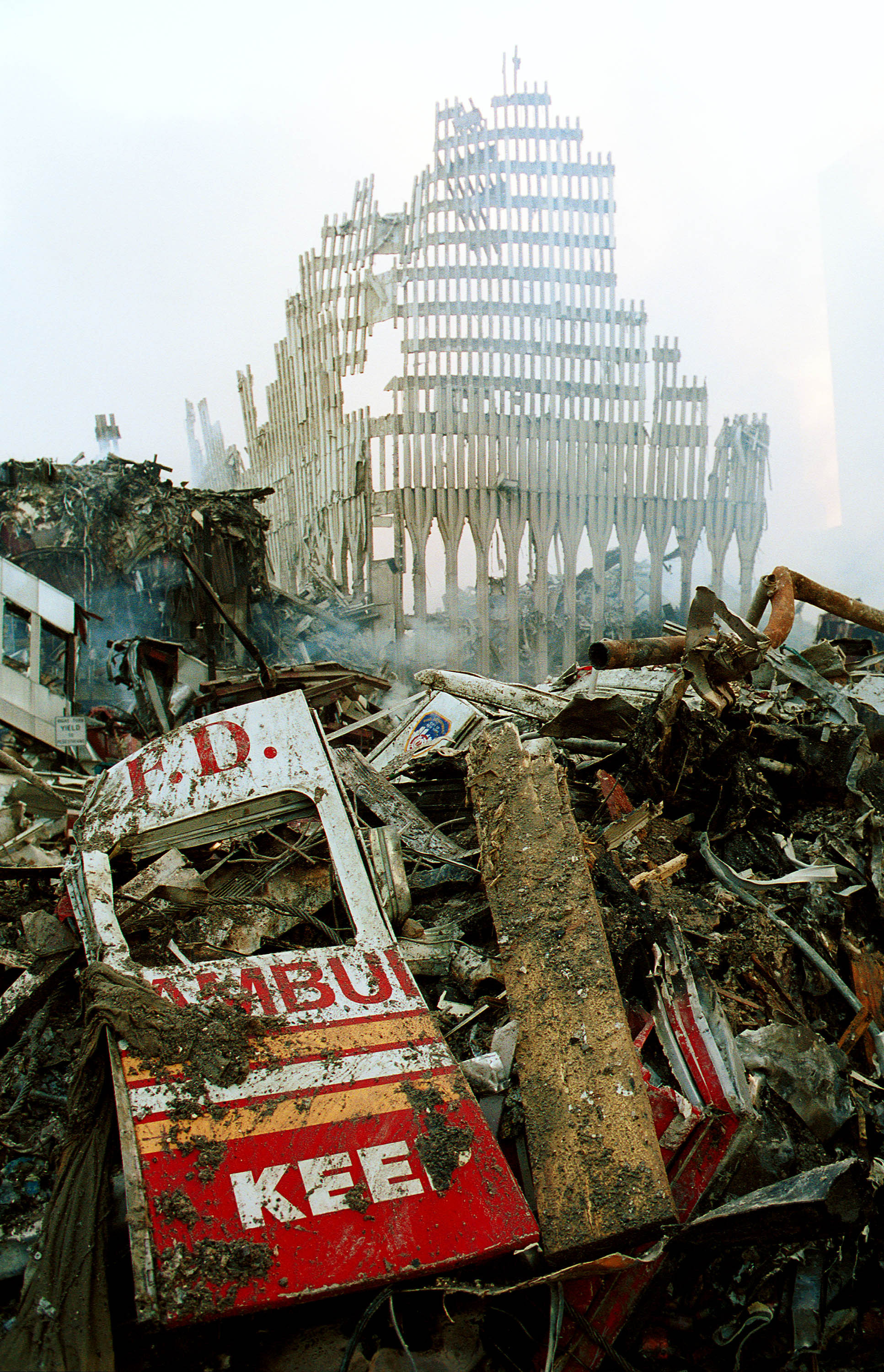 Remnants of a New York City Fire Department vehicle lie in the wreckage of the World Trade Center on Sept. 13, 2001. (Chris Hondros / Getty Images)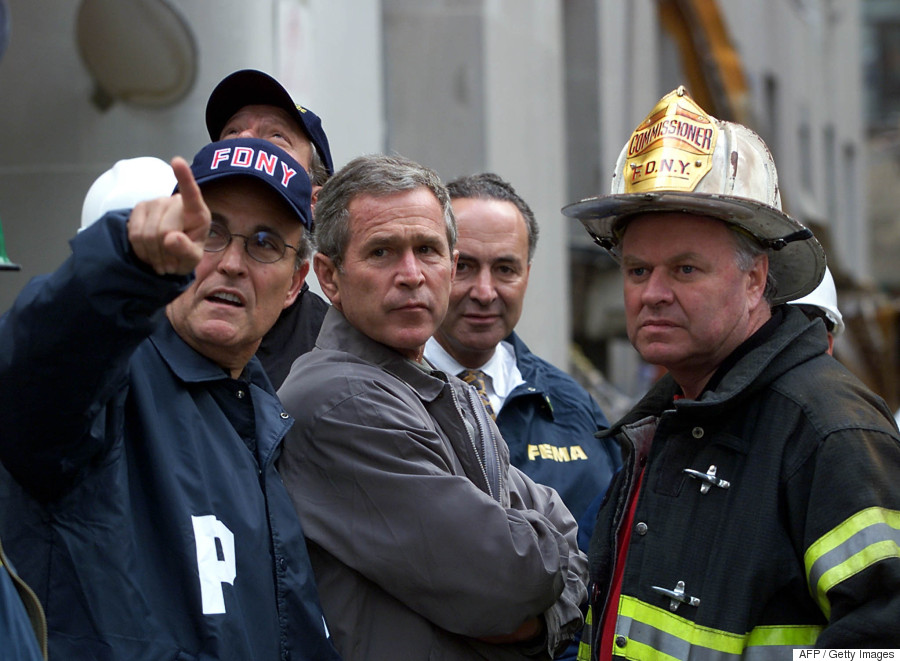 U.S. President George W. Bush (center) surveys the damage at the site of the World Trade Center with New York Mayor Rudy Giuliani (left) and a New York City Fire Department official on Sept. 14, 2001, in New York.
"But, above all; our proudest endeavor is to save lives of men -- the work of God Himself. Under the impulse of such thoughts, the nobility of the occupation thrills us and stimulates us to deeds of daring, even at the supreme sacrifice.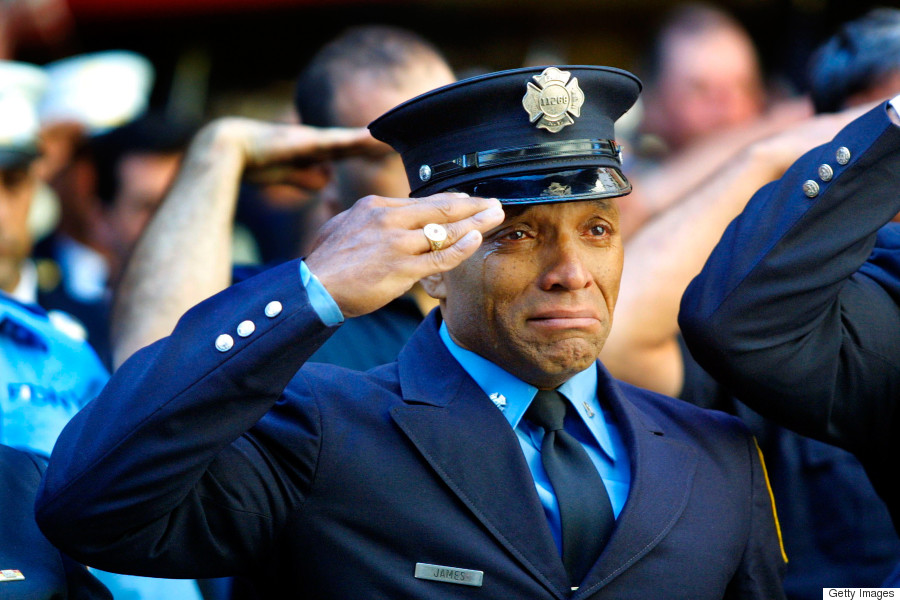 Firefighter Tony James cries while attending the funeral service for New York Fire Department Chaplain Rev. Mychal Judge, in front of the St. Francis of Assisi Church on Sept. 15, 2001. Judge was killed in the 9/11 attacks.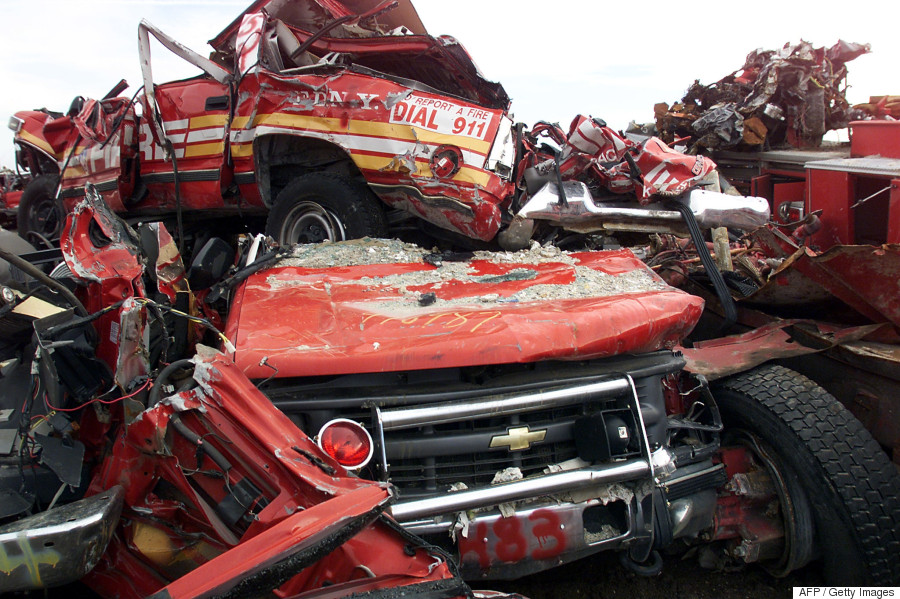 New York City Fire Department vehicles that were destroyed in the 9/11 attack on the World Trade Center are stacked on top of each other at Fresh Kills Landfill in Staten Island.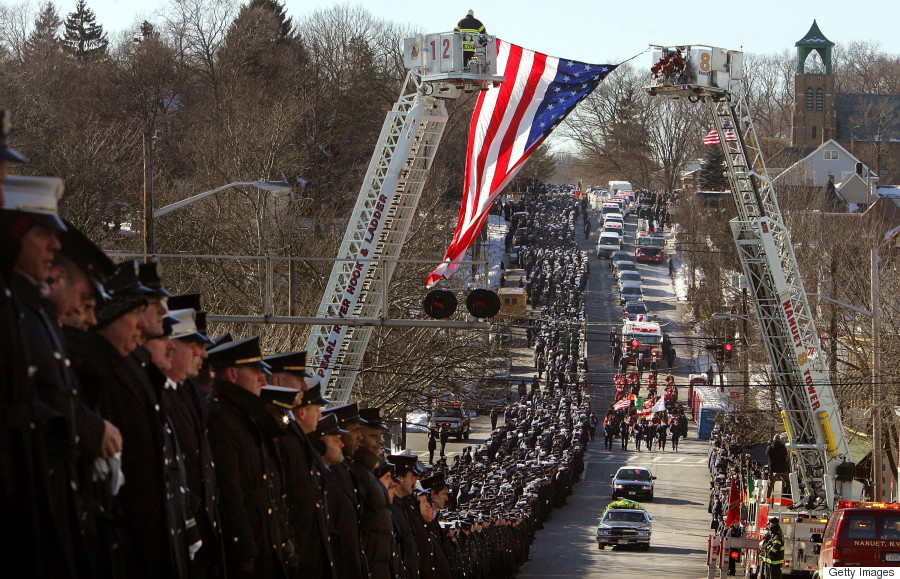 Thousands of firefighters attend the funeral for FDNY firefighter John Bellew, 37, as his casket is taken away from the church Jan. 27, 2005, in Pearl River, New York. Bellew was was one of three FDNY firefighters killed Jan. 23, 2005, in the Bronx and Brooklyn making it the deadliest day for the FDNY since Sept. 11, 2001.
"Such considerations may not strike the average mind, but they are sufficient to fill to the limit our ambition in life and to make us serve the general purpose of human society."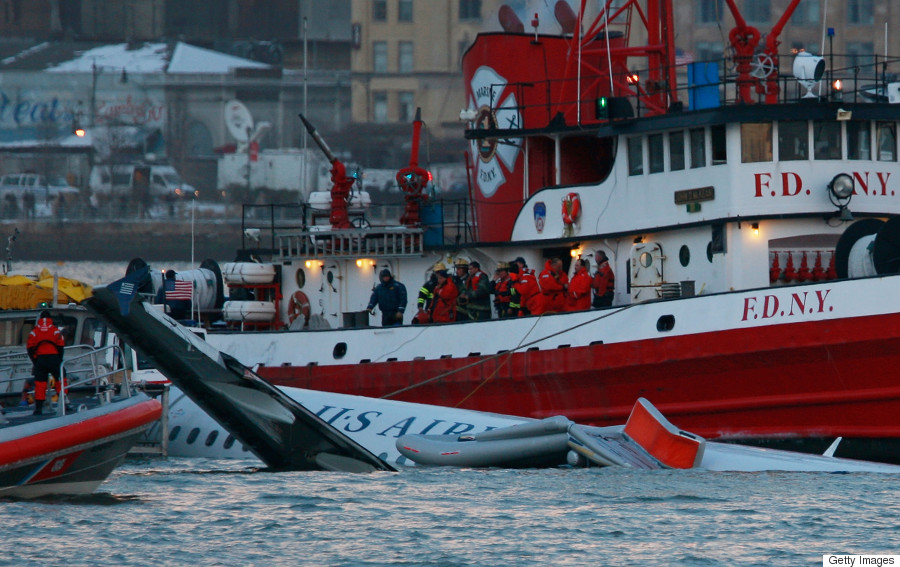 Rescue workers assist a New York City Fire Department boat pulling a US Airways plane floating in the water after it crashed into the Hudson River on Jan. 15, 2008.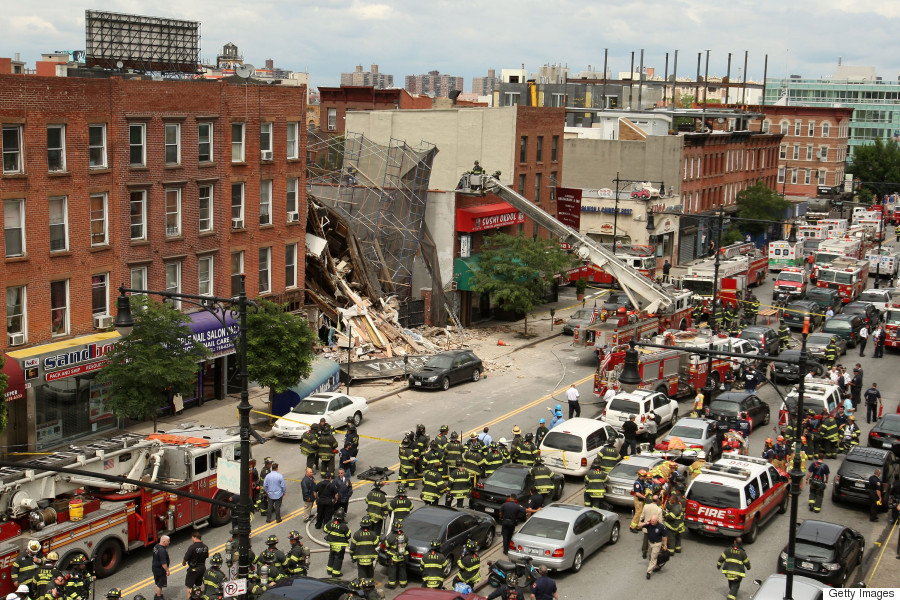 FDNY firefighters survey the scene of a collapsed four-story building June 21, 2009, in the Fort Greene neighborhood of Brooklyn.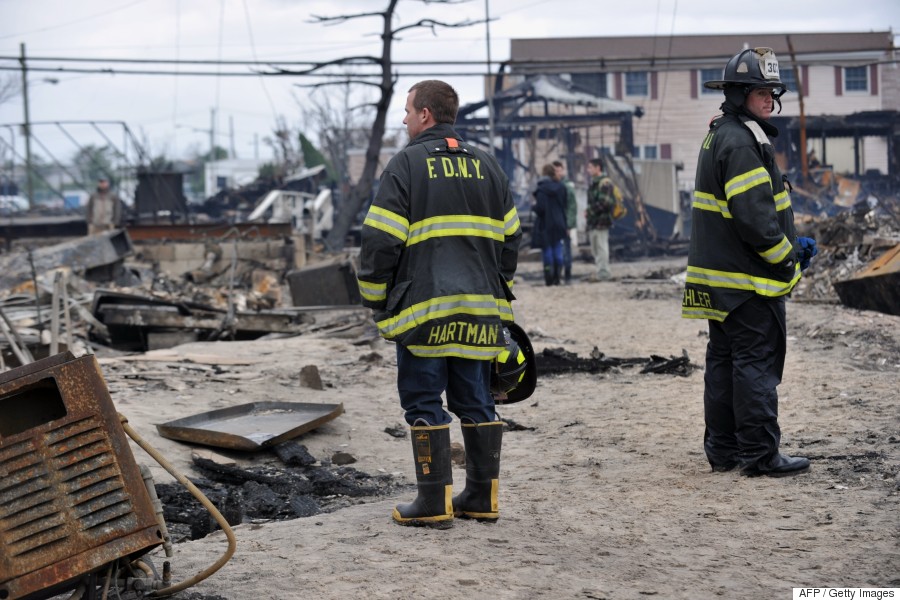 FDNY firefighters view damage in a neighborhood in the Breezy Point area of Queens on Oct. 30, 2012, after fire destroyed about 80 homes as a result of Hurricane Sandy, which hit the area Oct. 29, 2012.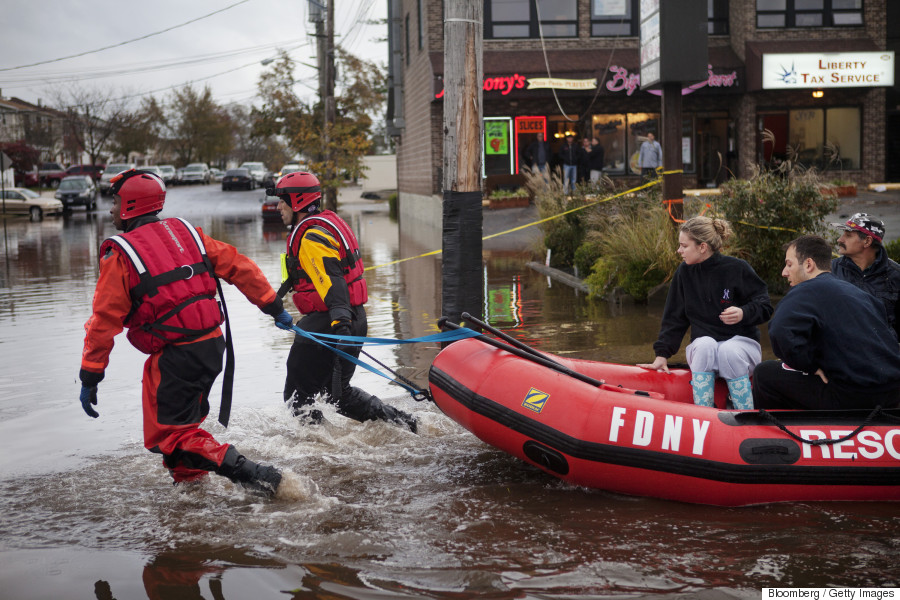 FDNY employees help residents make their way to dry ground on Hylan Boulevard in Staten Island after Hurricane Sandy.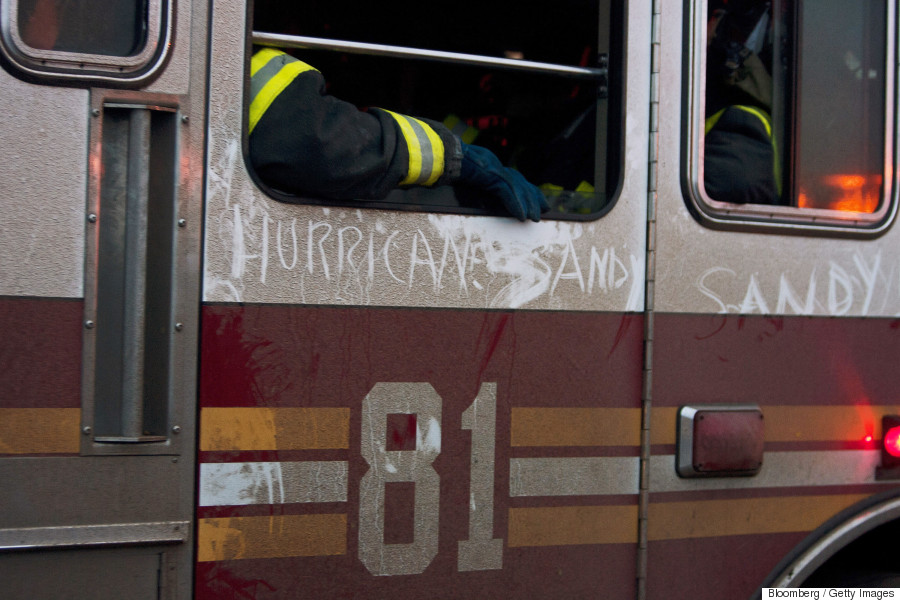 An FDNY truck in Staten Island on Oct. 30, 2012.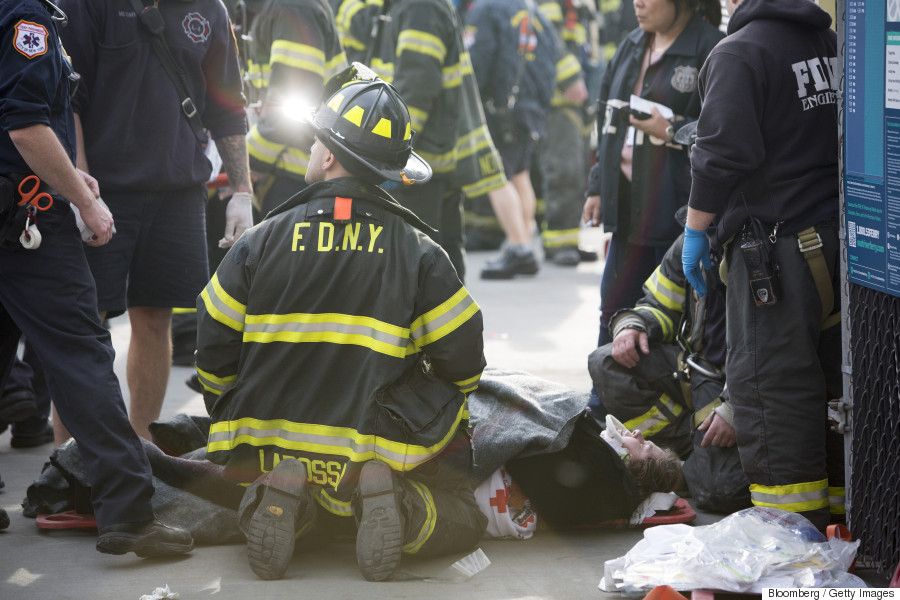 FDNY firefighters tend to injured ferry commuters on stretchers in Manhattan on Jan. 9, 2013. A Seastreak commuter ferry crashed into a pier near Lower Manhattan's financial district during the morning rush hour, injuring dozens, including two critically, police said.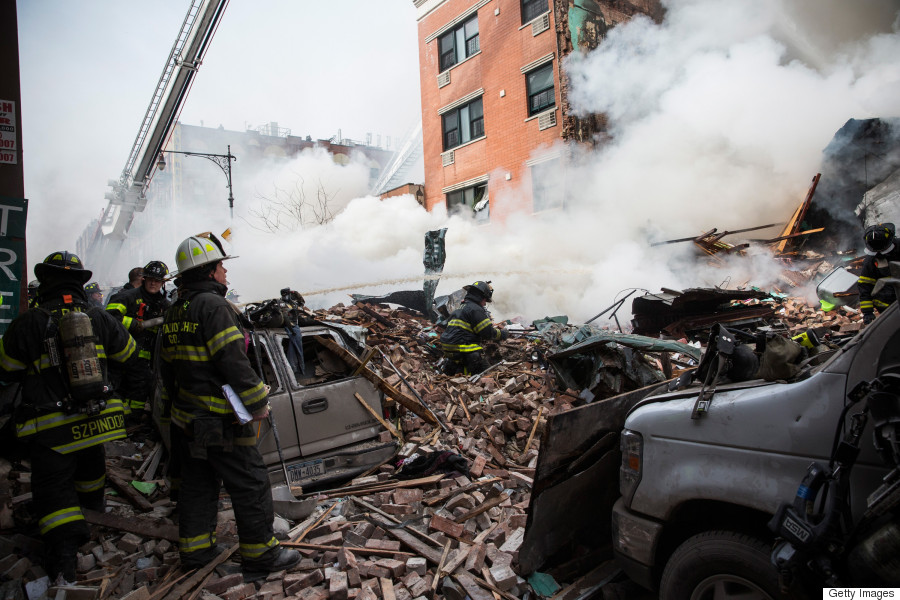 FDNY firefighters respond to a five-alarm fire and building collapse at 1646 Park Ave. in Harlem on March 12, 2014.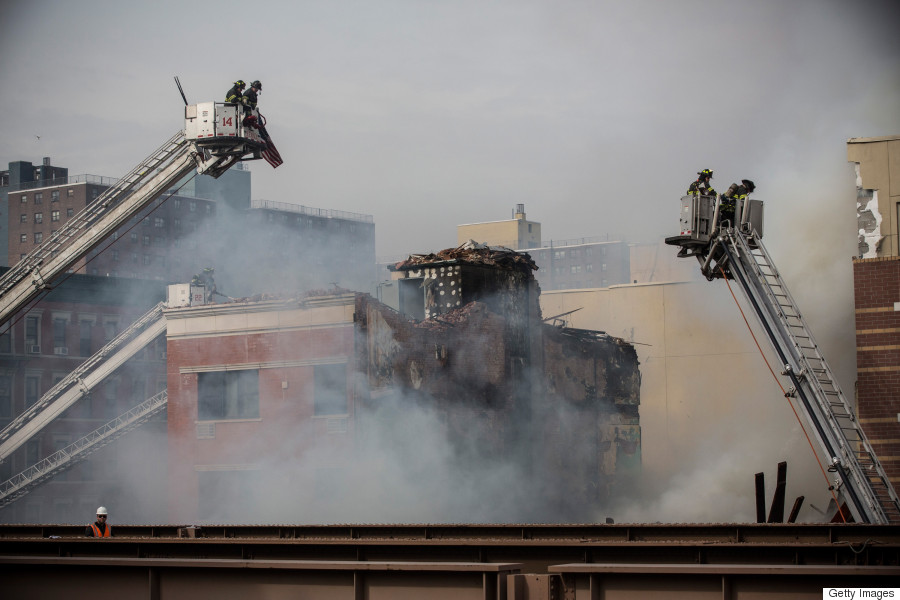 FDNY firefighters respond to the Harlem building explosion on March 12, 2014.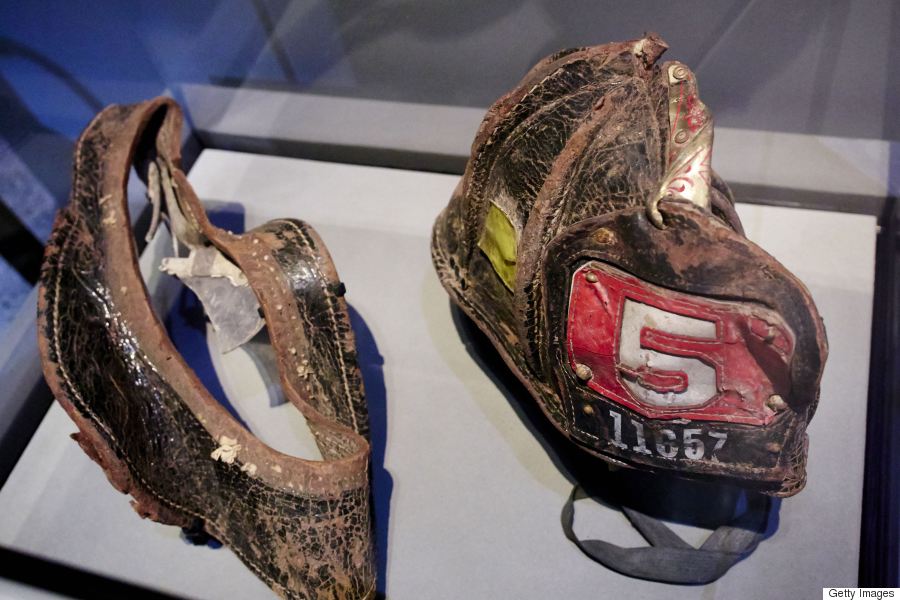 A helmet worn by FDNY firefighter Christian Waugh on Sept. 11, 2001, is displayed during a press preview of the National September 11 Memorial & Museum at ground zero on May 15, 2014.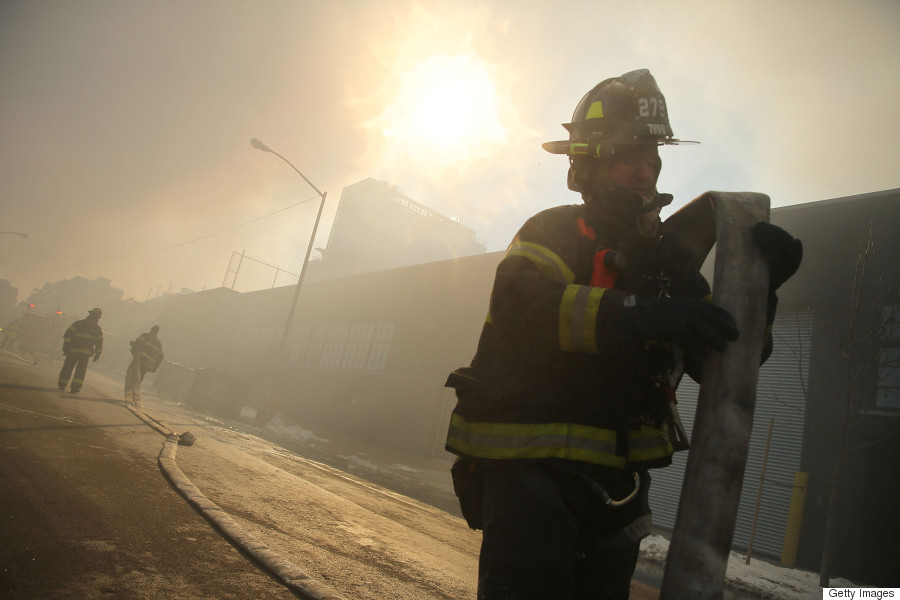 FDNY firefighters work to contain a building fire that went to six alarms at the CitiStorage warehouse building at 5 N. 11th St. near Kent Avenue in the Williamsburg neighborhood of Brooklyn on Jan. 31, 2015.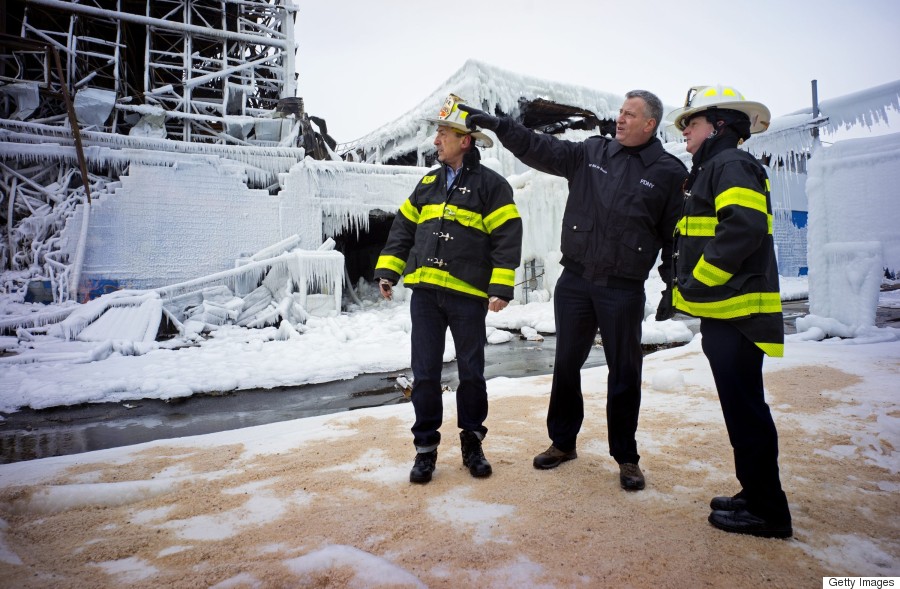 New York City Mayor Bill de Blasio (center) speaks with FDNY Commissioner Daniel Nigro, left, and FDNY Chief of Department James Leonard at the CitiStorage fire in Williamsburg on Feb. 5, 2015.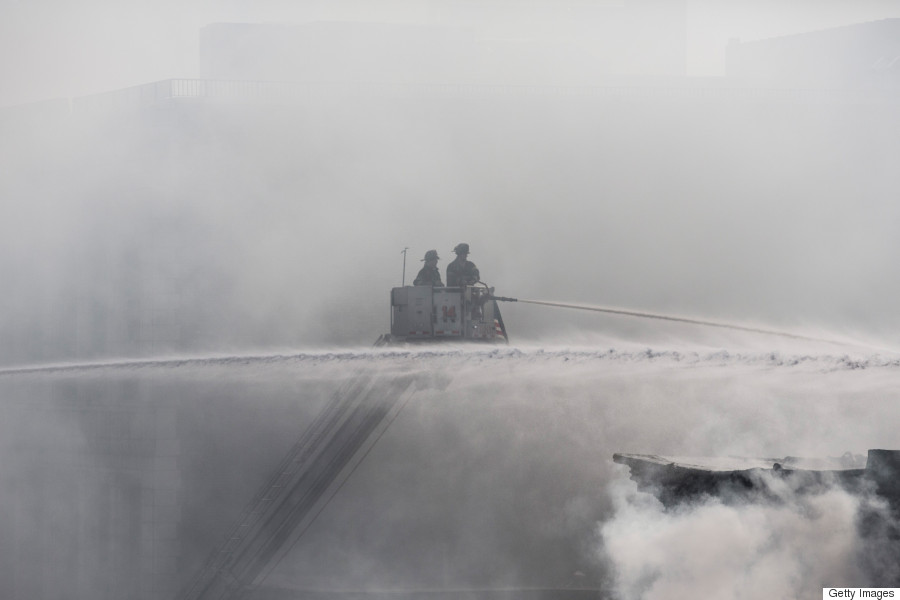 Firefighters work to extinguish a fire after a building exploded in Manhattan's East Village on March 26, 2015.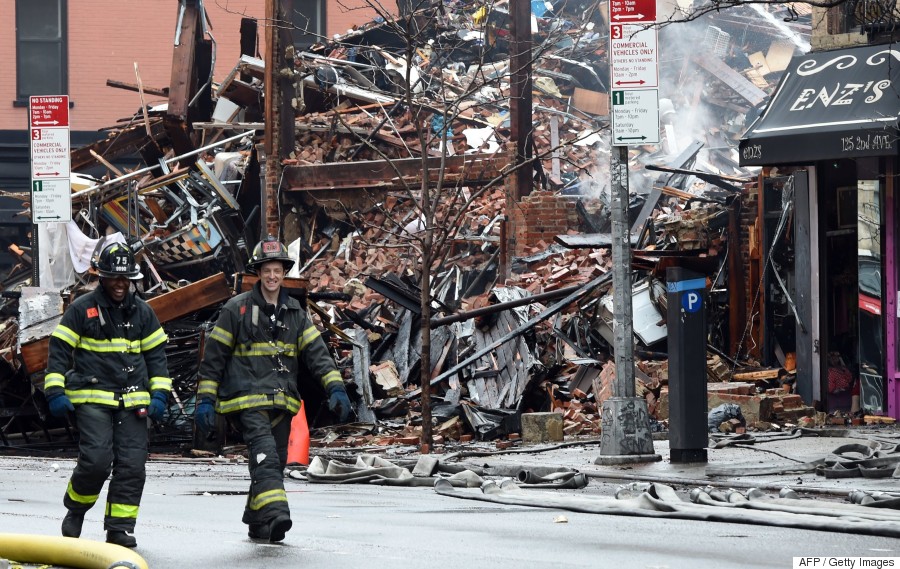 FDNY firefighters walk by debris the morning after the East Village building explosion.
Calling all HuffPost superfans!
Sign up for membership to become a founding member and help shape HuffPost's next chapter