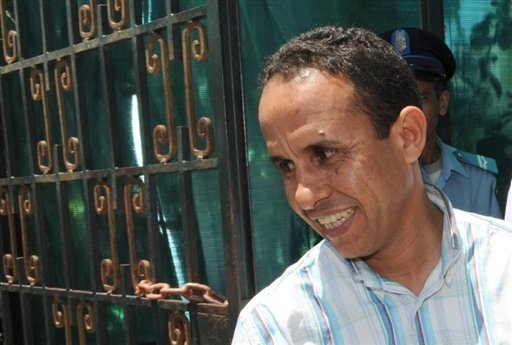 On the night of Sept. 17, one of the most respected journalists in Morocco was relaxing after a busy, but uneventful day's work when he was suddenly confronted by police at the door. Within minutes, he was taken into custody, taken from his wife and family. His computers were seized and the offices of the website he edited, Lakome.com, were ransacked.
What could he have done? There must have been a reason. After all, this was Morocco, an Arab country long hailed as a model of democratic reform.
Thus begins the mystery of Ali Anzoula -- a journalist you have probably never heard in a country usually removed from the headlines. But it is precisely because it would go unnoticed that this story bears telling. It also bears telling because it marks the beckoning of a new, and perhaps even more durable, strain of Arab authoritarianism.
Up until his arrest, Anouzla's week had by all accounts been commonplace, spent doing the kinds of things that online journalists around the world tend to do. The biggest news item he had covered that week related to a video posted on Sept. 13 by al-Qaeda's North African affiliate. Such videos always elicit coverage from journalists, and Anouzla wrote about it on his site, linking to another blog post in a highly respected foreign newspaper.
What, then, could have possibly led to his arrest? It would take seven days to find out. On Sept. 24, Moroccan authorities announced, incredulously, that because of that single online posting, Anouzla was guilty of lending "material assistance to," "defending," and "inciting terrorist acts." Today, Anouzla -- a secular-leaning stark opponent of terrorism -- now sits in a Moroccan jail alongside actual convicted terrorists, facing the prospect of remaining there for up to six years.
Over fifty international human rights organizations have called for his immediate release. According to Amnesty International, Anouzla is "a prisoner of conscience and should be released immediately and unconditionally."
But the Moroccan government shows no sign of letting up.
Did Anouzla disseminate or even endorse the al-Qaeda video? Not even close. He simply included a link to another post in the Spanish newspaper El Pais. Anouzla did not even embed the video or include a direct link to it. (Look carefully, Anouzla's post features only a screenshot.)
But even if he did, so what? Respected online news sites the world over routinely post links that they don't endorse. As the author Laila Lalami has pointed out, it would be as if the editor of The New York Times was arrested on terrorism charges because the paper's website included a link to a video by the terrorist group al-Shabab in a recent article about Kenya. (Again, Anouzla did not even post a direct link to the al-Qaeda video.)
Ali Anouzla is the consummate journalist: amiable, genuinely curious, with a long and esteemed record of asking difficult questions about his country, a country he loves.
I know this firsthand. Just this summer, when I was in Morocco on a research trip, Anouzla and I spoke for hours at his site's office -- a small room with two rows of computers in a nondescript apartment building in the center of Morocco's capital, Rabat. He introduced me to his staff one by one, and even graciously offered to let me use their computers. As editor in chief, Anouzla did not have his own fancy workspace: He shared a computer with his young colleagues.
He was also always eager to show me his country's cultural riches. After I mentioned to him that I had a particular fondness for the Souss region of Morocco (the southern part of the country where I served as a Peace Corps volunteer), he invited me to accompany his family on a vacation there that very weekend. Later, when I met him in his office around lunchtime on a Friday, he invited me to his home to eat couscous with his family.
Since the charges against him are wholly baseless, what then could possibly explain them? An esteemed journalist now sits in a Moroccan jail not because he did anything wrong, but because the Moroccan regime is bent on re-asserting its own authority, clamping down on any signs of protest.
On one level, this was partially personal. The regime was likely waiting to take revenge on Anouzla and Lakome. The site -- along with its french language counterpart fr.Lakome.com -- has been the rare journalist enterprise in Morocco that has not shied away from criticizing the Moroccan regime. (In only three years, it has grown into the fourth most popular site in the country.) It was the first to break the country's biggest story this summer -- about the king issuing a royal pardon to a convicted Spanish pedophile (and the story eventually sparked widespread anti-regime protests). Also, Anouzla recently authored articles finding fault with the king for leaving the country on extended trips without alerting the Moroccan people of his plans. Plus, he has taken jabs at the regime for its handling of the Western Saharan conflict (normally a taboo topic).
But Anouzla's arrest also tells us something larger about the pace of reform in the region. The alarming and repulsive al-Qaeda video in question targeted the Moroccan king, calling upon the country's citizens to wage jihad against him. The authorities could not punish al-Qaeda or stop the release of the video itself so it manufactured a fictitious show of force against a blameless journalist.
The move is only the most recent in a spate of examples of authoritarian contagion unfolding across the Arab world. In the wake of the Arab Spring, the Moroccan king initially tried to forestall mass protests by offering reform. But now a new model of leadership is taking shape: From Syria to Algeria to Bahrain to Egypt, Arab rulers are demonstrating once again that the harder they clamp down, the longer they stay in power.
In the end, this may help such regimes' longevity, but innocent journalists like Ali Anouzla will pay the price. And the longer journalists like him remain in jail, the longer it will take to resuscitate any hopes of democratic reform -- even in Morocco.
*Photo of Ali Anouzla Courtesy of AFP
Related
Popular in the Community