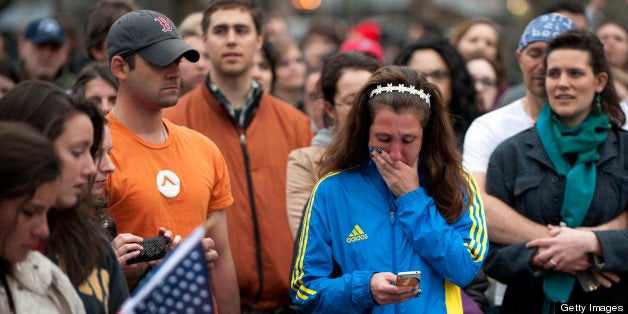 The intent of terror is to keep people apart. If people are afraid to come together, to congregate outside their homes, to live their lives, terrorists hold power over them. Security expert Bruce Schneier wrote an impressive and largely reassuring article for the Atlantic shortly after the bombings. This is exactly the kind of article people need to be reading after an attack like this. He makes several wise points: we should keep in perspective how rare terrorist attacks actually are; we should not rush to label certain actions as part of the "war on terror," which will afford terrorists the infamy they are seeking; people should worry about car crashes and global warming -- things they can focus on improving in their daily lives -- as much as they fret over the possibility of a terrorist attack. These suggestions can help the country cope with attacks and help individuals to maintain perspective.
Schneier's overarching point, however, is that humans should not feel fear as a response to terror because terrorism is largely exaggerated precisely to scare people. He goes on to say that terrorist attacks are singular events that shouldn't drive policy, the damage of terrorism is primarily emotional, and that terrorism is so rare, it's hardly a risk worth spending a lot of time worrying about. He also says we need to accept that we "will never be 100-percent safe from terrorism." These are all statements with which I disagree and they all have a common base on which to disagree: they don't consider human nature.
"We need to be angry and empathize with the victims without being scared," Schneier states. While this would be an impressive emotional balance to achieve, it's not possible for a lot of people -- probably most people when it has to do with an attack that injured well over 100. These insights of Schneier's are important, but they're only insights, not prescriptions. Humans aren't machines. It's human nature to be afraid and as long as people wake up each morning to the uncertainty of our modern world, they're going to be afraid. Terrorism causes people to "overreact," cautions Schneier. Well, duh! Overreacting emotionally in these situations is completely normal. Just because terrorist attacks don't happen as frequently as car crashes doesn't mean they aren't a big deal.
The key -- and this is what Schneier doesn't differentiate -- is to have as wide an array of emotions as we feel, but to not let that fear, anger, and grief paralyze us as individuals and as a nation. President Obama said that "the American people refuse to be terrorized" and that acts of "kindness," "generosity," and "love" define "who we are, what America is." This is both true and separate from what Schneier is talking about. The American people can be afraid without being terrorized; sad without cowering in a corner; angry without retaliating. We already know from experience that this is not what happens to the American people in the face of such a tragedy. We already know that the influence events have on our emotions won't paralyze us as a country, but rather bring us together as vulnerable human beings. And it's not just the people of the United States that tragedy fortifies, but the international community as well -- Putin offered Russia's assistance quickly after the explosions, despite the strained relationship of the two countries.
Similarly, it is nearly impossible to "accept" that we will never be completely safe from terrorism. Acceptance is the wrong word in this instance and the implication that this is what we should all do demands more than we can give. I applaud those who stare death, illness, and loss in the face unabashedly, but most of us can't do that. It's unrealistic to suggest that the American people should feel okay about living with the threat of a terrorist attack. These are not the circumstances under which people become educated, invest their time in careers, have families, and craft futures.
One reason why these events and the threat of these events should drive policy, to an extent, is so the government can say they did all they could to protect their citizens. This doesn't mean that people should blindly rely on government in favor of taking care of problems themselves, but for circumstances that are too overbearing, too ominous, and too complex for individuals to deal with, government should be standing by. That's why we have intelligence -- individuals and tools whose sole job it is to thwart danger.
In fact, the National Consortium for the Study of Terrorism and Responses to Terrorism reported that in 2011, law enforcement officials had more success thwarting terrorist attacks than in the past 40 years (an increase of about 30 percent). This intelligence and these law enforcement officials can play a role in making the country safer when it comes to terrorism and there is no reason to resign ourselves to the fact that we won't ever truly be safe. In almost every scenario, there will always be that tiny percentage of tragedy lurking. Even though terrorism is rare, its casualties can be enormous and it is absolutely worth spending government time and resources trying to prevent attacks. We should never forget how vulnerable our country is to danger, but we should also never, ever stop trying to thwart that danger.
Finally, it is foolish to state that the damage of terrorism is primarily emotional. In a matter of seconds this past Monday, three people died and more than 140 were injured. Bystanders reported limbs flying and blood everywhere. For people on the other side of the country, perhaps, the reaction was more emotional. But for hundreds of people, this attack caused physical pain and loss. We must acknowledge that, no matter how far away some of us may be.
Obama describes Patriots' Day as "a day that celebrates the free and fiercely independent spirit that this great American city of Boston has reflected from the earliest days of our nation." To bolster his enlightening points, this is what Schneier must remember: the American people are free, independent, strong, and collaborative. We fight for each other and we help each other. We can be scared, angry, sad, hurt, we can even overreact if we want to. And not one of those emotions should be equated with defeatism.