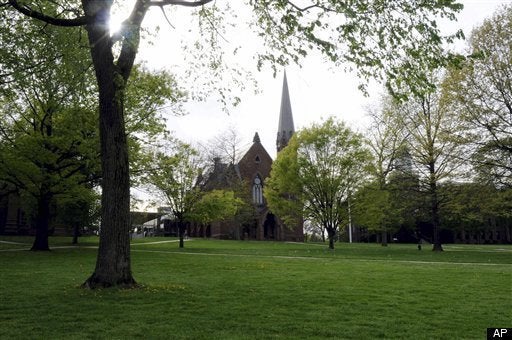 On May 27, a 27-year-old graduating senior at Wesleyan University from Kenya stepped onto the podium and delivered the commencement address. Kennedy Odede rallied the graduates, their families and the Wesleyan community by having them repeat with him, "I promise to promote the power of hope."
I have spent much of my career looking at the research on what helps children thrive, what keeps the fire for learning and doing burning brightly within them. Studies that I have reviewed tell us about averages, but not about the individual. So after listening to Kennedy Odede's speech at Wesleyan, I looked back on what he has written about his growing up years to search for clues.
His is an extremely unlikely story. He is the oldest of eight brothers and sisters born and raised in Kibera, the largest slum in Africa. He was malnourished and almost died from malaria. As he teetered between life and death, he was left alone for hours as a time. As he writes in his blog:
My mom used leave me alone the whole day while she looked for odd jobs in the slums ...I was always hungry and sick and we had no money to do anything about it.
His schooling was anything but promising. He went to an informal elementary school in Kibera known as Kisamu Ndogo Primary School. He writes:
Our time at Kisumu Ndogo was filled with hot days spent in dark classrooms, our yelling voices often disciplined by teachers with a love for inflicting painful blows to the head with heavy sticks.
During breaks and after school, there were fights among the children:
We imitated the moves of the heroes we admired. In those days, to be a fighter was to be a hero.
At seven, he learned an important life lesson from a fight he didn't have. Another kid in the school named Wycliffe taunted him, saying: "Stupid boy, you have a girls' voice!" Trembling with fear, a fear so powerful he likens it to malaria, he walked away to the disdain of the other children:
That moment taught me a lesson in my life about fear and loosing. I could have kicked Wycliffe easily -- I was much larger than him, and there's no doubt that my body could lay him flat.
But fear stopped him. But it also caused him to stop and think about fear itself:
If we perceive fear as loosing and shameful, we let it direct our actions...the fear is our enemy and destroys us.
From that experience, he learned to make fear his ally, a lesson that he continues to call upon:
I remind myself that fear is my ally -- it shows me how to be humble, how to think from other people's perspectives, and how to better face the challenges of everyday life.  It teaches me how I want to be, and what I need to do to get there.
 
A year or two later, he left his school and his home:
I had to leave my family as they could not provide food for me and for my siblings. I had to search on my own, I slept cold on the streets under the stalls and food was difficult to come by. In short, I became a homeless kid whose only schooling was the harsh street life education.
Beyond scrounging the garbage for food, he found work:
I worked in the factories as an unskilled laborer for many years. It was ten hours for a dollar in horrible conditions.
He learned other things beyond the fact that fear was his ally -- that joining together rather than fighting each other was essential if change was ever going to happen. He began to assume responsibility for others in Kibera, as he writes in Huffington Post:
My dreams to change my community grew from my own personal experiences. The first time I ever had extra money -- 20 cents in 2005 -- I bought a soccer ball and started SHOFCO, one of the first youth groups in Kibera founded and run by slum residents.

With no funding, but with faith in people's abilities to change their own lives, I expanded this group, working with thousands of people on AIDS education, female empowerment, microfinance, sanitation, and community health work.
His mother had always told him that education was essential, and he could see how the lack of education in her life had crippled her, as he writes in his blog:
I was born to an underage woman who was denied education and could not prosper. My stepfather mistreated my mother, she was often almost beaten to death but she never gave up on her kids. She taught me how to care about other people and to take action to bring change. My poor mom believed in education.
Without formal schooling, he taught himself to read and devoured the stories of people who took on challenges to change their societies, like Martin Luther King and Nelson Mandela.

When his 16-year-old sister was raped and became pregnant, he began to hold street theater shows to rally against violence. There he met Jessica Posner, a Wesleyan University student who had was spending her junior year abroad to work with this group. She also insisted on living in Kibera. In a New York Times' editorial, Nicholas Kristof writes:

Kennedy told Jessica of his dream to get an education, and Jessica nudged the Wesleyan admissions office into offering him a full scholarship -- even though he had never gone to formal school before.
But being at Wesleyan didn't stop him and Jessica, now his fiancé, from continuing to work on behalf of Kibera:
When I came to Wesleyan, achieving what I thought impossible, Jessica and I began to work together to make our dream of changing the options available to women a reality.

Together, we co-founded a nonprofit, Shining Hope for Communities. We use an innovative, two-step community-driven model to combat gender inequality and extreme poverty. We link free schools for girls to holistic community centers that provide residents with the most essential services unavailable elsewhere.
My daughter Lara Galinsky -- who at Echoing Green is one of the funders of Shining Hope for Communities -- was in the Wesleyan audience cheering as Kennedy spoke. Our family and the wider world will all continue to watch what these remarkable young people achieve.
His story tells us that we can learn life skills, like the ones I discovered are so essential in Mind in the Making, from "harsh street life education" as well as from great schools and loving parents. The skills that he mentions -- turning fear into an ally so one can take on challenges, seeing the world from other's perspectives, becoming self-directed, and being an ongoing learner -- transcend the environment. But wherever one is, it always takes others, from the mother who put her kids first and imbued a commitment to education to the fiancé and other community members who believed in Kennedy Odebe and worked with him for the betterment of all. As Odede said in his commencement address: "Love gives us hope." Let us all promote the power of hope!
Calling all HuffPost superfans!
Sign up for membership to become a founding member and help shape HuffPost's next chapter