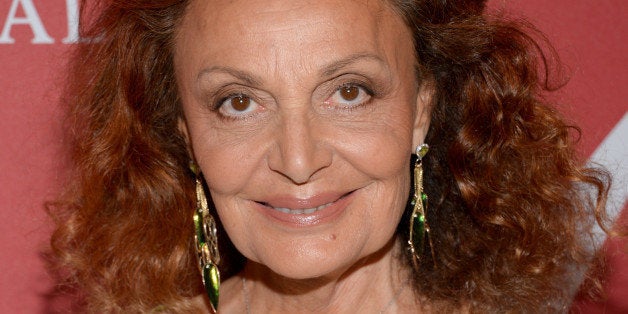 Diane von Furstenberg says that the greatest gift she's ever received is the lesson that "fear is not an option."
I sat down with von Furstenberg, Queen of the wrap dress and the DVF brand, and found a down-to-earth woman with a powerful story that resonates far beyond the world of fashion.
As a small child, von Furstenberg learned her lesson in a rather brutal way from her mother, a Holocaust survivor.
"She'd lock me in a closet and wait 'til I stopped being afraid," says von Furstenberg.
Her mother experienced atrocities at Auschwitz and her challenging life shaped von Furstenberg's to this day.
"Fear is not an option is everything: fear of flying, living, confronting the truth... fear of anything," says von Furstenberg, who has made some courageous choices in her personal and business life, as chronicled in her new book, The Woman I Wanted To Be.
She recounts the many periods of self-doubt and challenges she faced as her career soared, then flopped, and rose again from the ashes as she battled to stay relevant. She finally triumphed again in China and globally, ensuring DVF a place in the design history books. She's done it all: married (and divorced) a prince; been painted by Andy Warhol; made the front page of Newsweek; survived cancer; faced bankruptcy and become a doting grandmother.
"The most important relationship is the one you have with yourself," says von Furstenberg. "See yourself for what you really are... for the good and the bad, whatever. Once you have accepted that, then you can also begin to like yourself."
Along with Tina Brown and Sally Field, von Furstenberg is part of Vital Voices, a network that supports female community and business leaders around the world, both politically and financially. The group believes that more women in politics can contribute to a more peaceful world.
REAL LIFE. REAL NEWS. REAL VOICES.
Help us tell more of the stories that matter from voices that too often remain unheard.