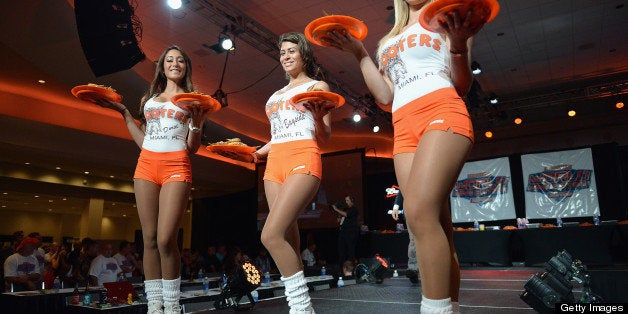 When we last left off, Maria Edible and I were on round two of all you can eat half-priced sushi and talking about spring break in Florida. For round two, I ordered 1 masago, 2 smoked salmon, 2 spanish mackerel, 2 red clam, Ikura, two handrolls of yellowtail and salmon skin, and another pitcher of beer. As I have blogged before, competitive eating takes one to some interesting places. In 2006 GoldenPalace.com sent myself, my girlfriend, and two MLE announcers on spring break to South Padre Island, TX and Panama City, Fla to search for the greatest collegiate eaters in the huevos rancheros and key lime pie disciplines. Four contests in total -- two for aspiring college gurigtators and two of the gustory gladiators known as Pro-Eaters. Off-shore gambling, prior to being shut down in the U.S., was competitive eating's greatest sponsor due to their inability to use traditional advertising. What better place to influence today's youth towards recreational gambling then when today's youth is nearly black-out drunk, shouting either "Whoo Whoo" (the ladies) or "Show me your tits!" (the fellas). Golden Palace was sending us in style with our own driver and we were slated to travel in the vehicle known as, "Golden Palace Casino's Museum of Oddities." In reality, an oversized Winnebago, storing all the incredible items that the gambling chain had bought at auction to make headlines. We would be riding and sleeping next to items such as the pope's cane and the grilled cheese sandwich with Jesus face on it. Godly items on Earth would seem to be enough for most online casinos, but just in case, Golden Palace boldly bid where no man had bid before and acquired William Shatner's kidney stones. Beam me to Spring Break, and give it all you've got, Scotty we've got the Captain's kidney stones and there is no stopping us. Well...
Who would have guessed that no one would insure "Golden Palace Casino's Musuem of Oddities, making the caravan not quite street legal and Shat's stones to be left in storage in Canada. We rented an SUV and drove hellbent to spend a day in New Orleans (where it is always spring break). There are many highlights (and lowlights) of four adults running competitive eating contests on spring break, but I will relate only two.

South Padre Island -- College Contest -- Huvoes Rancheros, sixth minute.
In a word, spring break in South Padre Island, could be described as, "sloppy." I didn't think that it would carry over into the competitive eating events, however, at minute six of the collegiate Huveos Rancheros contest, something happened that I had rarely seen before. The crowd was huge, pushed up to the front of the raised platform -- it was like a Rolling Stones concert, except instead of music, we had 12 college "eatletes" scarfing down platters of huveos rancheros. One eager gurgitator rushed to the front and put his finger down his throat. Before I could react or reach him, a stream of yellow and brown spurted out from his throat -- the breakfast geyser he produced didn't scatter so much as land on the shoulder of a guy in a football jersey in the front row. It sat on his shoulder, closely resembling a parrot, while he gave the puker the finger. I realized, the guys were buddies and the eater had gone for "the vanity puke." It is a technique only seen at Philly's Wing Bowl (more of an early morning stripper parade than an eating contest). I described Wing Bowl 13 as, "as close the apocalypse as one could come, without it being the actual apocalypse." Occasionally, one of the 30 eaters, chowing down on ice cold chicken wings, would decide to go for the vanity puke. The most famous, by an eater known only as, "Sloth" was a projectile vomit that put the "Exorcist" to shame. Each year, if the action lags, they show Sloth's reversal in glorious slow motion on the Jumbotron. The crowd loves it. Back to "Elvis leaving the building" in South Padre Island. I escorted the eater to the back of the stage, but little could be done for the omelet parrot guy. In all future MLE event, the front row is referred to a, "the spray zone." Now you know why.
Panama City -- Pro Contest -- Key Lime Pie -- Post Contest
I am often asked, "What is the worst you've felt after a contest?" An easy one -- after almost 5 whole Key Lime pies in six minutes, my stomach felt like Mike Tyson was taking swings at it. We had a short flight from Panama City to Orlando and a tight connection to get us back to NYC. I was hunched in my seat at a 90 degree angle, moaning the entire way. In Orlando, I decided to do the unthinkable -- attempt to evacuate my key lime overload. I am always thankful to the sponsors and the food which they put forth; digestion is a part of our sport. Plus, we usually are on stage for interviews or wandering the crowd signing autographs so the food naturally settles. In my case, I felt 10 months pregnant with a key lime baby pushing against my belly button. In the rest room, I decided to attempt to take a crap, hop up, smell my crap, and inevitably throw up. Everything went fine, until I hopped up and the automatic flush quickly disposed of my feces, the aroma, and my hope. Tim "Eater X" Janus yelled into the bathroom that the plane was boarding. I yelled that I wasn't going to make it. He returned moments later with a large Perrier bottle. I chugged it, Eater X cheered me on, and I exploded like a pipe bomb. It turns out that poorly made key lime pie will expand in one's stomach and the tripled amount of greenish mush and graham cracker filled the toilet to overflowing. The automatic flush could not keep up, and like a low-production value Terminator movie, man won over machine again. I've never been back to the Orlando airport and I really owe whoever discovered the key lime volcano an apology, but hey, I was still on spring break.
Still eating and drinking ½ priced sushi with Maria Edible. For the third round, I request the dealer's choice plus a piece of Ikura. I get a roll with real crabmeat and six pieces of deep sea or back row sushi. I also order another pitcher of beer and we return to Spring Break in sunny Florida.
Saturday, March 30th -- a slight breeze blows in from the beach, where 50,000 Panama City breakers drink, boogie, and drink some more. It appears to me that Panama City has fallen on hard times since my last spring break -- evidenced by the shuttered Club Latitudes and Breakers Bar. However, Hooters seems to be leading a revival. Their bright orange logo serves as a beacon to the spring breakers and the eight dollar pitchers of Miller Lite as the nectar reward. A stocky clean-cut guy makes his way across the balcony. His swagger and protruding muscled jaw mean it can only be the number one eater in the world, Joey "Jaws" Chestnut. Described as, "an American Hero," Joey rise in pro-eating has been majestic. In the 2013 Hooters finals, he ate 144 wings in 10 minutes as Super Bowl veteran (and former Hooters oyster shucker) Jon Gruden looked on slackjawed. In competitive eating, Joey is a man of firsts. He created an appearance market previously unknown to Major League Eating. He booked bar mitzvahs, birthday appearances and frat parties. He cut the starting line tape at San Jose bike races. While most eaters had what he called gimmicks -- Mohawks, face paint, or outlandish hats and suits, Joey said his only gimmick was winning. He became the first rock star eater after a fan offered drugs off stage (he declined) and by trashing two hotel rooms. (Note: He didn't throw any televisions, but post contest enjoys a nap in the bath and often leaves the water running). In Major League Eating, we pay our way to the qualifiers and then the sponsor pays for travel, accommodations, and generous prize money in the finals. However, Joey became such a commodity that it is said, he doesn't open his mouth for less than thousands. The Hooters qualifiers have $500, $300, and $200 in places one through three and last year I recouped my travel costs to Indianapolis. This year was spring break and Easter weekend. My flight alone cost more than any other competitive eating trip in the last decade. Joey will be lounging on the beach while I will be confined to a rental car with Yasir "Doggie Bag" Salem. My exit strategy has me driving two hours, flying out of Tallahassee at 6 am, taking three planes, and arriving in Newark 13 hours later. A rock star eater I am not; Even celebrity short order cooks travel better than me.
Joey and Hooters have had a symbiotic relationship for many years. He has appeared in one of their commercials and if rumors are to be believed he has dated no less than five Hooters waitresses. Hooters Panama City was reviving spring break but also going more upscale -- granted the uniforms were not going to change. One Hooters rep called the pantyhose and orange shorts, "unforgiving." But really why go upscale when one looked at the 15 girls assembled to be "wingettes" for today's event. The girls worked at Hooters up and down Florida and I kid you not, they all loved their job (but probably not their uniform).
With 15 beautiful Hooters girls cheering it is easy to get distracted, but Joey gets into a wing eating rhythm (his manual to oral dexterity is unparalleled). Joe wins easily with 140 wings. His technique is so good in the future I will publish a blog on Joey's chicken wing technique titled, "The Magna Carta of Meat. Did I qualify for the finals? I did not. My technique was flawed. My new mantra is that it takes just as long to take a bad bite as a good bite -- Joey Chestnut's 20 pound bowl was a mound of bones as if consumed by one of the dragons from Harry Potter. My 20 pound bowl was filled with wings with tiny holes in them as if consumed by Ron Weasly. I was clearly eating only the middles and that might fly at the Indianapolis Hooters, but in Panama City one needs strip meat from bone. $800 bucks in credit card debt at this point would deter some from the rigors of the pro-eating circuit, but I have adopted a Dude like attitude towards the whole thing. Strikes and gutters, hot dogs and chicken wings or to quote directly from The Stranger: "Sometimes you eat the bear, and sometimes, well, he eats you." The bear in my case was Neil Seabree, a rookie from Freeport, Florida in his first contest. Sam Barclay, the MLE MC often has to think of pro-eating nicknames on the spot and pre-contest proclaimed the heavily bearded, fuzzy haired Neil Seabree, "The Bear." His name and incredible wing total of 128 was read second, only behind Joey's victory. It's not unheard of for a rookie to shock the pros -- Seabree's totals were weighed four times before the announcement to be sure of the result, but this was a flabbergasting 1st performance. A closer look at Seabree and one realized he was the spitting image of one of today's hottest comics. The beard, the hair, the girth -- formerly Neil Seabree, now forever known on the MLE circuit as, "Snack Galifianakis" A gig playing musician (Snack: "I grew up playing Guns and Roses covers, but now I am way into bluegrass.") was reborn as a pro-eater. His wife and two week old daughter (two weeks old and already on spring break?) looked on amazed. I wondered how he didn't get any wing sauce on his shirt. (Snack:"They gave me this nice white tee-shirt, I didn't want to get any sauce on it."). Hooters also gave him $300 and after signing an MLE contract, Snack Galifianakis is heading to Clearwater, Florida on July 25th for the Hooters World Wing Eating Finals 2013.
I was heading for the bar -- first Hooters, for a cool down milkshake -- and then with Joey, Doggie Bag, and the rest of the gang in tow, several bars that exist in liquor stores (we visited Ms. Newbies, Ms. Newbies Two, and Packaged Liquors, owned by the Ms, Newbies franchise). When you have that much food in your belly, you can pretty much drink as much as you want. Setting competitive eaters lose on your city can be dicey, and we often find ourselves winding down in a strip club (they have the nicest restrooms), but we tip well and don't drool much.
Several hours later, at 4 am central time, I find myself screaming down the desolate Florida highway, heading towards Tallahassee and 13 hours of airport travel. Doggie Bag is passed out in the passenger seat and with only the hum of the wheels on the highway, the solitude gives a man time to think about his wing technique. It's true that there were four more Hooters qualifiers in Augusta during the Masters (last year John Daly showed up not for the golf, but for the wings), Las Vegas, Dallas, and city TBD, but I had busted my budget travelling to spring break. Fortunately for me, the pro-eating circuit allows do-overs of sorts. In two weeks at the Pork in the Park event in Salisbury, Maryland would be the Eastern Shore Wing War presented by Mountaire Farms. In Wicomico County, I would again face the dreaded chicken wing -- this time the paddles would have no flaps the drumsticks would appear. I passed into Eastern Standard Time and it occurred to me it was Easter Sunday. For this competitive eater, there would be no family ham, no chocolate bunnies, and the only resurrection occurring April 21st at the next wing eating contest. As Easter dawn broke through the dirty windshield of the rental car, I had only one thought, "How would Jesus eat the drumsticks?"
Calling all HuffPost superfans!
Sign up for membership to become a founding member and help shape HuffPost's next chapter