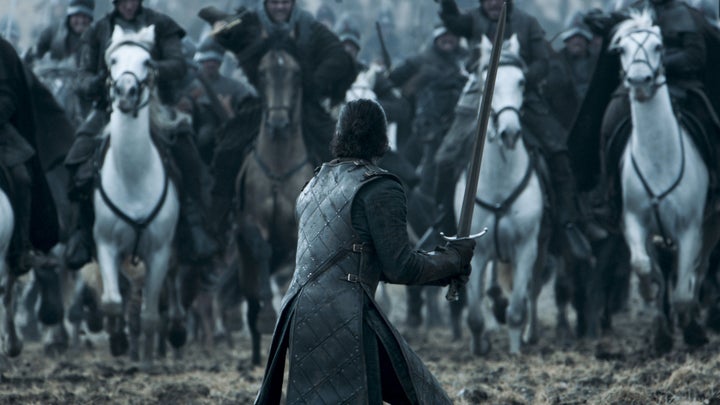 Fear not! Although portions of the series are filmed in Northern Ireland, which is set to leave the EU as part of the United Kingdom, the Brexit will not affect filming, according to HBO.
"We do not anticipate that the result of the EU Referendum will have any material effect on HBO producing 'Game of Thrones,'" reads a statement provided to The Huffington Post by the network.
The vote sparked rumors that extraction from the EU might spell doom for the hit series, which is scheduled to produce two more half-seasons. Foreign Policy reported Tuesday that the Brexit could affect "Game of Thrones" filming in Northern Ireland if funding from the EU's European Regional Development Fund, which supports projects in under-developed regions, were cut off. But the show hasn't actually received ERDF funding for the last few seasons.
However, while the Brexit might not mean much for Westeros, it may very well wreak havoc on the entertainment industry's activity in the U.K.
Before the Thursday vote, dozens of notable British actors and celebrities, including Chiwetel Ejiofor, Patrick Stewart, Benedict Cumberbatch and Keira Knightley, signed a letter urging their fellow Brits to remain in the EU. 
"Britain is not just stronger in Europe, it is more imaginative and more creative," the letter reads. "Our global creative success would be severely weakened by walking away."
In a statement provided to The Hollywood Reporter, Michael Ryan, chairman of the global entertainment industry trade association Independent Film & Television Alliance, said the decision is "likely devastating" to the U.K. film and TV industry.
"This decision has just blown up our foundation -- as of today, we no longer know how our relationships with co-producers, financiers and distributors will work, whether new taxes will be dropped on our activities in the rest of Europe or how production financing is going to be raised without any input from European funding agencies."
While extraction from the EU is likely to take years, specific ramifications of the Brexit on Hollywood and the entertainment business remain as murky as its effects on the global economy.
REAL LIFE. REAL NEWS. REAL VOICES.
Help us tell more of the stories that matter from voices that too often remain unheard.
BEFORE YOU GO
PHOTO GALLERY
"Game Of Thrones"