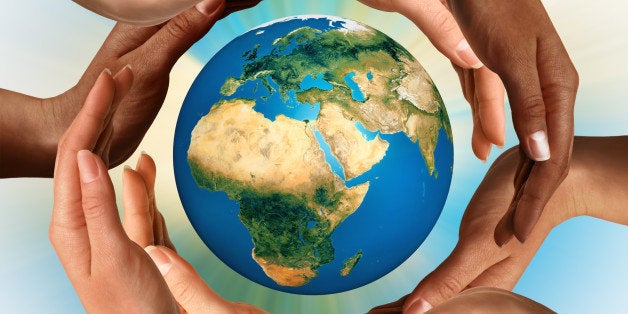 Not everyone sets out to become a social entrepreneur.
Since we were young we've been asked "what do you want to be when you grow up?" and we create goals and obtaining that position or that title is our benchmark for achieving what we set out to be. It's what our business cards will say, and it's what our parents will tell their friends what it is that we do.
Some of us prefer to work at a for-profit organization, some are navigating the social space, and others have found their place in the not-for-profit sector. There are also those that are left wondering where they may fit -- trying to balance personal ambitions and professional commitments while finding a vehicle that allows them to achieve their intended goals.
My career path didn't begin with the intention of becoming a social entrepreneur. I had absolutely no idea what a social entrepreneur was or what they did. What I did know was that I was 21-years-old and was running a for-profit organization that generated revenue. I also knew that the statistics on the number of small businesses that failed within the first two years of operation scared me.
This provoked me to think about what value my for-profit organization was generating. I was providing a service to a sector that I fell in love with and had the opportunity to work with remarkable clients who believed in hiring the right people that would contribute to creating transformational learning experiences for their students. For me, our bottom line was the same. However, I understood -- or was compelled to consider -- that at any given moment, like any business, my product or service may become obsolete. This engendered a fear of failure.
Start-ups, not-for-profits, small (and large) businesses come and go. During the holidays of 2004, while sitting at my desk in the basement of my parent's home, the question for me became; if this business failed tomorrow, what did I do with it?
It was in that moment that I decided that the company was going to use a percentage of profits in the following year to build a school in a community abroad. I didn't think about how, where or which community, but it felt right and this was what the company was going to do. The thought was that if I were to become a statistic, then at least I was able to utilize my for-profit organization to help with an unmet social need. The hope was that the school would be an environment that could then create transformational learning experiences for students that may not have otherwise had access. This was aligned with my bottom line.
I didn't refer to myself as a social entrepreneur. There was no course, minor, or major in this space that I enrolled in during my undergraduate studies, and it's not what my business card said. Admittedly, when I was being referred to as such, I first had to Google it. It was only when I considered my bottom line -- beyond profit and social impact -- and experienced what could be that I began to identify with the concept.
The fear of failure is what triggered the idea of introducing a social mission. Perhaps at that time it was a way that I was coping with the idea of potential failure. Although unintentional, intentional contribution was organically embedded within the business model. Learning about social impact and the variables that influenced it happened gradually. One project spurred questions and ideas and building one school just wasn't enough anymore. This led to additional initiatives and influenced the way I viewed both the for-profit sector and not-for-profit sector. It also influenced the way I viewed what was and could be possible.
Whichever career path or sector you choose, consider the question; if I lost everything tomorrow, what did I do with what I had? Identifying your bottom line can and may very well change your trajectory.
Calling all HuffPost superfans!
Sign up for membership to become a founding member and help shape HuffPost's next chapter