Jon Macy began his comics career with the series Tropo and Nefarismo, both part of the black-and-white alternative comics boom of the 1990s. He contributed to queer comics anthologies Meatmen, Gay Comics, Qu33r and No Straight Lines, as well as gay erotic magazines such as Steam, Bunkhouse, and International Leatherman. His book Teleny and Camille, a graphic novel adaptation of the classic anonymous erotic novel attributed to Oscar Wilde and his circle of friends, won the 2010 Lambda Literary Award for Gay Erotica. His most recent work is Fearful Hunter, an erotic fantasy created as an act of protest against California's Proposition 8, which won the 2010 Prism Comics Queer Press Grant. I spoke to Macy on the eve of the paperback release of Hunter.
What was the spark for Fearful Hunter?
Fearful Hunter started the day after Prop 8 passed here in California, I put down the project I was working on and dug in. A lot has changed since then, but I will never forget how stunned I was, also a bit fearful, which may have in part inspired the title. The truth is that I never thought it would become law so I did absolutely nothing to prevent it. At the time I wasn't sure what I wanted to say, but I did know that I wanted to say something. Something that would counter the voices that were saying that marriage between two men was frivolous and impossible. I felt that others were speaking for me, and making decisions for me and my people. I was scared all of a sudden, and turned to the thing that I do best, comics.
There are a lot of things that come together when I work on a book. Some of the ideas are a conscious direction I want to take like speaking out against homophobia, but then there are the themes that are parts of my life that surface involuntarily. A lot of Fearful Hunter also comes from being a caretaker to my lover who had severe mental illness, and how that changed how I look at monogamy.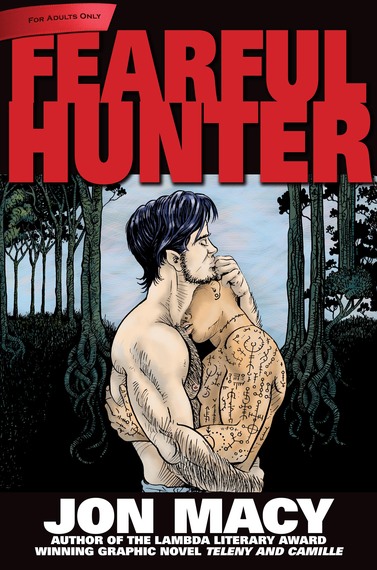 You're a bit of a legend in "queer" comics, how did you get your start?
They say showing up is the best way to find your place in any community, but I find that the ones who really shine are my friends who love this medium so much they stick it out even when it's rough. When I started there were not that many of us and very little outlets for our work to be published. I was lucky to have mainstream queer creators that were willing to pass my name on to a publisher who was looking for new books. John Nordland ll of Blackbird Comics was a straight cartoonist who started publishing, and he was very brave to give me a series. I will forever be in his debt because, not only did he have faith in me, but he took the risk to give me that chance.
Have you had any interest in doing mainstream (DC/Marvel/Image) work?
I grew up dreaming of working on Marvel comics like Dr. Strange. Now I don't think I could give up the control I have working on my own projects. Also, I feel I have an obligation to be out as a gay comics creator, and to create work that speaks to the future of the LGBT community. Speculative fiction may sound like silly fantasy, but when we dream our dreams we are challenging those that come after us to live them. I don't think I would be able to serve those ideals doing work for hire, but I sure would like to do at least one Dr. Strange story because I feel the character is a noble one.
My heroes all have one thing in common, they are single-minded in their expression, and let nothing get in the way of that. Not even self destruction. Oscar Wilde, Djuna Barnes, and Raymond Chandler have each had their turn in occupying my mind for the five years or so it takes me to complete a graphic novel. This time it's Charles Mingus and the world of jazz.
Calling all HuffPost superfans!
Sign up for membership to become a founding member and help shape HuffPost's next chapter