In one of the most daring protests this summer, two activists paddled a boat this morning onto the massive Shumate coal slurry impoundment in Raleigh County, in an attempt to draw attention to state inaction on the controversial and deadly 2.8 billion-gallon toxic cesspool that hovers precariously in the West Virginia mountains.
As part of a series of protests coordinated by the courageous Ramps Campaign, the two women held banners addressed to West Virginia Gov. Earl Ray Tomblin, "Slurry Poisons Appalachia" and "Gov. Tomblin, Put Health Over Profit." Another Ramps activist has reportedly locked himself to a barrel of black water in front of Gov. Tomblin's mansion.
"I'm participating in this action in solidarity with the Appalachian people who live every day slowly being poisoned by their own drinking water," Pipestem, West Virginia-native Heather Doyle said in a released statement.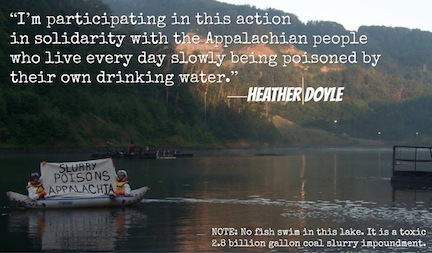 (Photo courtesy of the Ramps Campaign.)
A federal study on slurry impoundments in West Virginia, released this spring, found that most earthen-walled impoundments failed to meet certain standards.
Earlier this summer, a broad range of citizens groups filed a formal petition for a federal takeover of the state regulatory program, citing "systemic failures to properly assess the risks of flooding from mine sites, drastic understaffing, and failure to assess meaningful penalties for violations of the law."
In November, a coal miner died at a Harrison County coal slurry impoundment. His body wasn't found for a week. In neighboring eastern Kentucky, the bottom walls of a coal slurry impoundment broke 13 years ago, releasing over 300 million gallons of toxic coal slurry into the Tug Fork River in Martin County.
Coal slurry impoundments abound in the West Virginia mountains--and in all coal mining communities, such as Illinois--including the nearby class "C" Brushy Fork impoundment, one of the largest impoundments in the nation. According to past mining records, down-slope residents below Brushy Fork would have less than 15 minutes to escape a 72-foot tidal wave of coal slurry, if a significant break occurred.
"I grew up in Eunice drinking water poisoned by coal slurry, went to Marsh Fork Elementary under that dam, breathed the dust from that prep plant, and I've suffered the lifelong health consequences of that," said Junior Walk of Rock Creek, at today's protest. "These same abuses are taking place today across our great state, and the blame for that lies squarely at the feet of Gov. Tomblin."
"Our politicians and regulators say that it's safe to dump slurry in our communities, but they don't want it on their doorstep. Gov. Tomblin could order to coal industry to install filter presses that would eliminate slurry while creating jobs for less than a dollar a ton," said Chuck Nelson, a retired UWMA coal miner from nearly Glen Daniel. "That's the way it also goes. Our Governor puts the interests of the coal industry above the health of our communities."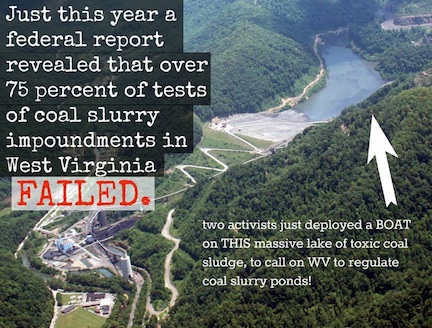 (Photo courtesy of Ramps Campaign.)
Doyle's statement is here. She added:
It is hard for me to imagine the hubris and disregard for life that justifies filling an entire mountain valley with toxic coal slurry, held back by a man-made earthen dam, that may one day break and cause total destruction of people's lives and homes, and further chaos and disruption even farther downstream. Even without a catastrophic failure, slurry impoundments including the one my friend and I are floating on today concentrate countless heavy metals into areas previously teeming with the diverse life of the Appalachian ecosystem, creating a vast dead zone. These slurry ponds will continue to leak and leach mining runoff and treatment chemicals into the groundwater and streams of the surrounding valleys, irreparably damaging the landscape and the health of communities below. The specter of unsafe coal extraction, irresponsible corporate decisions, and complicit authorities will hang over the people living here for as long as any of us can imagine, and beyond. When the profits of coal extraction are gone, and the coal behemoths have left this state, it is the people of West Virginia who will be left with a destroyed mountain legacy. No ecosystem or valley community can ever reverse the damaging effects of mountaintop removal mining and the associated massive slurry impoundments.
"I was scared on the impoundment, but I am more terrified of the coal industry's continued disregard for human life and land," said Ricki Draper, the other activist on the boat, in a statement. "After taking all of the coal, Alpha will abandon Appalachia in order to find other resources and communities to extract."
For more updates, follow the Ramps Campaign on twitter @RAMPSWV
Popular in the Community