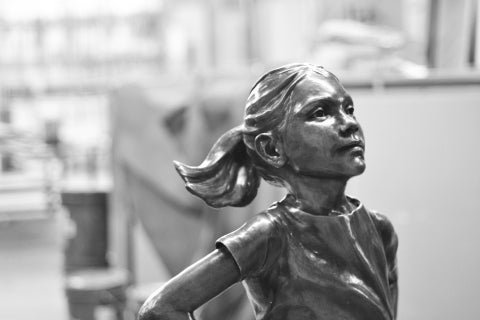 Defiantly facing the mighty Bull of Wall Street, "Fearless Girl," the bronze statue installed by the State Street Global Advisors (SSGA) this year on International Women's Day (March 8) has awakened our senses about where women are not! As men occupy 80% of all S&P 500 board seats, the "Fearless Girl" stands in front of a plaque that reads "Know the Power of Leadership, SHE makes a difference." The "SHE" etched on the plague represents the stock ticker symbol for SSGA's Gender Diversity Index ETF, which was developed to measure the performance of U.S. large cap companies that exhibit gender diversity in their senior leadership positions. This powerful investment giant with $2.5 trillion under management challenged 3,500 companies to take "intentional steps" towards reaching gender equality. The SSGA CEO, Ron O'Hanley said, "…we are calling on companies to take concrete steps to increase gender diversity on their boards and have issued clear guidance to help them begin to take action." BlackRock, the behemoth financial planning and investment management firm with $5.1 trillion under management, also is taking a leadership role in gender equality, indicating it too will look to understand how companies are working to increase boardroom diversity, such as adding more women.
The "Fearless Girl" knows SHE makes a difference, which is why SSGA and other funds like Barclays Women In Leadership Index and Bloomberg's Gender-Equality Equity Index are so important to investors. The "Fearless Girl" draws our attention to the multitude of studies that measure the impact of gender diversity on profitability, such as the 2015 MSCI analysis of more than 4,000 public companies worldwide and The Peterson Institute, which studied nearly 22,000 publicly traded companies in 91 countries across all sectors. According to the Peterson Institute's report, organizations with 30% female leaders could add up to 6 percentage points to their net margins. In addition to benefitting companies' financial bottom lines, research also shows that greater diversity in the workplace increases performance. For example, global research conducted by Mckinsey & Company showed that gender diverse companies are 15% more likely to outperform their peers.
While multiple studies positively correlate better financial and work performance with more gender diverse boards and C-Suites, notably statistics alone have never captured the attention of corporate boards or grabbed media headlines until the "Fearless Girl" made her appearance. In fact, surveys by search firms and other corporate measurements have revealed that "gender diversity on boards" is simply not a top priority. Feedback from some CEOs and corporate directors has been "our performance is just fine; why do we need to add women;" or "I just can't find qualified women." Then there is the comfort factor of the "boys club" where men may believe that the "suit fits just fine." Sometimes it can be hard to overcome long-held beliefs that challenge a changing landscape by asking "why rock a boat that is sailing along with no effort?" or "why invite someone in who does not think, act or look like us?" Worse yet, questions like "how can we trust someone that none of us personally know?" still present a major uphill battle for achieving gender parity.
Now that directors may be blown out of their seats by the "Fearless Girl" and lose their boardroom club privileges unless they take action to unlock the proverbial boardroom door, we may see some attention to the lack of gender diversity on boards. Norway was the first country to reach gender parity, going from 7% in 2003 to 40% in 2008; and the U.K. more than doubled the FTSE 100, from 12.5% in 2010 to 26% in 2015. Progress in those countries came through quotas, targets and a lot of peer pressure. But we are the United States of America. We fought for independence and don't want to be told what to do; we are larger, more robust, and more diverse than any other nation, and yet we are more set in our ways when it comes to achieving gender parity.
It is astounding that since 1995 when the S&P 500 had nearly 10% women on boards, 21 years later we are just hitting 20%. On average, progress or the lack thereof, has only reached one-half a percentage point per year. At that rate, we would get to 30% by 2036, 40% by 2056 and 50% by 2076. Can "Fearless Girl" really stand there for another 60 years waiting for parity? Looking at that young girl who may be 10 years of age today but 70 years old before SHE sees equal representation is a dismal outlook for our real live daughters, granddaughters, nieces and all women.
There should never be compromises made for talent, experience, skills and exceptional personal attributes to sit in the boardroom. As an investor myself, I want the very best decision makers as directors in the companies where I invest my money. However, if we screened all the men sitting on boards today, many would not have qualified, except for having held a CEO title, or being part of the boy's network that has worked so well to exclude women. The time is now to "Know the Power of Leadership, SHE Makes a Difference." Investing in companies with strong female leadership in the boardroom, C-Suite and all levels is a strategic business imperative because to exclude half the population is to ignore the great talent which represents half our employees, customers, shareholders, and the communities in which corporations operate.
The Women's Forum of New York began honoring those companies with 20% or more women on their boards in 2011. Their next biennial Breakfast of Corporate Champions will occur on November 14, 2017 when the threshold will be raised to 25%! Instead of 400 companies from the Fortune 1000 and S&P 500 who were honored in 2015, the number will drop to about 200 companies that have 25% or more women on their boards. This event draws an audience of 600 executives eager to hear luminary CEOs and thought leaders speak about how to accelerate the change for women on boards. Leaders at the breakfast also will give special recognition to the less than 40 companies approaching parity with 40% or more women on their boards, like General Motors, Avon, Macy's, Interpublic Group, American Water Works, and others. Companies like these are the true game changers. We convene these great CEOs and Directors for being "Champions of Change" and for recognizing that women cannot wait 50+ years to have equality in the boardroom and the C-Suite. Women's leadership must be included in the decision making process for better corporate governance, financial performance, reputation and representation of over 50% of the population.
The "Fearless Girl" has arrived. SHE is in our minds and bodies permanently. SHE will not be ignored. SHE will not be compromised. SHE will not be marginalized. SHE will not grow old waiting for equality. SHE is the future, and the Future is NOW.
Popular in the Community