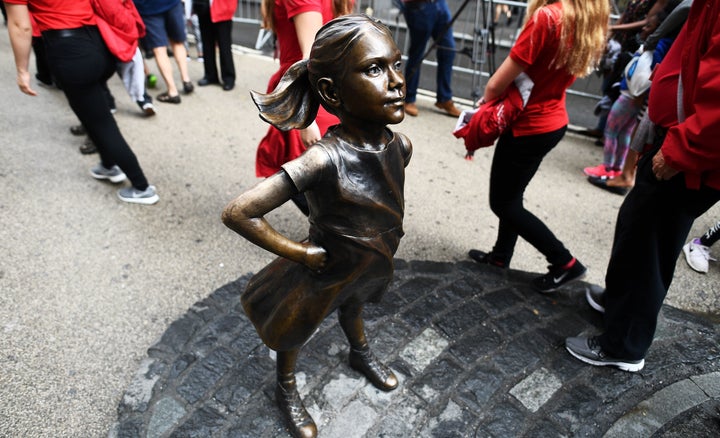 The "Fearless Girl" statue, which faces Wall Street's "Charging Bull" sculpture in lower Manhattan, is slated to be moved by the end of the year.
New York City Mayor Bill de Blasio (D), in partnership with State Street Global Advisors, the management group that commissioned the statue, announced on Thursday that Fearless Girl will moved from its current location by the Bowling Green park to face the New York Stock Exchange. The move is due to safety concerns and pedestrian traffic, The New York Times reports.
"We are proud to be home to the Fearless Girl. She is a potent symbol of the need for change at the highest levels of corporate America ― and she will become a durable part of our city's civic life," de Blasio said. "This move to a new location will ensure that her message and impact will continue to be heard, as well as improve access for visitors."
Fearless Girl, a bronze work sculpted by Kristen Visbal, stands in a narrow spot in a corner of Bowling Green. According to city officials, this creates a safety hazard due to the large number of tourists visiting the spot every day. Other officials expressed concerns that the mix of Fearless Girl, Charging Bull and the volume of pedestrians could attract an attack similar to last year's in lower Manhattan, when a driver killed eight people.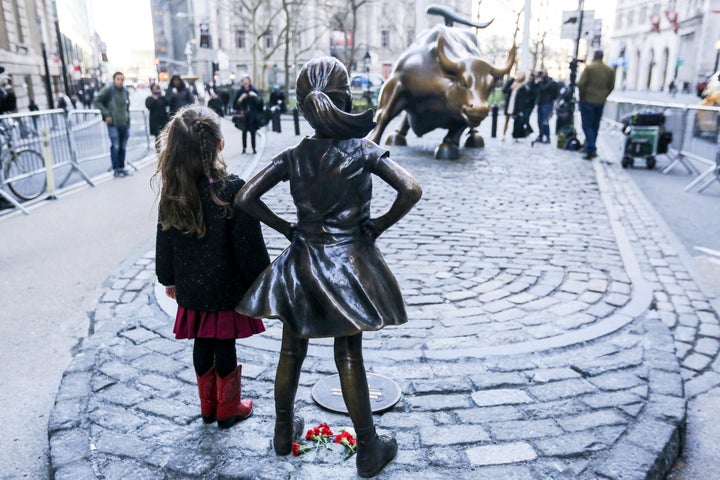 "I am thrilled Fearless Girl will remain in New York, inspiring global collaboration between genders for better decisions, and an improved environment at every strata of society," Visbal said in a statement.
De Blasio's press secretary, Eric Phillips, said that Charging Bull ― a 1989 work by Arturo Di Modica ― will "almost certainly" be moved with Fearless Girl, although there's no exact timeline.
Fearless Girl was erected in March 2017. Ron O'Hanley, State Street's CEO, described the work as a call for companies to "increase gender diversity on their boards" and celebrate women leaders in business. However, in October, the Department of Labor alleged that State Street had paid women and black executives less than their white male counterparts. State Street disputed the Labor Department's findings but agreed to pay a $5 million settlement over the claims.
Critics have accused Fearless Girl of being an empty symbol and an avatar of capitalism rather than of justice, but it's been a hit with many people and has kicked off conversations about female empowerment in different workspaces.
"I'm thrilled that the Fearless Girl will have a long-term home in the heart of New York's financial district," Rep. Carolyn Maloney (D-N.Y.) said in a statement this week. "The Fearless Girl called attention to the severe lack of women sitting on corporate boards but she connected with so many women and girls because [she] embodies the resiliency that each woman must possess to get ahead."