A statue of a defiant girl facing Wall Street's famous Charging Bull isn't going anywhere.
On March 26, Mayor Bill de Blasio announced that the "Fearless Girl" statue, which was installed earlier this month, will remain where she is until February 2018. The statue by Kristen Visbal was originally scheduled to be removed April 2.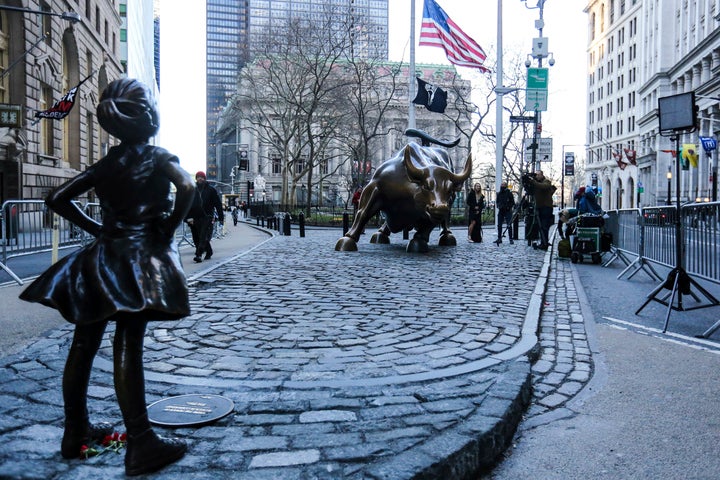 "In her short time here, the Fearless Girl has fueled powerful conversations about women in leadership and inspired so many," Mr. de Blasio said in a statement, to the New York Daily News. "Now, she'll be asserting herself and affirming her strength even after her temporary permit expires — a fitting path for a girl who refuses to quit."
The extension comes after public advocate, Letitia James, and a Change.org campaign that received over 28,000 supporters, pushed for the inspirational statue to become permanent.
The bronze statue of a small, ponytailed girl in windswept clothes staring down the Financial District's iconic bull was installed the day before International Women's Day by State Street Global Advisors as part of a campaign to get more women in corporate leadership positions. Shortly after, the "Fearless Girl" and all her hands-on-hips insolence became a tourist attraction and internet sensation.
Yet, despite all the feminist rallying behind the powerful sculptor, it has gotten it fair share of criticism.
Ginia Bellafante, a columnist for the New York Times noted that despite State Street promoting its statue as art that celebrates the "power of women in leadership," there isn't an actual woman present in the piece. There is a girl.
Others believe "Fearless Girl" is nothing more than an empty publicity stunt because there is only a small percentage of women who sit on State Street's board of directors.
Out of 11 seats, only three are occupied by women, which is just 27 percent.
"Three and 27 percent is better than zero," Ann McNally, the company's head of public relations told the Huffington Post earlier this month.
Related