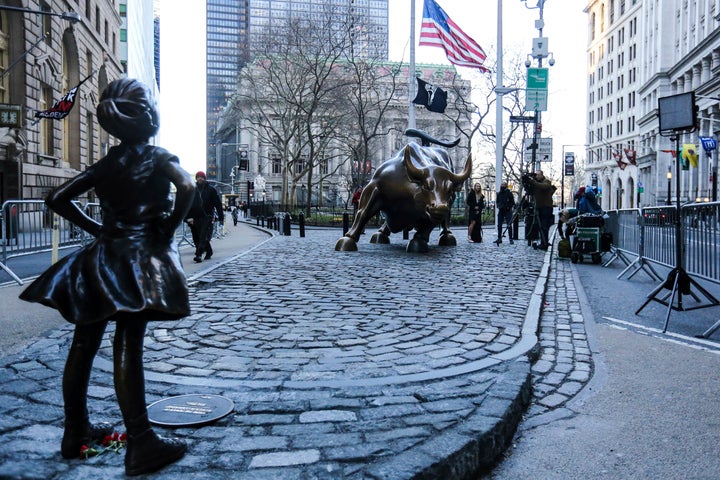 It's impossible not to feel something when you look at her. The sculpture of the slender little girl in downtown New York is as defiant and fierce as advertised: her little feet firmly planted, hands on hips, head lifted upwards. She's bravely facing off with one of Wall Street's most masculine, powerful symbols: The Charging Bull.
Crowds flocked to the girl this week, after State Street, a massive investment management firm, placed her in front of the iconic bronze bovine, installed in 1989 to symbolize Wall Street's roaring return from that decade's stock market crash.
But don't let emotions about this piece of art fool you. That adorable, perfectly irresistible little girl is just a super-sophisticated bit of feminist marketing, used to make us feel good and do little that is substantive. You can think of the bronze sculpture, called "Fearless Girl," and the gender awareness campaign State Street launched along with it, as kind of like a 401(k) ― another consumer product pumped out by the financial industry: It's better than nothing and definitely not enough.
The girl represents "the future," State Street says in a press release. Her adorable visage is an act of political art, the company said, to force a conversation about one of the dullest and yet most important issues in the business world that no regular person cares about: the boardroom. Board members represent the pinnacle of corporate power, advising, hiring and firing the CEOs of companies. They can help set the overall tone and strategy of a company. And overwhelmingly they are male.
"We are calling on companies to take concrete steps to increase gender diversity on their boards and have issued clear guidance to help them begin to take action," State Street said in its press release, issued the day before International Women's Day.
What State Street failed to mention is that the company doesn't actually have a lot of women on its own board ― or at the top of its leadership team. Only three women sit on State Street's board of directors out of 11 seats. That's 27 percent. Just two years ago, there were only two women on its board. Less than one-quarter ― just 23 percent ― of State Street's executive vice-presidents are women. And only 28 percent of senior vice-presidents are female.
If the goal is gender equality, State Street's women stats are terrible. They reveal the sculpture and the call to action as a mostly empty seduction, not unlike Ivanka Trump's non-threatening #WomenWhoWork marketing campaign or a male-dominated car company like Audi using women's economic inequality to hawk luxury vehicles.
Yet State Street doesn't think it's doing that badly when it comes to hiring and promoting women, a spokeswoman told The Huffington Post on Thursday.
"Three and 27 percent is better than zero," said the company's head of public relations Ann McNally, referring to the number and percent of women on its board.
Those stats are only moderately higher than average. Only 21 percent of board seats at Fortune 500 companies are occupied by women, she noted, also emphasizing that 1 in 4 firms on the Russell 3000 index, the companies that make-up 98 percent of the stock market, have no female board members. That is indeed shockingly terrible.
McNally concedes that progress industry-wide has been slow. "It's not moving fast enough," she said. But at the same time argues that State Street practices what it preaches.
State Street said earlier this month that it would, in a year, consider using its power as a shareholder in public companies to force change by voting against board members who don't do anything to nominate women.
If a board doesn't put up a woman, State Street would ask for proof that it tried, it said.
Still, the preference is for more gentle pressure. "Our preferred engagement process is engagement," McNally said, somewhat inscrutably, meaning they want to have conversations about this stuff ― rather than take harsher action.
State Street, like many other firms who are lagging on diversity, has set company-wide diversity goals. They're pretty modest: getting the vice-president number up six percentage points by the end of this year, for example. And like a handful of other well-intentioned firms, the company makes achieving diversity goals something that managers are evaluated on in performance reviews.
This is commendable. However, they're still not hiring women at anywhere near parity. Thirty percent of new hires in 2016 were women, McNally said. She declined to give anymore detail on the gender composition of the 33,000-employee firm or detail which divisions of the company are hiring the women. At many finance firms, women are shunted into divisions like Human Resources and legal, which are not responsible for profits and are considered not quite as important to the firm.
At State Street, for example, there are only two women on the management committee, the Human Resource chief and the chief administrative officer.
For all its bluster and programs and calls to action and art pieces, State Street isn't treating the lack of diversity as it would a core business problem. You'd imagine that if, say, profits were down by a considerable amount, the firm would take action to immediately rectify the problem. Indeed, the firm recovered quickly after receiving bailout money from the federal government during the financial crisis.
That brings us to something else about this sculpture: It makes you feel really good about a massive financial institution less than a decade after the 2008 crisis, which made us all feel very badly about massive financial institutions.
It wasn't that long ago that Wall Street ― led overwhelmingly by men ― crashed the global economy, forcing millions of families out of their homes, driving massive job loss. While investors and the richest Americans have bounced back and beyond from the 2008 crisis, regular people most certainly have not.
When a firm like State Street successfully co-opts feminism for marketing purposes, it lulls us all into forgetting. We're essentially "empowered" to keep buying into the current system, despite the fact that it has so clearly shortchanged women (and men).
But never mind all that, look at that cutie girl! Not a woman, of course. A fierce woman facing down the bull, one imagines, would have actually been too threatening to make this marketing ploy work.
Popular in the Community