This column originally appeared in Emily Peck's newsletter, a weekly email that looks at the convergence of women, economics, business and politics. /news.huffingtonpost.com/h/t/E78AB6DF86C0CEAC","lnid":"Sign up here"}}" data-beacon-parsed="true">Sign up here.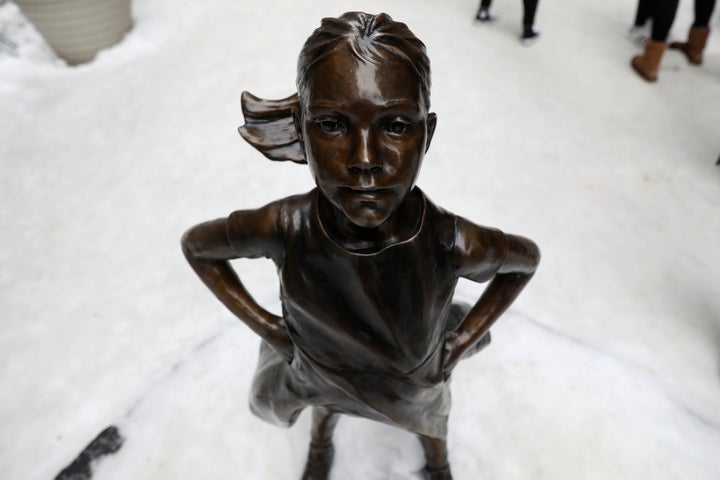 Look, it's obviously the height of absurdity to be afraid of little girls. Yet, here we are. Earlier this week, the sculptor behind the 11-foot bronze bull, a symbol of the virile finance industry and an institution on Wall Street for decades, held a press conference to complain about a 4-foot statue of a little girl recently placed nearby.
The "Fearless Girl" statue was installed facing off against Arturo Di Modica's bull last month, as part of a publicity stunt by a massive financial institution.
The little girl ― posed with her hands on her hips ― was only supposed to be there for like a day, but she became so popular that she got an extension from the city of New York.
Di Modica is freaking out about the girl statue's "threat." He's gotten himself a lawyer. He said "Fearless Girl" is an insult to his work.
Because of "Fearless Girl," Di Modica's lawyer, Norman Siegel, said at the press conference, the bull "no longer carries a positive, optimistic message." The little girl has  "transformed" the giant muscular bronze bull into "a negative force and a threat," he said.
I suggest Messrs. Di Modica and Siegel stay away from local playgrounds, the American Girls store and Hannah Anderson shops during sales season.
What's really scary
Men who shoot their wives and girlfriends. They are scary. And threatening.
Like Cedric Anderson, who shot and killed his wife and an 8-year-old child in a San Bernadino, California, classroom where she was teaching on Monday. 
Every day, three women, on average, are killed by men ― usually a husband or boyfriend, according to reporting by my colleague, Melissa Jeltsen. In fact, more than half of all shootings in the U.S. in which at least four people died involved domestic violence. Many of the victims were children.
But yeah, let's do extreme vetting and bomb Middle Eastern countries to feel safe. Gun control seems ridic, amiright?
The absolute terror of a pretty woman
I've enjoyed many of Michael Lewis's books ― Moneyball, Liar's Poker, The Big Short, etc. So I was surprised how much I did not like this essay he wrote in the 1990s. It's about how his wife is beautiful and how he finds that threatening. Living in the shadow of her hotness is a "weird degradation," he wrote back then.
You can read more here. 
Read more:
Calling all HuffPost superfans!
Sign up for membership to become a founding member and help shape HuffPost's next chapter