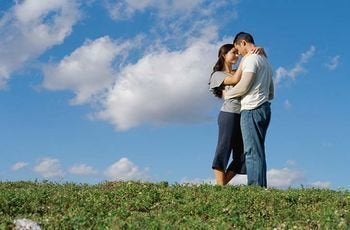 This post is part of the "Modern Male Brains & the Young, Powerful Women Who Love Them" series compiled by Dr. Louann Brizendine, neuroscientist and author of the recent book, The Male Brain. The series explores how the next generation of women relates to love while balancing complex, stressful lives.
Nearly three years had passed since my husband died in the line of duty. The 2000 election was on the horizon. I returned to politics because I loved it. It was the only thing in my life with enough intensity to eclipse the loneliness I felt as a twenty-something widow. I was angry about the label "single mother." I was not divorced, I did not get knocked up. There was little comfort in being a Gold Star Wife. My little girl needed me. And I needed to convince myself that I could be mother, father, big sister and protector of her future.
Truth is, my late husband was a complicated and flawed man. He had a string of infidelities, followed by the epiphany that he still loved me. He loved our daughter immeasurably. He wanted the same things we had promised each other. We reconciled -- shared one of those iconic goodbye moments and a couple of weeks later, he was gone.
Federal and statewide races, publicity, communications strategy and military protocol were my other great loves. So I pulled myself together and after I realized God was not punishing me, I took a leap of faith. I worked for pennies, picked up the confidence of statewide elected officials because I worked harder and had a knack for frankness. I was fearless. When all was said and done, I had a national convention under my belt. I was on the steering committee for a gubernatorial race and had the ear of our state's leaders. I avoided anyone mid-level. I was fortunate to have a principals-only reputation. The emotional walls around me were so high, only the Holy Father himself could have reached me.
And then He did. George W. Bush was president-elect. We were a few days away from the swearing-in ceremonies for our victorious statewide ticket. Like any party retreat, the evening was spent in the hotel bar.
He was feared. He was the architect for success: a combat veteran and a very married man. I needed a mentor. Someone to help me harness my strengths and sort through the offers I had. I commandeered the vacant seat to his left, ordered a glass of cabernet and hoped for the best.
He captivated me instantly. There was not a hint of arrogance. He was kind. The most beautiful smile I had ever seen. It was the first time in three years where I felt like myself again, like a girl. I felt alive. The more we talked, I could feel my lungs fill with air. We exchanged political war stories. We were old friends and new friends. I resolved to be real with him. To not play the role of Ice Queen and Heartless Bitch, a necessary life skill for a woman in politics. We talked about service, war and sacrifice. He opened up about his Alive Day, then asked me about the day my husband died. We exchanged our rituals during visits to Arlington National Cemetery, as next of kin and as combat buddy. We talked about the burdens of love the living carry around.
Then, as the Cabernet continued to flow ... I knew I was lonely. Here was this beautiful man with the heartiest laugh I had ever heard. He was the kind of man I fell in love with. He recognized how vulnerable I was. He told me it was time to go. We rode the elevator together in the presence of colleagues.
We exchanged room numbers. A few moments later the phone rang in my room and though I trembled with fear, I have never been so grateful. He told me I was beautiful, that I deserved a man who came to me in an honorable way. Yes, he wanted me, but knowing me meant that he would never consciously hurt me. He loved his wife and would never consciously hurt her. He approached love, marriage and fatherhood as his vocation. This man offered me the kindness and respect few women in politics believe possible.
In the decade since then, we see each other from time to time. We talk about family and the latest cabernet from Cakebread Cellars -- politics not so much. Whether we have breakfast at the Four Seasons, or drinks at The Jefferson, we see in each other a person who put respect first. Because of him, I never settled for anything less than real love. The man who won my heart sees love in the same way my friend does: as a vocation. He tends our love with simplicity and kindness, and long term planning. Without the education I received that night so many years ago, I might not have recognized I deserve nothing less than a man who loves, and lives, as fearlessly as I do.