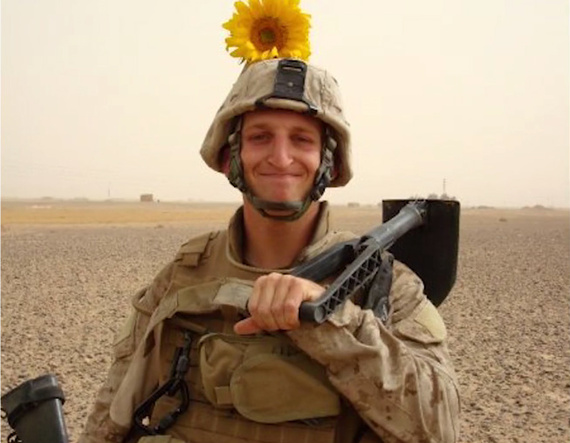 When you're seeking out IEDs (Improvised Explosive Devices) in a vast Iraqi desert and you come across a sunflower patch, what do you do? You pick one and put it in your helmet, of course! At least that's what this marine thought was the only appropriate thing to do.
It was Marine Sgt. Rob Jones' first appointment. They were doing a cache sweep, trying to locate buried weapons. Finding the beauty in the sunflower patch and capturing a light-hearted moment provided an unexpected reprieve from the gravity of the situation.
It would be on another IED sweep that Marine Sgt. Jones' foot would land on an IED, ripping his body apart, leaving him begging his comrades to "finish him off." An hour earlier his best buddy, Daniel, had tragically experienced the same thing and had been airlifted out. The helicopter turned around to rescue Rob as well. Best buddies. On a helicopter. Fighting now, not for the American people, but for their own lives.
Having the incredible opportunity to hear Rob talk, I quickly picked up on his hard-won wisdom, gained from fearless acts performed on a daily basis. Acts most of us can't fathom. I am honored to share some of our conversation with you.
After reading about his journey, you won't want to miss this special one-night event of the GI Film Festival presented by GI Film Group and Fathom Events in select movie theaters across the U.S. (more details below). He is an exceptional human being, an inspiration to live beyond our fears and perceived limitations.
When did you know you wanted to be a Marine?
Probably during my junior year of college was the catalyst. One day I decided I wanted to do something beyond my own self-interest, bigger than myself. I thought it was an opportunity to not only serve my country but also to help friends.
Describe your darkest moment.
Right when I woke up. I didn't know what being an amputee entailed and didn't have a very positive perspective on what life would be like with portions of my legs gone. I envisioned being in a wheelchair having to be cared for, no independence. I asked 3 or 4 comrades to finish me off but I was so out of it, hopped up on morphine and didn't really have a chance to lock onto that naivety. I didn't have a point of reference.
Once I was lucid I didn't really have any dark moments. My best friend Daniel helped me through a lot of it. It was a tragedy we chose to fight through together, facing the same things. We fed off of each other. It gave me something to do, gave me a reason to get out of bed.
What part did your mental health play in the journey to recovery?
The mental aspect is most vital, vastly more important than anything you can do physically. If your mindset isn't right and you don't want to be rehabbed, it's simply not going to happen.
Once I became accustomed to pain meds and was able to think clearly, I needed to be told prosthetics were advanced and I was going to live and thrive with my independence. Once I saw that -- the possibilities -- I elected not to stay that way. I wanted, and was determined, to walk everywhere I wanted to go, so once I established that the rest simply became part of the process.
What does being fearless mean to you?
No one is truly fearless, but practically it describes someone who has fears but doesn't let those fears deter them. I was afraid to fall down when I was learning to walk with my prosthetics, but not as afraid as not trying or not walking again.
In the documentary your brother Steve says when you make up your mind to do something, there's no convincing you otherwise.
What he was referring to there was going over the mountain. You never know what you can do until you try to do it. Just because someone says it's not possible doesn't mean it is so. I could only find out by giving it a shot.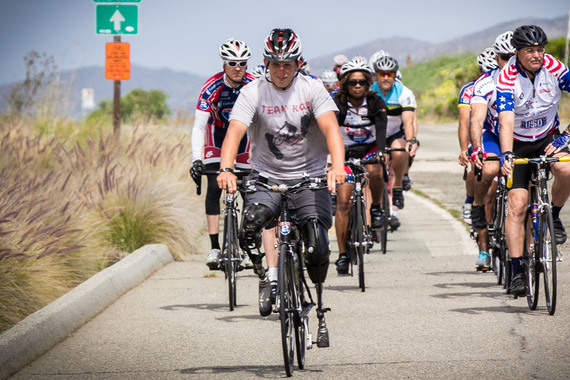 What would you say to young men and women interested in military, given your experience? (My son is a sea cadet so this is very real for us.)
It's such a great way to learn life lessons: learning to give, expecting nothing in return, giving in a way that is a greater cause than you. In serving others you become selfless, you learn how to work as a team, learn leadership, how to handle adversity. Pretty much nothing will go perfectly all the time. It gives you a chance to become a solid member of society.
You can't go into it with the attitude that you're going to use it to make yourself better or get something out of the military. It has to be about how much you can give to the military, to America, by doing what you'll learn to do.
One last question. Did your shorts make it to the Smithsonian?
They ended up in the Marine Corps Museum along with everything else I used to ride -- T-shirt, bike, prosthesis, rowing legs -- my Paralympic medal is on loan -- as is the gold medal from qualifiers and the Head of the Charles race medal. I may also send them my rowing legs, oars and seat.
*See Sgt. Jones in Climb, when "GI Film Festival: Cinematic Salute to the Troops" comes to a select theater near you on April 7th only. Don't miss this unique production by GI Film Group and Fathom Events on the big screen. You can get tickets at FathomEvents.com/event/gi-film-festival.
*After seeing the documentary, I wrote this with permission and without compensation or gain to me.