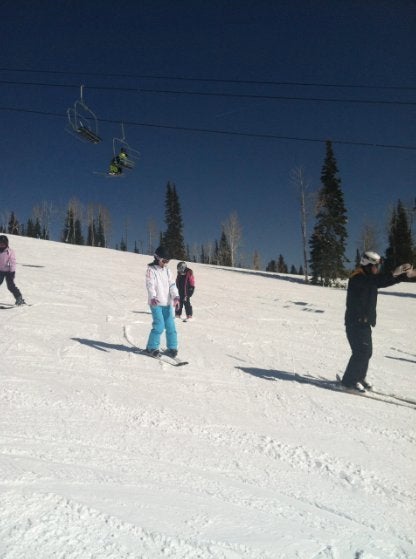 As much as my 13-year-old daughter drives me crazy, she also amazes me. I was pulling out our winter gear this morning and thinking about our ski trip last April. I had just learned to ski (and I use that term loosely) in 2011. But I didn't want my daughter to wait until she was 41 to learn.
My mom raised me to be pretty scared of anything that fell into the outdoor activities category. Actually, the indoor activity category as well. The truth is, she didn't like my sister and I doing anything that meant not having our own two feet securely on the ground. So, eventually, everything seemed either impossible or scary.
I understand the fear a parent feels when it comes to her child. But at some point, that fear can become so debilitating that it's actually more dangerous then the adventures in life that she or he is missing out on. It took me a long time to shake off my mother's fear and get on to the adventures. I don't want that for my daughter.
So, I took her to Canyons in Park City, Utah to learn to ski. The travel was a bit of a debacle with a cancelled flight and then a traffic jam that got us to the airport too late to check luggage, something I generally don't do. But it was skiing and that means tons of stuff, enough to fill this massive Dakine bag that I have for just that purpose. It's basically two suitcases joined by a zipper. In other words, we had packed a lot of stuff.
I almost panicked. But I want my daughter to know what to do in a jam and to see such occasions as adventures or challenges, not barriers. So I simply took a deep breath and got to it. We yanked everything out of that bag; put on our ski coats and pants; dangled our gloves from our coats; wrapped our scarves around our necks; slung the bags, carrying our helmets over our shoulders; and shoved everything else into our moderately sized, carry-on duffels.
"Think we'll make it?" I asked my daughter.
"We always do, mommy," she said.
My daughter called my husband, who raced back to the airport to pick up the now-empty luggage. We dashed through security and hoofed it to the gate, barefoot. We must have looked like crazy people, our duffels wide open, long underwear and sweaters and jeans and ski socks all hanging out.
We made it to our seats seconds before they closed the doors with a little help from sympathetic passengers who helped us tuck our bags overhead. Then we were off. It was messy. But as the plane took off, my daughter looked up at me and grinned.
"I told you, mommy," she said. "We did it."
She'd been excited about this trip ever since we first started planning it. But once we got to the hotel, I could see she was nervous. She asked me all sorts of questions and got sort of quiet as we hung out in our room the night before our big day. When we woke up the next morning, she rolled over in her bed and asked me a question.
"Of course you can," I said. "Let's get dressed and you'll feel better."
I knew I was right, because I had done one very important thing to help her get over her fear -- I made sure she would look "cool." I remembered how much confidence that gave me the first time I was on the slopes.
It may seem shallow. But when you're terrified of looking foolish learning a new skill, you at least want to have the sensation of looking good when you're standing still. And it worked! The minute she put on her white and turquoise Obermeyer coat and pants, she looked in the mirror, smiled and said, "I look like a skier, Mommy." She was suddenly raring to go.
It was only the year before that I had learned to ski, and I giggled in spite of myself as I slipped into my hip black and white Spyder gear. Much more suited to a seasoned skier, I thought as I looked in the mirror. But I couldn't wait to wear it because I knew exactly the effect it would have on me. And voila, just like my daughter, as I looked at myself all geared up, I caught a glimpse of the skier I could be and I felt ready to try my hand at this skiing thing once again.
I dropped her off at ski school and then headed to my private lesson with a British instructor named Alex Fleet. He was one of the primary reasons I was even back skiing. He had been my instructor the last time I was there and he was exactly the kind of instructor I needed -- the kind who refused to take any of my whiny crap.
He told me fear was fine but that I can't let it stop me from skiing. "You can do this. You've got all of the skills you need," he told me. For whatever reason, I believed him and I let that belief override the decades old chorus of "That's too dangerous" that still rang in my ears. I spent the first day of that trip going up and down the same green beginner run, getting my ski legs back. That afternoon, I picked up my daughter from ski school.
"I skied a blue," she said the minute I saw her.
I had to laugh. Of course she did. Her first day on skis and she skied an intermediate run. The instructor felt she could do it; she trusted him as well as herself and so off she went. I can think of very few other moments when I felt quite that proud as a parent. I was doing precisely I had hoped, raising a girl (not) like me.
Thrill seeking, even of the beginner variety, is becoming a theme for us it seems, and it's all because of her. From my first roller coaster ride six years ago on Splash Mountain to the Alpine Coaster and the zip line rides at Park City Mountain Resort that we took that week -- things I would have never even considered only seven or eight years ago.
We really had fun together that week, bowling (badly), late night snacking on Oreo caramel apples in our hotel room and eating at several of the cute little restaurants in "downtown" Park City while brainstorming our next trip. I know this is crazy. But it sure would be nice if all of her teenage years went like this.
On our last night in Park City, we went for a horse-drawn carriage ride and ate food cooked in massive fireplaces at a place called Fireside at Deer Valley resort. We almost didn't go because I wasn't sure it would be her scene. It's a number of courses, a dinner you take your time with -- not something everyone would think to do with their tween or teen.
But when I mentioned going she said, "Let's do it," because that's what she says now when I recommend something from a new dish to a new adventure. She figures if I'm game, she is too. And she figures if I think she'll enjoy it and can do it, then she will and she can.
But the trip ended up being so much more than I even expected because of the support my daughter gave me on our last day there -- support that I generally imagine going from parent to child rather than child to parent.
That final day there I had a rough time of it on the slopes. The snow was slushy and I kept falling. To be honest, I was kind of losing it. I had finally conquered a blue run the day before. But this one, no harder than that, was getting the best of me. And the more I fell, the more scared I got. And the more scared I got, the more sure I was that my mom was right, I really shouldn't do and couldn't do this stuff.
Despite my best efforts, I started to cry a little and though she couldn't see my face, my daughter knew.
"You can do this, Mommy," she said as she came up behind me and put her arm around me.
"Why are you so scared? You can do this." I guess in my vulnerable state, the raw truth seemed like the best explanation.
"Because I was scared for so long before and because I didn't have someone to tell me I could do it. It's a lot."
"Well, I'm telling you now," she said. "You can do it. Let's go." She skied the rest of the way down without a hitch. I managed to finally reach the bottom after a number of stops and starts. But it wasn't my new ski skills or even my instructor who got me down the mountain that day...