A comprehensive assessment of the National Park Service in 2012 to determine how prepared it is to achieve its vision of a racially diverse and inclusive workforce, found the Service at Stage 2 (Awareness) on the six-stage Diversity Continuum. The Service identified workforce diversity as a key component for our national parks to remain relevant to the changing demographics and interests of the American public.
"...the time for action is now! By acting on the assessment's findings and recommendations today, the NPS will be strengthened for long term success, relevance, and sustainability," the report concluded urgently.
Today, on the eve of its 100th anniversary August 25, 2016, the Service and its sister agencies in the Department of Interior have made zero percentage gains in moving diversity forward, according to high ranking officials.
Many land managers hearing this news might roll their eyes and think it is inevitable, since for years they've told us that non-white Americans do not care about the national parks or nature. Executives have told me and Frank and other diversity leaders to our face,
"It's a 'problem' we really want to address but we don't know how. . . it is so difficult to know what to do... the community is not responding to us...." etc.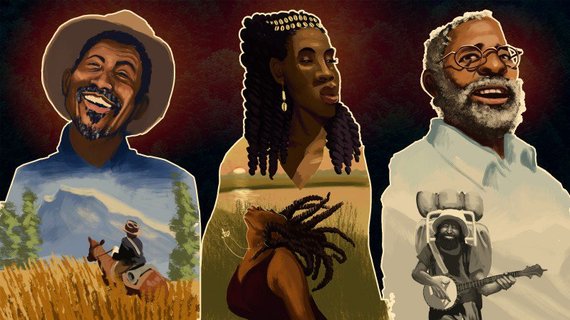 These images accompanying Dr.Carolyn Finney's current article in Outsideonline show a small cross section of game changing environmentalists of color.
It has become increasingly difficult to balance this viewpoint with the reality we know - that growing numbers of diverse land management professionals and youth are clamoring at the door for opportunity and most often being turned away. The Green 2.0 Report of 2014 identified a persistent "green ceiling" that keeps participation of non-whites in environmental employment or decision making around 16%, while we're approaching 40% of the general population.
While the park service and other land managers posit non-white Americans as the problems, turning the lens inside the service shows the shocking reality. The 2012 assessment of approximately one third of the Park Service's workforce revealed:
"Diversity" and "Qualified" are seen as mutually exclusive.
Many respondents view the NPS culture as risk averse, highly bureaucratic, and too hierarchical to implement change.
Employees assessed felt that the agency's 100 year-old traditions determine rather than influence today's decision.
The NPS "experience" from cradle to grave is almost a requirement for success at the NPS and is highly valued.
Inclusion and diversity are not consistently seen as a priority at the park level...
Employees expressed a lack of confidence that changes will be made, based on past experience.
As a lover of the Park System, it could break my heart that four years since this assessment and recommendations, only minimal progress has been made in diversifying the workforce upon which the sustainability of the system depends. President Obama has made tremendous gains in expanding the System to include units that honor the contributions of a diverse spectrum of America, including the Harriet Tubman, Cesar Chavez and Stonewall National Monuments; promoting Every Kid in a Park that privileges 4th Graders to take their families to the parks for free, and programs such as Fresh Tracks enabling young urbanites from the Lower 48 to connect with their peers and environment in Alaska.
But the structural/cultural underpinning of the Service that determines who gets to know about our parks, who gets to work in them, what stories are told and who gets to feel intimately that they "belong" to us, urgently needs to change. Trumpeting the Centennial when this vital sustainability change has not been made makes me think of caretakers at the Tower of London throwing themselves a big anniversary party while the Crown Jewels are in jeopardy. It wouldn't happen.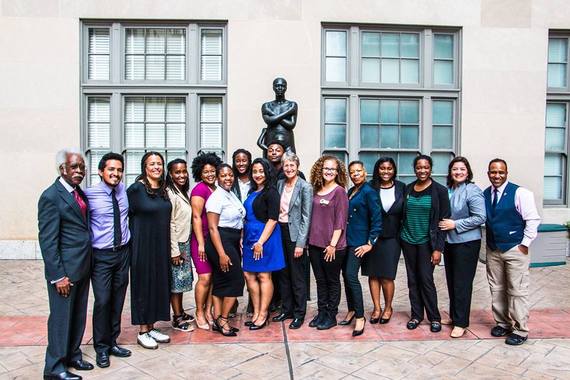 Members of the Next100 Coalition including Angelou Ezeilo (4th from left) and members of her Greening Youth Foundation Historically Black Colleges & Universities Initiative (HBCUI) Leaders met with Secretary Sally Jewell (center) at the Department of the Interior last Friday and asked her to support our request for a Presidential Memo.

I am very appreciative of the great job the Park Service does in taking care of our parks, and some of my best friends are among these high caliber public servants. Yet from the vantage point of 20 years' involvement with our national parks and the desire to see my fellow Americans' lives and the future of our parks improved through a mutual relationship, I must insist on changes being made. We cannot risk 'more of the same' that will leave us at the same place of aspiration in 2116. We know this is possible as we today we are hearing exactly the same statements made about "goals," and "challenges" that we've heard since 1995.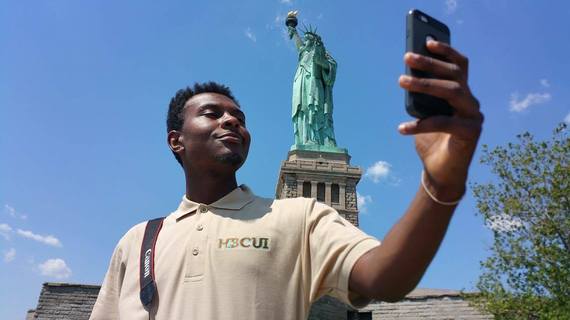 Devin Lightner, a member of the HBCUI which works in partnership with the Park Service is interning at the Statue of Liberty and looking forward to a career protecting our public lands. Founder Ezeilo said that with approximately 40 positions in the 3-year old program, she had more than 2000 eager applicants this year.
It's an arduous process to secure a job with the National Park Service, involving navigating the daunting JobsUSA application platform which managers tell us challenge even them. It often requires serving as volunteers or working on a seasonal basis for many years, and includes a preference for Veterans of our Armed Forces. The retirement of almost 25% of its workforce projected for the end of this year creates opportunities to employ a wider spectrum of the American public, but it will not happen if the current environment persists inside the service.
Bottom line is that our national parks - the source of the jobs that current leaders seem to feel are only suited to white Americans - will disappear if we do not develop a more inclusive constituency that loves and supports them.
For the benefit of our parks, our people and our country, it's time for park leaders to have a "come to Jesus" moment where we embrace long overdue change and refuse to enter the second 100 years with the same pejorative attitudes. That's why Frank and I have joined the Next100 Coalition asking President Obama to issue a Presidential Memo on the Centennial, laying out a vision for the next century of parks. The Memo proposes proven ways for the Service to become more inclusive and to be held accountable.
Please join me in helping create that change by supporting the Next 100 Coalition's petition to President Obama here.
Calling all HuffPost superfans!
Sign up for membership to become a founding member and help shape HuffPost's next chapter