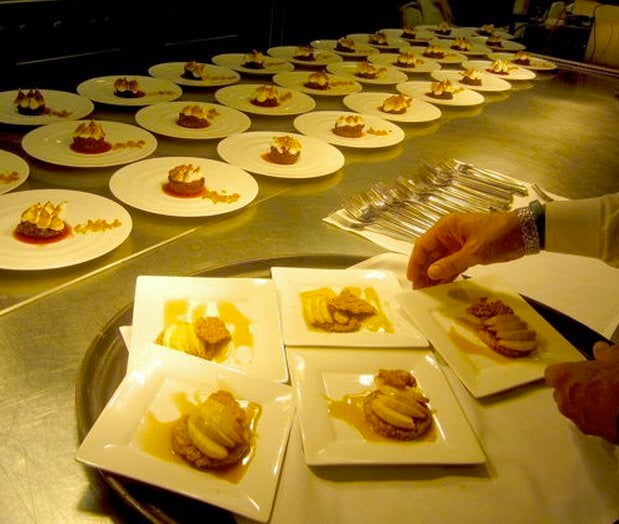 White-clad servers cruised the room proffering Chicken McNuggets on trays. They also offered fluffy sweet Canadian-bacon treats on sticks, and fresh lettuce wraps.
These, along with the many lush dishes served later that night to a satin-and-cufflinks crowd around linen-draped, candlelit tables to the mellow sounds of a jazz band, were made entirely with ingredients that are used in typical McDonald's restaurants.
As regards item #1, the fast-food monolith yearns to dispel those rampant myths that pervaded my youth and persist in ever-shifting shapes to this day -- e.g., that McDonald's adds extra syrup to its Coke and that McDonald's milkshakes contain no actual milk. Not to mention pink slime.
The gourmet chefs in the kitchen that night (depicted below, left to right) were Ryan Scott, former Top Chef contestant and kingpin of San Francisco's Market & Rye; Beverlie Terra of Santa Cruz's Chaminade Resort & Spa; and Sophina Uong, executive chef of Oakland's Picán: A Taste of the South. To their creations, devised especially for this event, they were permitted to add seasonings not found at McDonald's, but everything else in the dishes had to come straight outta McD's.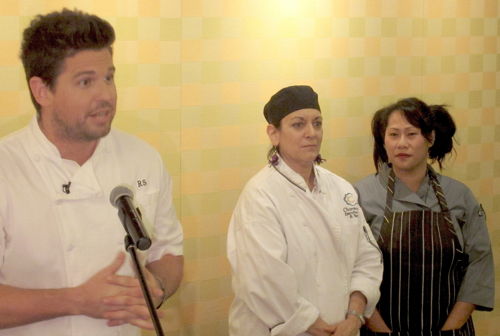 "When they asked me to take part in this challenge, I was skeptical," Terra told the crowd. "But then I met some of the local farmers from Watsonville and Fresno who produce the tomatoes and strawberries and beef that McDonald's buys, and I thought: I can do this."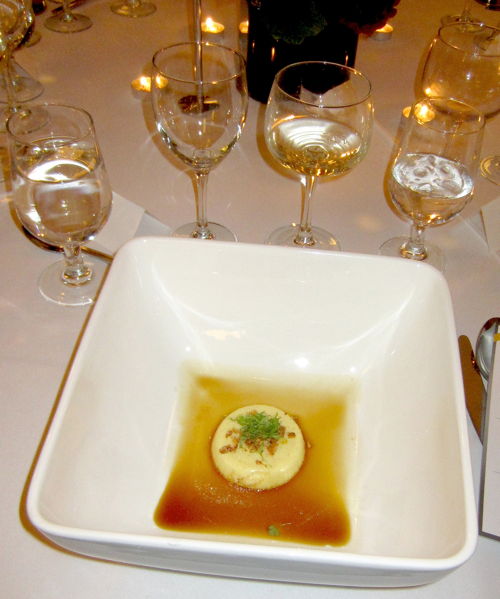 For the first course, Chef Terra served smooth, smoky Chilled Roast Tomato Soup with Three-Cheese Panini. Each fluffy panino featured three different cheeses commonly used at McDonalds, melted together indulgently inside a miniature burger bun. As depicted above, Chef Uong prepared Big Mac Streusel with Southern Onion Soup and Parmesan Puddin' -- hearty Angus-beef-and-onion brodo cradling comfortingly cheesy pucks. Chef Scott's Fall Salad, depicted below, comprised poached eggs ringed with plump blueberries, topped with "buttered country croutons" and seductive warm bacon vinaigrette.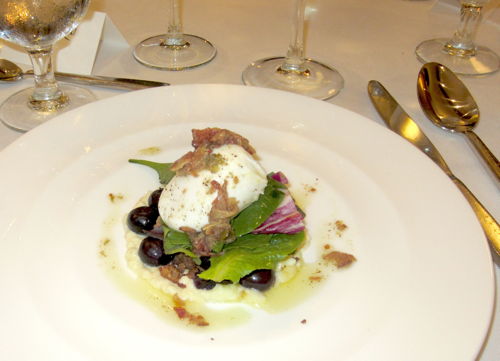 "I took blueberries and pickled them," Scott announced. "I took English muffins and made croutons out of them. I took bacon and made it crispier than crispy can be."
Seated at my table was Scott Rodrick, who owns over 25 McDonald's restaurants.
"Looking down from the big hamburger stand in the sky, Ray Kroc" -- McDonald's founding franchisee -- "would be smiling right now," Rodrick said.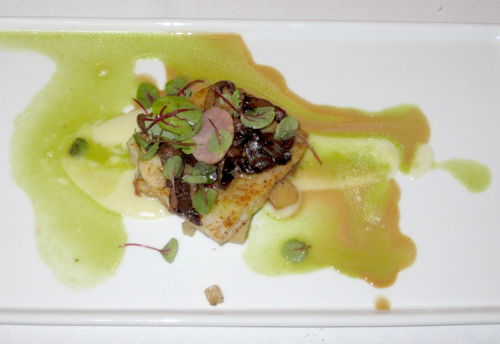 For the main course, Chef Terra prepared bacon-wrapped mini-meatloaves in tangy Coca-Cola sauce. For her Gullah Island Fish Filets, depicted above, Chef Uong served crustless fish filets with baby greens, mushroom fricassee, spunky poblano pepper jelly, Canadian-bacon redeye gravy and a fresh-tasting pale-green sauce that turned out to be leaf-lettuce purée. (Rumor has it that Uong initially planned to prepare something along the lines of steak tartare.) Chef Scott used blistered cherry tomatoes to adorn hash-brown gnocchi alongside what he called "24-Hour Braised Micky D's Sugo."
Scott explained that he set out to make a main course from "something near and dear to my heart: hash browns, damn right. I made it happen with a little flour, a little egg, a little Parmesan, a little cream and a little butter." For the sauce, Scott ground together the same chicken, ham and beef that normally goes into McNuggets, McMuffins and Big Macs, then braised this mixture for 24 hours -- "low and slow," he beamed.
It was pretty astounding to note the wide variety of ingredients available to the chefs.
Rodrick told me that each McDonald's entrée is made to order by living breathing employees, contrary to the popular belief that all the sandwiches are pre-assembled, prepackaged, pre-frozen and microwaved. McDouble sans onions? Filet-O-Fish with ketchup instead of tartar sauce? Sure, Rodrick said:
"Half the orders at my restaurants are customized. It's no big deal for us to modify any sandwich."
One of our tablemates cited another myth, popular in his youth, that McNuggets are made not from real meat but from tumors. (This is not unlike the fellow myth, popular in my youth, that the chicken in Campbell's Chicken & Stars soup is not real meat but scabs.)
"I've learned a lot about these misconceptions," Rodrick sighed. With every myth that erupts, "there's a dialogue going on about our business, and we have a responsibility to engage in that dialogue." If San Franciscans now want to know from whence fast-food chains source their ingredients, middle America will soon start asking where the meat comes from. We need to be prepared."
For dessert, Chef Scott served caramel-apple-filled beignets with mini-mugs of intense coffee soda. Chef Terra offered granola/oatmeal-crusted baked apple tarts with fresh apples and caramel-coffee drizzle. Chef Uong served chocolate-hazelnut chess pie (depicted above) complete with bruléed meringue, poached strawberries and ice-cream-cone crust. To make this already elegant dish McDonaldastically rich, she baked chocolate milk into it. You can too; here's her recipe:
Chef Sophina Uong's Chocolate Hazelnut Chess Pie
Created for McDonald's Unwrapped
Serves 6
8 ice-cream cones
1 C granola
3/4 C butter, divided
1 oz. hazelnut syrup
1-1/2 C chocolate chips
1-1/2 C sugar
1 T flour
pinch of salt
1/2 C chocolate milk
2 eggs
1 T vanilla extract
Preheat oven to 350 degrees. In food processor, pulse together ice-cream cones, granola and 1/2 C of cold butter. Press mixture into pie shell and bake 10 minutes. Set aside. Melt remaining 1/4 C butter with hazelnut syrup and chocolate chips using a double boiler. In a mixing bowl, combine chocolate-and-butter mixture with sugar, flour, salt, chocolate milk, eggs and vanilla. Beat with electric mixer for 5 to 6 minutes. Pour filling into prepared pastry shell. Bake for 35 to 45 minutes, until set.
Popular in the Community