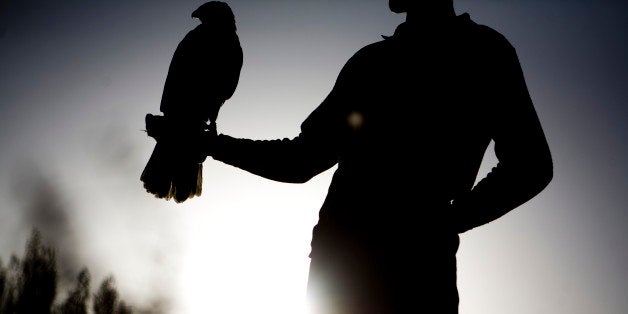 "The smugglers have kidnapped and politically imprisoned me two times. Once in Mongolia. Once in Abu Dhabi, in the United Arab Emirates. I've had nine bones broken, and lost an inch in height -- which is not entirely bad because I can just tie the turban an inch higher."
Alan Howell Parrot views himself as the first person to ever legally catch, breed, and sell wild Jer Falcons -- or Icelandic Falcons -- considered to be a flawless and genetically pure falcon. A breed that can cost up to $1 million per bird. For three decades, Parrot sold Jer Falcons to royal Arabs for five, six, sometimes seven figures per bird. Ounce for ounce, Jer Falcons are more valuable than heroin, with penalties for smuggling falcons sometimes non-existent. The black market of falcons has led to corruption against military leaders, political murder, and international terrorism.
In the Middle East, falcons are the ultimate status symbol. Birds, referred to as The Priceless, fetch tens and hundreds of thousands of dollars, sight unseen. When you pay for a falcon in the Middle East, you're paying for the labor of the man who brings the bird to you, but the falcon itself is too perfect, too valuable to pay money for. So you don't pay for the bird. You pay the man. Where you would see Lamborghinis lining stone driveways of the super rich in Beverly Hills, in the Middle East, you'd see flawless Jer Falcons. That's according to the 2010 documentary film, Feathered Cocaine.
In the deserts of the Arabian Peninsula, falconry hunting camps pepper the nude landscape. They are pilgrimages for the royals, the billionaires, the shepherds, even the poor. Members of all tribes, all sects, travel to these hunting camps to participate in one of a few annual royal falconry competitions spread out over Arab deserts. The operation and funding of these royal camps are most often made by the princes, sheiks, and kings of Arab governments.
With some of the richest and most powerful men in the world visiting these falconry camps, the camps also attract some of the world's most undesirable -- like weapons smuggler and the inspiration for the movie, Lord of War, Viktor Bout, who was frequently a guest at royal falconry camps. But the most infamous guest was Osama bin Laden, who, for many years, made annual visits to the royal falconry camps in both Saudi Arabia and the United Arab Emirates during a time when he was already wanted around the world for mass murder. Former Saudi Ambassador, Prince Turki bin Faisal hunted with bin Laden often, and bin Laden was a VIP guest at the falconry camp organized by the former foreign minister from the U.A.E. bin Laden was so involved in falconry during the '90s and 2000s, that during the time he lived in Kandahar, Afghanistan, he stole most of the falcons from the surrounding tribes for his own personal use, giving the best birds as gifts to royal sheiks in the Emirates, and princes in Saudi Arabia.
In the early '70s, when he was just 18 years old, Powell left a New England life in Maine for uncertainty in Iran when he made the decision to pursue a career in professional falconry. Arriving in Tehran, and knowing very little, he drew a falcon on a piece of paper and showed it to an elderly man, asking the man, "Where can I find this?" The next day, guided by a finger, the man brought Parrot into a gated compound. He had led Parrot to the royal falconry center for the Shah of Iran, Mohammad Reza Pahlavi. Soon after, Parrot was hired as the personal falcon trainer to the Shah.
But he left a year later after he decided he wasn't reaching his potential with falconry, opting to return home and enroll at Cornell University, where he pursued an undergraduate degree in biology. Parrot left in his junior year after developing a concept for a sustainable program for Jer Falcons, later exporting them to Sheik Zayid, the President of the U.A.E., even receiving a request for falcons from King Khalid, of Saudi Arabia.
Historically, the falcon has always been a symbol of power within the Middle East, Europe, and Asia. View any painting from the Renaissance or marble statue and you'll see a falcon somewhere in view. Falcons are divine. At one time, more valuable than gold. The King of Denmark once sent 10 Jer Falcons to the King of France, and 50 falcons to the King of Spain, just for permission to sail with a fleet to the Mediterranean, according to Feathered Cocaine. Saudi Ambassadors, today, will still request Jer Falcons from Sweden and Denmark in exchange for better exchange rates on oil.
The beginning of falcon smuggling on the black market began with the fall of the Soviet Union. When the country split into 15 separate states, a free market without regulation blossomed and thrived under corruption. Falcon numbers in the Middle East jumped from a few thousand a year, to roughly 14,000. Understanding the problem on the horizon, Parrot removed himself from trading falcons with sheiks and princes in the Gulf, and dedicated himself to shutting down the illegal trade of falcon smuggling. Today, Arab royals still smuggle falcons out of places like Mongolia on 747s with full knowledge of the government.
Parrot eventually lobbied the Kamchatka (Russia) government to protect Jer Falcons by preventing the birds from being smuggled out of the region. Kamchatka is the origin for many outer-lining smuggling routes. An agreement was proposed that if Parrot would pay $25,000 for every falcon, and if enough of them could be taken out of circulation, the falcons could be transported by nuclear submarine from Kamchatka, down the Sea of Japan, and surface in the port of Abu Dhabi. But the deal never happened.
Parrot realized that his role as a supplier of falcons to royals in the Middle East was changing -- that it was now more than just helping rich Arabs with a hobby, but a matter of helping Arabs network with terrorists. Parrot was supplying falcons to hunting camps that ultimately led to military corruption, bribery, and a meet with Osama bin Laden.
"If you have billions and billions of dollars, people indulge themselves," ex-CIA agent Bob Baer says in the 2010 documentary, Feathered Cocaine. When the super rich come out to these falconry camps, "they live these bifurcated lives. They're enormously wealthy, and so they feel obligated to give out zakat (or gifts)," Baer says. "When they hold a majlis (meeting) out in the desert, with the Pakistanis, with the Generals, and hand out the money, and you've got a Pakistani leadership that wants to use Islam to unify the country, it's all done in one business meeting. Falcons, madrases, buying off Generals, funding the Afghan resistance." Baer concludes that princes and royal families in the Gulf routinely met with members of al Qaeda at falconry camps. "This has been seen on overhead, we know it exists. You show up and you say, here is $100 million in cash. Take the money. They're buying redemption, if you like. As a Catholic would. It's like going in and lighting a candle for them -- is giving this money. The entire 9/11 operation was not funded out of bin Laden's personal pocket. It was not funded by Taliban. It was funded out of the Gulf. Falconry camps are just a metaphor for the way business is done in the Middle East."
According to Feathered Cocaine, in the winter of 1999, the CIA encouraged a group of Afghans that were working for the CIA to try and reliably locate Osama bin Laden so that the U.S. could order an air strike on a falconry camp and kill bin Laden and any other high ranking associates. The Afghan agents received information that bin Laden was going to attend a falconry hunting camp in southern Kandahar that had been arranged by guests from the United Arab Emirates. The CIA ordered satellites above the falconry camp and images showed a large C-130. The camouflage pattern on the plane, and the tail number matched a plane that belonged to the United Arab Emirates. The host of that camp was Sheik Hamdan bin Zayid, the U.A.E. Minister of Foreign Affairs. But the recommendation for a strike was never approved after it was determined to be a "luxury hunting trip," by then National Security Adviser Richard Clarke and then DCI George Tenet. At the time, the U.A.E. was in negotiations with American companies to purchase 80 F-16 jets at a cost of $6.5 million per plane. Purely a coincidence, though.
According to Steve Coll, who was awarded his second Pulitzer Prize for his 2004 book, Ghost Wars, prior to 2001, the U.S. State Department was aware of, concerned with, and monitoring falconry camps in the Gulf in the late 90s and early 2000s. "Because they were part of a pattern of contact between elements of the U.A.E. and elements of Taliban-ruled Afghanistan, including al Qaeda," Coll says. When the United States and Pakistan entered into an agreement to force out the Taliban, Pakistan disclosed the existence of an airfield in Pakistan, specifically dedicated to only falcon hunting and using the field as a stop for royals on their way to the camps. The U.S. had no idea the airfield existed.
Almost entirely have Alan Parrot's warnings been ignored. But why? Parrot had film evidence, correspondences, emails, personal connections through falconry and camps, and stories of imprisonment and torture. He concluded that the reason for impotence and ignoring his warnings, was money.
"People in the State Department, the National Security Council, The White House, know that when they leave The White House, that's the end of their government service, and they need money. You cannot afford to offend the Gulf Arabs because they've got the money. It's the golden rule. He who has the gold, makes the rules," Baer says.
During Parrot's shift from supplying falcons to protecting them, he began interacting with a smuggler nicknamed, T2. T2 ran a smuggling line from Iran to Turkmenistan. T2 doesn't smuggle falcons, but he knew the routes and how the lines worked. According to Parrot, T2 encountered bin Laden when bin Laden was falconry hunting in the Baluchistan region, which connects the southern points of Iran, Afghanistan, and Pakistan. This was around the time that the U.S. said bin Laden was living in a cave in Waziristan. So close, U.S. government.
T2 learned that each of bin Laden's falcons were micro-chipped to transmit the falcon's location should the very expensive falcon suddenly get greedy and, I don't know, fly off and be free, bin Laden could locate and retrieve it. According to Parrot, the frequencies of the transmitters had a range of 10 miles in a mountainous area, 100 miles in line of sight. So Powell wrote a letter to then CIA chief under President Bush Part Deux, General Michael Hayden, which read, "We have information from a source that hunted with bin Laden in 2004. He spent time with him. bin Laden travels inside Iran with only four persons during the falconry hunting season. The source has learned the frequency channels on each of bin Laden's falcons. bin Laden uses the same three frequencies while he's hunting." But the letter was never answered, nor was there any subsequent operation to investigate the area for radio transmissions during the falconry hunting season.
John Loftus, Alan Parrot's adviser, sent the letter to the DCI office. The CIA doesn't sign certified receipts for mail (obviously, right?), but Parrot at least had proof that it was mailed. A friend in General Hayden's office assured Loftus that it was at the top of his inbox. Another copy went to the the National Clandestine Service, and a third copy went to the NSA. Both Parrot and Loftus never heard back.
Parrot eventually received information from his falconry sources that in 2004, bin Laden was living in, or was being protected by, Iran, and made uncorroborated statements that the US Government knew of bin Laden's whereabouts in Iran but weren't interested in pursuing him. That information may never be publicly confirmed, and of course, bin Laden was found to be living in Pakistan.
Falconry camps will continue, undoubtedly, as they have been for the past century. Whether or not international terrorists are still VIP guests is probably doubtful. Maybe the days of handing over suitcases full of money to bribe military leaders are long gone, too. You may not even see a flier on a telephone pole advertising -- "FALCONRY 2013 THIS SUNDAY! CASH ONLY! NO QUESTIONS ASKED!" -- but they'll still happen, these camps. In fact, there's probably one going on right now...
Chris Peak is a musician, freelance writer, and creator of The Writing Cobra, a writing consortium of Berklee College of Music Alumni. Visit him at chrispeak.com.
Related
Popular in the Community