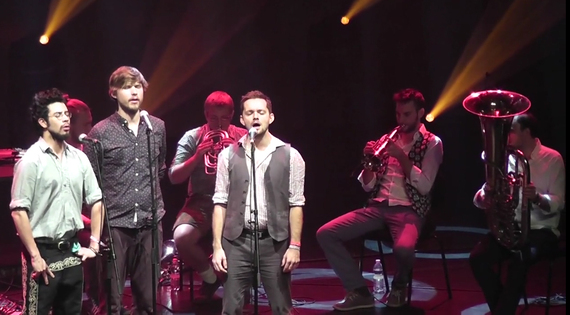 Among the array of fine bands that are presented at WOMEX (the World Music Expo), there's always one that surprises me. This year it was Federspiel.
But let me backtrack a bit. I'm quite lazy when it comes to researching all the videos for the bands that are showcasing. I tend to just show up and let it hit me. Besides, sometimes a video simply doesn't really catch what might be charming or exciting about an act. The down side? I can get mashed into the back of the balcony (a pretty terrible place to shoot from) because the concert hall is at capacity with folks who DID do their homework and got there early.
Such was the case when I wriggled my way into the nosebleed section of the hall where Federspiel was playing. I had no idea what to expect--just knew it was a brass band from Austria. But with the first few notes, I realized I should be shooting, however I could. My apologies for the shaky moments. If you've ever tried to shoot with your camcorder at its highest zoom level without a tripod, you know what it's like to try to keep an image stable. My thanks to the BBC for allowing me to use the audio they recorded.
But back to Federspiel. These guys are conservatory trained, which I think gives them all a very sweet and strong embouchure. Their repertoire reflects interests that range far afield, from Bulgaria to Mexico. It is this combination of musical adventure and classical diligence that creates Federspiel's strength. They are remarkably controlled, subtle and even spiritual.
The first song I caught was "Naturjodler in Ges und Steirer Dreier" an homage to the alphorn and yodeling. It builds to a kind of breathing intensity, with the mixed timbres of brass (and one clarinet) approximating the huge horns of the Swiss mountains. When the three singers come in, note the parts, where they come in, what they do and the amount of control needed to pull this off.
That is not to say that Federspiel cannot rock out, and they also performed an energetic huapango (one of my favorite Mexican dance grooves) further down the set.
The next day at the trade fair, the Austrian booth saw a lot of action; much of it for Federspiel, so you never, know, they might make it Stateside. Catch them if you can.
For more about Federspiel visit http://www.feder-spiel.at/en/band/
for more world music from WOMEX and beyond, visit worldmusicandculture.com
Support HuffPost
The Stakes Have Never Been Higher
Related
Popular in the Community