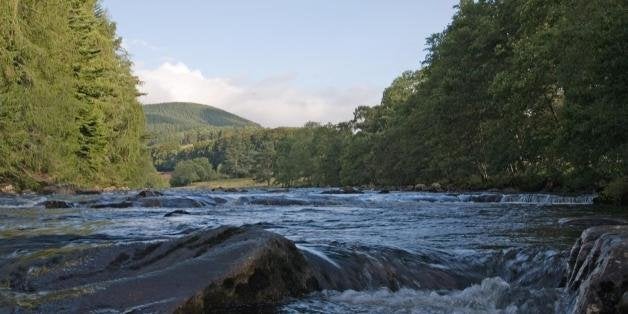 He kill Win in the wood and dump her in the soupy part of the Sunderland. All the children was woo-wooing down the street with the candy bag swinging high and no one see Win gone until little Bobby yell Win Win and nothing come back but dark. We don't know where she go like that and run around frantic even the kids. Next morning we call Daddy Jack and ask if he know anything. Naw he say. A week later they find her drown and the paper say such a ugly deed it was.
After we bury Win Daddy Jack go to bed and three of us got out to smoke. We can't think about her dead or what they find in the wood. It's one thing to be a full woman lay out in her velvet but a bone cold child. Naw. It's too much for a day and we go for a drive down to Ledger Point. Just for Daddy we don't cry that morning but in the car the sorrow pull us under and the tears come around. Cluck go Sue's Charlie. It's nothing to die he tell us. Staying living is what is hard he say.
Daddy Jack he never get up again and little Bobby go live with his Auntie May. We drive down one time to see him and give him some soldier toys but after that we can't even face him. The house next door was Daddy's house went boarded up and for a year was weeds. No flowers could grow there anyhow and for a long time we come out our own house and look another way. It seem like no time was before Christmas come and Easter next and our lilies bloom. The sun was yellow every day and we sit outside and drink our cokes. Baby's ears they twitch when insects lit and blue jays scream like hawks in our oaks. Soon was October again and we can't get our Baby to come out for a walk. She lie in the corner on the red oval her eyes shut and her nose dry.
End of November when the trees went bent we bury her out back under a birch. Life goes, and goes out like sea we say and place a lilac on the little grave. We turn and whisper we will never forget you Baby but know we will and forget each other and everyone else also in time.
Daddy Jack he had another baby girl who pass was Millie so Win going is what finish him. Millie she is prettier than Win was blonde and brown eyes was funny too Millie coming around our house oinking and mooing just to see if we would give her supper and some chocolate cake. We did love her so much Millie and cry when she went but truth is God forgive us we love Win more who is gentle and care about every living thing. Millie had the blood cancer and got smaller and smaller but Win was strong as day is long and one night just went dark.
Win drag home every animal and Daddy Jack drive the poor thing to the dump and throw them out the door. A cat once come all the way back to Win and Daddy say ok but that is it girl. We had a hatred for him on this and how it made Win cry each time he steal the stray from her arms but we did forgive him when he was dying in his bed because he try to be good and care for his babies after Grace leave him for Dex. Also we are told to love thy neighbor as ourself.
When Win got the chicken pox Jackie want her girl Dolly to sit with our poor dear so she can catch the pox also and don't have to wait for it to come calling on its own and surprise everyone. Win she beg Daddy Jack to keep them out. Dolly cry hard and say she don't want to be sick anyway and Jackie take her by the arm from the room where Win was.
The police they find Win's wings caught on a tree stump beside the River. All the year before she want to be a angel and she beg Daddy Jack every day but he say it cost too much. A week before she went he buy her the angel costume from Crane's store and we even hear her shouting eeee eeee in her kitchen. Daddy Jack say enough girl ha and she is so happy. That last night we see her she run out ahead with the pink wings behind her. Daddy at least he know she is so happy before she went and he went.
All animals they try to love their babies and go through every danger and hardship to get them food and give them comfort but when something happen beyond their strength and wisdom what can they do but only look. A lion come and snatch the baby monkey from the mammy's arms and what can she do but only cry out and know that he is gone and nothing more can be done but birth a new one. Grace bring little Isis in this world is Dex's baby and Daddy Jack he is a cuckold.
Right before little Millie went her gran went in a mystery way. We always say some day you get what you deserve even when you think only anyone else get a comeuppance and not ourself. And Grace her daddy is a Spanish who is a hard worker until the drink get in him too much. One night he break her mam's jaw and it is the only time we ever feel sorry for her bad luck in life.
That Win she tickle us ha. She like our scarlet oak the best and climb straight up when we don't catch her first and is so free like a robin egg when it fall out the nest. The yellow meep frogs she does like best and catch them in her fingers and carry them down to the River and give them back to the water. Millie she always went clowning but not Win no who was the quiet one and do not have any friends except little boy Largo who we always say he should be playing with other little boys not girls.
The cherubim they are every place on the earth and no place they are not there and we say the ugliness of the world it will get in us if we will not see their angel face every day and the rosy cheek they do have like our Win does have.
With Daddy Jack gone and the girls gone and little Bobby down there with Auntie May and Grace she went no place good so what can we do with ourself on Christmas time we don't know. Use to be Christmas Eve we give two presents to each child what we could afford. The next day we bake a ham. When Win turn eight we give her a broom pony with a real horsehair tail and that girl we can't get her to sit down and eat our food she just gallop around the house all day which make us laugh.
Not even a month after our girl went the police they arrest Arlie Skills who is the son of Charlie Skills and Sue Skills. Some teenagers from Briars drinking beer one night beside the River they swear they see Arlie right there and say he brag about what he has done and show them the knife he has done it with. We always say he is a bad seed Arlie who is meaner than a city rooster. When he was a child he torture a sick opossum with a cigarette and bury it alive in the mud. Arlie he like the dirty magazine with the girls their legs wide open and their hands tie. Cluck, go Charlie. It's just a boy what he do before he grow up.
The boys from Briars they lie. It come out that Arlie call one of their girl a whore and they want to revenge her. We hear he never was there at the River that time and never has a knife which they could find one. We cry to think of our girl alone in the cold dirty water and no one yet we can say to ourself he did it that bastard and took her from us. She was the golden child of us and all the hopes to be happy in life we had in her our dear Win.
Daddy Jack he is lord over Grace but for her own good we believe. She always cry and Daddy say stop it Christ and we can hear him every time across the way. Soon enough he take over to be everything to those kids and Grace she have no force in her to be a woman. She let the babies out her arms and just lie down. She say to Daddy go on do what you want I won't stop you, can't. And then go on after to birth her Isis like we say.
It was one time we had our hope and life it was a good life with each new morning. We go out and wander and wait like children for what come next. Our Win you know she give us strength and never again a girl such as Win or a rose petal to touch or a sip of tea. No
I heared auntie say to mammy it a disgrace youre calling yourself that little boys mother you dont know the meaning of that word. Im not little. I run on back to bed and still heared them. I wish Winnie is here and she will play with me. Mammie is crying saying May what do you want me to do if Dex wont let that boy come you want me to walk out on Isis is that what you want. At least he has you and Isis is just toddling she needs me and auntie say oh and the boy dont. I hate Isis and she can be dead I dont care.
Shit. That is the ugliest bitch I ever seen. Look at them titties they is flatter than a cow pie and ass is bigger than three donkey balls. Ain't nobody even can pay me to hose down that twat. Hey pops you want some of that? Haw. Shut your trap up Arlie and open the damn trunk.
Baby she push up our spring garden and give the blue sky a reason to rain. We set down our chairs in the high grass and watch the bumbles hover at the red roses and do they very glory to all us on this earth. We drink the lemon ices in the tall glass and did our praying out asking for some more years yet before the dark. Then we wonder what if what it is here is our death and what it is on the other side is what is life but can any other be more beautiful than the bumbles and the roses of the garden we wonder and say yes maybe so.
Gracita mi hija lamento I don't saw you since a long time, always I think on you, Millie Bobby y Winita preciosa is ok? me recuerdan? week after I coming up to you for a work, I must to work, don't have no money Gracita owing to I am sick with the artritis, I want that I stay with you mi familia, is ok, call me to 677.902.4123.86, te quiero mucho, tu papi.
Up the rafters the bat pup he cling to the mam's belly squeaking for milk and mammy she can drop the baby way down if she get scared. In the night we hear the squeaking and are comfort from the fussy noise then we know the baby it is not drop down. Every mammy across His glory land give suck to the infant and they look up in the shining eyes and smile every young one. And Grace she did drop her baby Win way down we say.
Win she is so pure in her gentle heart and the sparrow body was broke by a monster who did rape her and put her little panty in a tree the blood from her suffering for everyone to see. We think of before the life went out and hope she never did see the Devil face over her or smell the stink of him. We hear it that God He do work in mystery ways and we ask what is the mystery of our poor Win and why was she brought from all us and if Jesus did let her be gashed everywhere there can be on a little girl. And Grace she did drop her sweet baby way down we say.
The people run all over the life like dirty angels and forget how God did kiss their face before they come here and shine so bright. Dark slides oily in the wood and choke up the Sunderland with grief. We sit at the window when the sun go down and say we are happy here to smoke and sip but we are happy to die if God say the glory wait for you beyond the billow cloud.
I already said I knew both girls but I knew Millie better and if you're asking again if I know who did it I'll tell you again I sure don't. I wasn't even around the night she disappeared. What? Ok was murdered. I told you already where I was that night. I drove down to Ledger with my brother. I already told you. Church. No I already told you I don't know if anybody else saw me besides Largo. No I don't like to get my rocks off with children. Christ. No I never touched that girl Sandal. Why did she say I did? What? I'm not a sick fuck. What?
We get scared to think of not Win. We remember her those gray eyes her legs kicking up in the chair. When anyone sit there long after she went a part of that shy girl come up and touch that next one and that next one. Before she was was the chair just.
Before she pass Baby look up and say with her eyes she will die soon but she love us and the tail thump. There is the pink tumor there on the side has the hair all gone. We touch her on it and say we love you even where you gone ugly. Win she touch that tumor too one day and cry and ask if Baby hurt. Naw we say so her tears will dry up but our Baby she whimper all night and can't hardly walk and lie in her piddle and won't eat a ort. Our heart did break for the suffering of that poor creature just like it break when Win went and no one who love us to say naw she don't suffer before she die. Hush.
Win when she went from this dark land she put all her salt tears in the River. We say she did fly up a burning child and only the body it fall back broke through the sky and lie drown but Win her soul was come out from the cold bloat up to heaven on the wing of the angel Sophia who is pure like Win is and the hectic cheek and the dimple there.
We got out to water the roses and did see Largo went wailing up the street we say come here little Largo. He run away and we call stop and he turn and crumple back with the arms they hang down like bread dough. Sit down Largo we say and go huddle his birdie shoulders tsk. What happen we ask someone die ha. My brother they got him in jail he tell us and say he is suspicion of murder for Win. What we hear we don't believe what he did say. The sun is yellow and we give the boy a chocolate and say shh and think the good Lord come visit our garden for a stroll.
Sandal she is a lovely girl the age of Millie was and red hair curly to the waist with a giggle oh she make us laugh one day that little honey. She kiss us on the face and eat our pie and say thank you. Our own sweetheart we say and Win she went from us but Sandal she twirl in her satins is innocent like our Win was until the brother of Largo defile her. Sandal she stay now in the room her mam say and cry until she close her eyes. Once we did see Millie laugh with Sandal and run down Apple Hill and hold hands their summer dresses blue. Who take the innocence with no sorrow may he burn and God spit on him surely.
A warm night was anyway when Win went and the big pumpkin they flicker on all the porch and the children was woo-wooing up the street shaking the penny and was swinging the candy bag. We laugh and say who is that witch who scare us in her point hat and shout here come the pink princess ha and say who is it go clowning down the road with his daddy and yell watch it Birdie watch it. Every little girl and boy laughing under the white moon they scream no. I am the scariest.
Win is dead and Millie is dead and Daddy Jack is dead and Mam is dead. If you come near me or Isis I swear I'll shoot you in the head. Grace
Hija why you say this things, why you didn't tell me before, I am come to seeing you, what is Isis. Papi
Captain Les Anders of the Ledger Point Police asked the public for help in identifying a young woman whose dismembered body was found floating Thursday morning in the Sunderland River. The body was discovered by a hiker who said he was out for his daily walk.
In a press conference Anders told reporters the police recovered a torso without a head or limbs. "We are doing everything we can to identify the victim, who appears to have been in her late teens or early twenties," he said.
Anders also revealed there were some distinguishing characteristics that might jog someone's memory. "The deceased had at least one cesarean section and her fallopian tubes were tied," he said. An autopsy showed a left clavicle fracture, he added.
Grace she come around with her Isis is so big and apple cheek. We say sit dear and she do sit on the porch and look with her dark eyes to the house where she did live with her babies. She say her heart break every day. We say there there sweetheart and she cry. The past it come follow behind like a bad dog and whine but Isis she suck the thumb and giggle that child is a kiss on our face from God in heaven.
One time Win run to our house and is terrify. We hold the child so tight we think we can break her little ribs. What is it Win what we say but she just cry and the angel face is all swoll. Daddy Jack is dead she tell us. She say Mam swoop up Millie and Bobby in her arms and run out the front door and leave her alone with Daddy. She scare us now so we tell her stay right here Win and go to the house where Daddy is and peek in the back window. There he is flat on the kitchen floor is naked as a jay and surely looking dead like Win say. We tap on the window and yell Daddy Jack. But he don't move a muscle.
They come and take Daddy to the hospital so to dry him out the sot. He fuss all the way through the front door into the car and say he will kill the bastard who hump his Grace. He is one mean drunk say Clara who live on the other side of him in the white house. Hush we say the girl will hear you. I don't care what Win hear she say it is high time she grow up and know the truth. We are sure he don't mean to hurt Grace even when he punch her face once. He come back that time to beg her please forgive him and she say come inside Daddy Jack and he do.
Up the River is clear and taste so sweet. The water run cold over the smooth stone and the little fish tickle the feet. The yellow sun is warm on our face and the air is fresh. The trees bend glorious in the breeze and the bird are close by and sing each one. We smoke and have a sip and cast our fishing rod but now when we eat the trout they stick in our throat those little bone do.
Yesterday police come to the house and ask us where we was the night they kill Win. We stay with the children all the time we say and Daddy Jack see us. Daddy is dead they say. We say Charlie see us too they say he say he never see us. We say Jackie surely she see us they say no she don't.
Popular in the Community