Laura Shapiro was born and raised in Baltimore, Maryland and spent her childhood making things out of scrap wood, painting on rocks and drawing. By the time she graduated from the Maryland Institute College of Art in Baltimore in 1979, her focus had been on painting for years. Laura moved to NYC in 1983, waited tables and started working in wood again in 1986. The first pieces she made -- painted animal shapes and boxes -- sold in stores in Manhattan. Before long, she was building all sorts of art furniture pieces, selling all over the U.S., at juried craft shows in the Northeast and taking commissions. Laura's work has evolved over the past 27 years, but it's still all about functionality, the sculptural nature of wood and furniture, geometric and animal forms, and color. She designs, builds, carves and paints her pieces herself. Her studio is on a horse farm where she live with her boyfriend, three horses, dog and cat in Shokan, New York. Laura has lived and worked in the Catskills since 1989 and is always entranced and inspired by the changing beauty of the mountains -- which she prefers to explore on horseback!
This piece is a handmade carved and painted queen size headboard that I made this year. I design and build all sorts of art furniture -- beds, cabinets, tables, book shelves, mirrors, etc., in my studio in the Catskills in NY. Working in wood gives me so much freedom in terms of form and motif, and since I've been creating pieces since 1987, I have a kind of fluency with the materials and with the tools I use. I live and work on a large, quiet horse farm, home to my 3 horses and a lot of wildlife, so I'm inspired on a regular basis.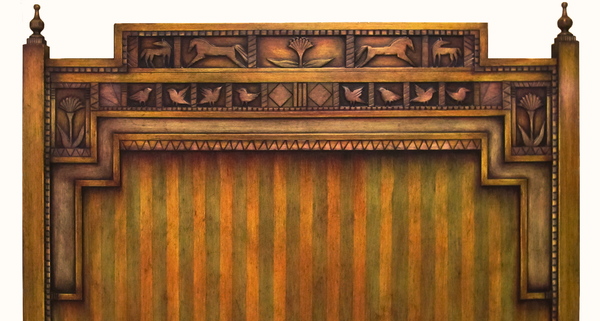 Are you 50 or older? Want to submit your own art or photography for consideration? Send us your work at 50arts@huffingtonpost.com. See here for more details.