I consider myself a folk artist and have been making things out of bits and scraps my whole life. I am inspired by Primitive Art, Folk Art and Outsider Art. I work with tin cans and aluminum soda and beer cans under resin. I have taken untold workshops and art classes over the years. The first art class I took was 25 years ago with Julie Taymor of "The Lion King" and her influence is still with me today. My work has been in galleries and in the theatre in New York City and I was chosen for "The Best of The Best" Florida Artists at Backus Museum in 2009 and received an "Award of Merit" for my piece. I will have my first solo show at La MaMa Galleria, 6 E.First Street, New York City in 2013, October 3rd through the 20th.
When I moved to New York City from Miami in the '60s, the first class I took was "Better Homes and Garbage." The class actually scoured the city looking for good junk to reuse. In the '80s there were still many small manufacturing companies in SoHo and my love for reusing things started there.
I use mostly discarded soda cans, olive oil cans, cracker cans, beer cans, candy and popcorn tins. I moved to soda cans when all of the painted coffee cans and painted vegetable tins manufacturers turned to putting plastic sleeves around the tin cans instead of painting them.
I zero in on dogs because I have always had dogs. They are so expressive and funny. I am inspired by folk art and outsider art.
I like that most of my artwork materials are there for the taking. I need to buy glue and resin but the bulk of my materials have been discarded and are free or cheap at thrift stores and yard sales.
This image is called "Cherry Pit," and it measures 15" x 15". It is made of tin cans under a resin pour.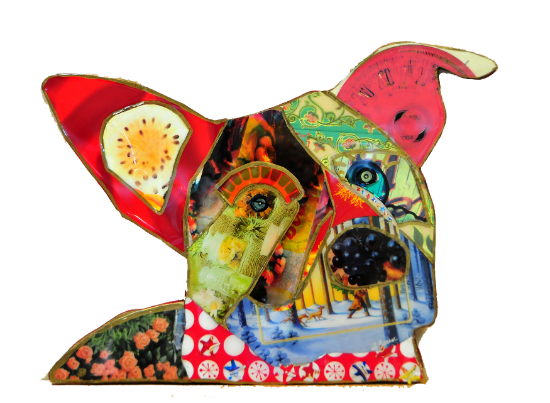 Cherry Pit
Are you 50 or older? Want to submit your own art or photography for consideration? Send us your work at 50arts@huffingtonpost.com. See here for more details.
REAL LIFE. REAL NEWS. REAL VOICES.
Help us tell more of the stories that matter from voices that too often remain unheard.