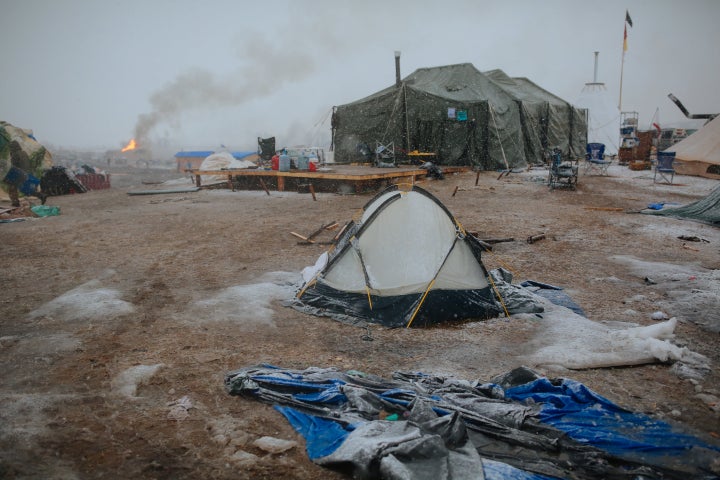 Maybe you have heard. Water protectors at Oceti Sakowin camp at Standing Rock in North Dakota have been informed that they must vacate the camp by 12pm today February 22nd 2017 or they will be arrested. These details were circulated yesterday:
•At midnight tonight the BIA (Bureau of Indian Affairs) check point will become an exit only blockade.
•There will be a last call at 12:00 pm tomorrow, February 22nd for people who want to leave camp.
•There will be a designated area by South gate to gather and be shuttled out of camp.
•Arrests will begin at 2pm.
•If you are in camp at that time you will be arrested.
This action is illegal since the land upon which the Oceti Sakowin camp was created is land that is owned by the Lakota people according to the Fort Laramie Treaty of 1868. And yet the Army Corps of Engineers, the Morton County Police and the State of North Dakota do not seem to recognize that Treaty. The dominant culture is not only imposing its values on the water protectors it is now imposing its might and firepower in opposition to Treaties it once willing signed.
And right across the river at Sacred Stone Camp, its founder La Donna Tamakawastewin Allard has been served a trespass notice for the camp she set up on her own land. How can a landowner be asked to vacate her own land? Because of what is called an "undivided interest." This complicated form of Trusteeship has historically been used as a sophisticated land grab, often against the individual rights of Native Americans. Although LaDonna owns around 80 acres of land, her share is part of a larger parcel of approximately 320 acres of an undivided interest. This means that 80 percent of the combined owners must legally agree to what she can do with her land. The other interest in this case is the Standing Rock Sioux Tribe and they and their tribal council have decided to evict LaDonna and her camp from her land. According to Dr Biron Baker, featured in my recent film A Different American Dream about the impact of oil exploitation on the neighboring MHA Nation, this is an old tactic long used by the Federal Government when it is displeased with Indians - they simply divide and conquer.
What is especially sad in the is case is that the Standing Rock Sioux Nation tribal chairman Dave Archambault II has, for reasons as yet unclear, turned on one of his own tribal members. His father-in-law is buried at Sacred Stone right next to LaDonna's father and son.
More dangerously this action represents a significant erosion of tribal sovereignty. For over 40 years, since the Indian self-determination act of 1976, the Bureau of Indian Affairs has been deferring to tribes over matters of sovereignty. Asking the BIA to become involved in imposing legal action on tribal members turns the clock back for all Native Americans not just LaDonna Allard and the water protectors. It is the equivalent of asking another nation (Canada perhaps) to come into the USA and help is with one of our problems. Unthinkable.
On December 4th last year at Standing Rock Wesley Clark Jr. and many #NODAPL protesters were jubilant as Clark, at camp with hundreds of fellow veterans, announced that the final permit for the Dakota Access Pipeline had been refused. Social media was instantly filled with cries of victory in the fight to save the water. You didn't need a direct connection to the heartbeat of the earth to intuit that this was a hollow victory, coming as it did in the twilight of the Obama administration. LaDonna Tamakawastewin Allard warned all of us who had the sense to listen to her that day. Trump and his agenda was on the horizon and there has been no delay in paving the way for the Dakota Access Pipeline. LaDonna has been requesting our prayers for her people, the water and the land ever since. Today she asked:
"What do you stand for? Your children, grandchildren, parents, families, a friend, neighbor or a stranger? Would you stand for the water and the earth? All we have is ourselves and prayer."
It is shaping up to be a tragic and sickening day. Can the government in plain sight execute such a gross injustice against Native Americans who have peacefully stood up for their right to clean water? Why has the sovereignty of the Standing Rock Sioux Nation been so easily dismantled? Why is this inevitable? This desecration of the land and the water should not be inevitable in the 21st century.
I will look to the water protectors to see what next best steps we can all take. Tonight I will pray for their safety and for clean water for all of us. One day even oil-hungry politicians will come to understand that there are only so many places left where we can find clean water to sustain life. They are getting fewer with every fracking rig and pipeline that are built. Soon it will be too late.
Calling all HuffPost superfans!
Sign up for membership to become a founding member and help shape HuffPost's next chapter