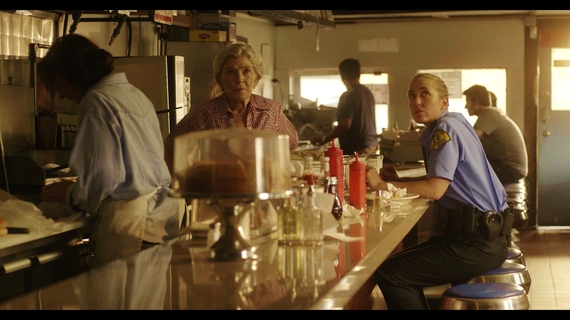 Photo Courtesy of Scabland Productions, LLC.
"I looked out the window and there was a kid with a trench coat and a shotgun and pipe bombs in the parking lot. And then he shot a girl outside and then he came into the cafeteria and you could hear, like, bombs and shotguns going off. And then he came into the library and shot everybody around me. Then he put a gun to my head and asked if we all wanted to die and that he was going to kill us... I just started screaming and crying and telling him not to shoot me and so he just shot the girl in the head in front of me, and then he shot the black kid because he was black. And he shot him in the face." -- Survivor of Columbine (asking to remain anonymous)
Gun violence in the schools has received a great deal of attention, especially in the years--inclusive of similar incidents--since the most famous of the initial wave of school shootings at Columbine High School in Columbine, Colorado on April 20, 1999.
The subject of school shootings was enough for Michael Moore to make the controversial film, Bowling for Columbine (see the original Guardian review here), and the FBI to devote a monograph to its lessons, as well as making available additional information targeting communities and school leaders, including college and elementary, middle, and high schools, in offering a means to determine a threat assessment to prevent future attacks. Such efforts, though laudable, have admittedly not been entirely successful.
Indeed, despite any education that may be devoted to understanding and identifying troubled students, many of whom might not be initially suspected of having such a capacity to commit these kinds of crimes, such armed violence has continued to escalate.
The debate has turned toward both federal and state gun laws, and the U.S. constitutional the right to bear arms, with other essential questions continuing to be downplayed. These include ones that seem a veritable afterthought, though absolutely significant for those whom such violence has affected on a distinctly personal level: what is the result among the surviving victims, including within the community, long-term? Why is this important?
An extraordinary short film posing these questions has recently been making the rounds on the international festival circuit, written, produced, and directed by actor/filmmaker Jessi Shuttleworth, via her production company, Scabland Productions.
Its title: February, and the inspiration for the film came from an experience within Shuttleworth's own family, a school shooting that happened in 1996--three years before Columbine--in Moses Lake, Washington.
While the film doesn't answer the question as to why such an act was committed, it reflects the realities of such an event's aftermath on those who were closest to it.
In the press materials, Shuttleworth elucidates rather poetically the significance of making the film, which reflects the often unasked questions following such an incident:
As horrific as the Moses Lake shooting was, the silent disassembly of lives that followed was also horrendous. Often, in the aftermath of a school shooting, national focus is on the shooter. In writing February, I wanted to shift this focus; I wanted to explore the lives of those left behind and how a single fracture in time, as poet Paul Zarzyski writes in All This Way For The Short Ride, "can both freeze and incinerate so much."
In an interview with Shuttleworth, I asked about the personal reasons for making the film, and how it evolved.
My brother, thirteen at the time, was in the adjacent classroom at Frontier Junior High School. When shots rang out, my brother was the only student in his classroom self-possessed enough in that horror to assist his teacher in barricading the door. Although nineteen years have passed, he, like many who were present, has not found peace. As horrific as the Moses Lake shooting was, the silent disassembly of lives that followed was also horrendous.

After the Frontier shooting an awful silence fell on the town and everyone involved. Even at home I didn't know what to say, what to do to make it right--to wash it away from my brother. In the eighteen years that followed, that day clung to my skin like a smear of oil paint. Every time there was a shooting, I immediately thought of my brother, how my family almost lost him, and what he must feel every time there's a shooting. That said, the silence, even seventeen years out, continued. I didn't talk about the shooting with anyone. It felt taboo to do so--like digging up a grave or a sort of betrayal of my family, the town I grew up in, and my brother.

In 2010, my longtime friend and co-star in February, Dan Shaked, invited me to the Tribeca Film Festival to see Storm Up the Sky, a short film he'd starred in.

Minutes into the program, I was struck with the short film format. I knew I had to make one of my own. It was also clear that in order to own that form of film, the story would have to be powerful, gritty, and much bigger than me. I knew it was time to break the silence.

After the program, over hamburgers in Madison Square Park, I pitched the project to Dan. I was hellbound on hooking him as he was the only actor I trusted to play the antagonist with the guts and commitment the story deserved. During my pitch, fear flooded over me. Was I betraying my brother? Was this going to embarrass my family? Would they be angry? Would there be backlash in my hometown? It didn't matter. The story needed to be told; someone needed to explore the lives of those left behind.

The writing process, although redemptive, was difficult. During the development I was protective of the script, not wanting family, friends, or strangers to sway the course of the story. I also felt responsible for getting it right--doing it justice. The story is bigger than me, my brother, or my family.
The film stars some familiar faces, including character actors Ethan Phillips and Phyllis Somerville, rounded out by additional veteran actors who were either suggested by other cast members, or who were friends of Jessi or the Shuttleworth family (Jessi's father, Red Shuttleworth, is an award-winning and nationally-recognized western poet and playwright).
Standing out too, were the two kids--actual siblings--Hayley and Aidan Gasbarro, who played the younger versions of the main character, and her brother.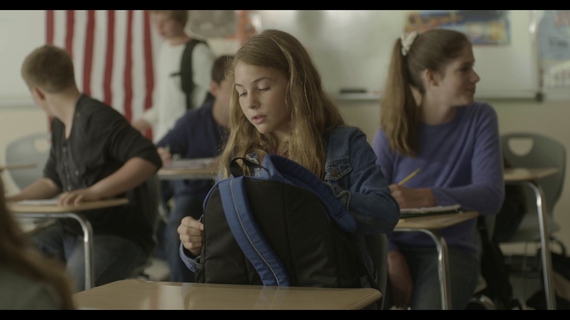 I was sold on Hayley as the young version of our protagonist before she finished her slate. There is an endearing scrappiness and grit to her. Yet, she was vulnerable without it reading weak. A day after her audition, I discovered she had an older brother, Aidan, so, I immediately had Anne [the casting director] call them in for a dual audition. They were perfect. Not only did the camera love Aidan (a complete non-actor), but they had a beautiful back story full of inside jokes and subtle complexities--something I couldn't have dreamed of developing between two unrelated actors in three months.
Also important was the casting of the school shooter.
"Brian Roque, who played the young antagonist, was a wonderful find," said Shuttleworth. "Brian, from day one, was fearless in taking on the weight of the young version of the shooter. Without the three of them and their bravery in telling the story, there would be no February."
In asking about the filming on location, Shuttleworth said that was something that in being asked questions about the film during screenings on the film festival circuit, she was surprised wasn't asked about more. As it turned out, that was one of the more difficult--but meaningful--aspects of making the film, including when, in the end, it came to communities who, once understanding her reasoning for making February, wholeheartedly supported the film's perspective.
My location search for a school began in New York. Unfortunately, within a week, the Sandy Hook Elementary shooting occurred, and I was subsequently turned down by seventeen schools. I began brainstorming other locations that could be dressed to look like a school. During the process, my mom suggested exploring the possibility of using a school in disuse. Running with her approach, I learned of a shuttered middle school about three hours outside NYC, in Adams, MA. I reached out to the Berkshire Film and Media Collaborative and pitched the project to Diane Pearlman, the Executive Director. Diane and her associate, Lauren Zink, were instrumental in securing the Adams Middle School. They not only walked with me through the red tape of getting the school board to approve my request, but they also involved the entire community--the new school brought furniture, Miss Adams Diner and Angelina's Submarine Shop made sure our entire cast/crew were well fed throughout filming, and a local university allowed us to rent a floor of their dorm for our crew. Diane and Lauren also assisted me with securing all the additional children we needed in order to believably film the scenes. They trusted the story and my approach. They understood, February was not an exploitation, but rather a meditation.

The shoot at the middle school was the most difficult day of filming for me and my sister/producer, Ciara. We'd moved through most of the scenes methodically and gracefully, but when it came time capture the scenes with the shooter, my chest was heavy and emotions raw. Having to recreate the shooter walking down the hall, standing outside the room, and then finally entering, was beyond difficult... it was heartbreaking.

Before we began the shooting scene, I sat with the young actors who would be working. I wanted them to understand where I was coming from as the sister of a survivor as well as the director and screenwriter. I answered all their questions--regardless of how painful it was. If they were brave enough to be there, to tell the story with me, the least I could do was be forthcoming.

During preliminary footage review, it was clear that I needed to do further filming within a school. Unfortunately, by that point, the Adams Middle School had been razed. At my mother's prompting, I looked homeward...and was lucky to find The Historic School in Hartline, WA. The school is cared for by Rosalie Eckhart and Cindy Cauble. My sister, Ciara, and mom, Kate, did location scouting and met with Cindy and Rosalie in my behalf. It was a painless process--they were on board. A few months after filming in Massachusetts, we further filmed in Hartline. Again a community rallied around the project--bringing out food and local acting talent for background and photo-double work.
In the end, it was this sense of community that would seem reflective of an underlying part of the film's significance. Within the film itself, the point is made that entire communities are affected years later, and that such a memory can be not just long, but painful. Answers are not often sufficiently found, and despite all of the vitriolic recriminations and political jockeying, and yet another school being an example of perhaps a much larger concern on a national level, at the heart of every incident there remain individual human beings who wear the scars of those incidents, whether literally or figuratively. Every single one of them will have to deal with his or her own personal aftermath, and each one will have to determine how he or she lives with its cost. This is often what is missed within all of the rhetoric. And whether or not a community rallies around those most affected, or becomes part of the political mire in what is often a media cacophony, there are some for whom the wounds are as fresh and open as the day of the actual violence.
This is a point that February makes with stark and inordinately masterful clarity. It is a snapshot of the lives of those who, in this fictitious depiction inspired by actual events, are most affected. And for them, it remains an everyday reality for which healing will be a lifelong process.
Further information can be found about the film here. February is currently continuing appearances in film festivals.
Calling all HuffPost superfans!
Sign up for membership to become a founding member and help shape HuffPost's next chapter