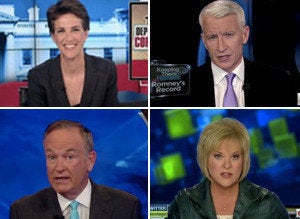 February was another rough month in the ratings for CNN.
CNN, which just announced Piers Morgans' departure, came in third place with 399,000 total viewers during primetime — a 39 percent drop from February 2013, when the network drew 659,000 total viewers. The network got an average of 134,000 viewers ages 25-54 during primetime this month, compared to 193,000 this time last year.
Deadline reported that Morgan's show at 9 p.m. was down 46 percent in total viewers and 38 percent in the key demo, compared to February 2013. Even "Anderson Cooper 360," which is usually the network's top performer, was down from this time last year: the show's total viewers fell 47 percent in total viewers and 46 percent in the demo.
The network came off a bleak January, which was its third-worst month in the ratings ever. The cancellation of "Piers Morgan Live" is the latest change to CNN's lineup, which is undergoing over a tremendous overhaul. The network now has to fill its 9 p.m. timeslot, and continues to experiment with the 10 p.m. timeslot.
Meanwhile, Fox News took the top spot as usual, and also claimed the top 13 shows in cable news for total viewers.
MSNBC drew an average of 723,000 total viewers during primetime, and 230,000 viewers in the demo. In a memo released Tuesday, the network touted the demo numbers as the network's best since December 2012. The ratings did not include broadcasts of the Olympics, which just wrapped up Sunday and were a boon for NBC Universal. The network aired the hockey and curling competitions.

(h/t Deadline)
REAL LIFE. REAL NEWS. REAL VOICES.
Help us tell more of the stories that matter from voices that too often remain unheard.