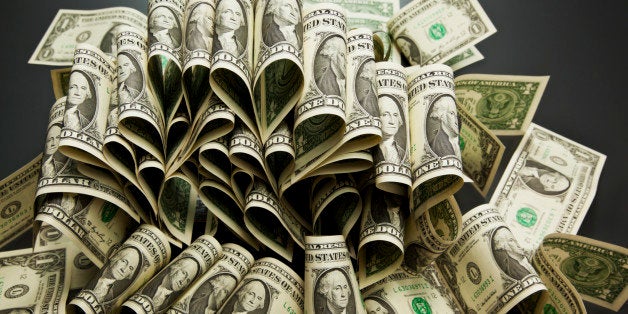 In a political world defined by Citizens United, where there is no limit on the amount of money a person can spend to support his political views, one man stands above all of the other billionaires who have contributed massive sums of money, especially during the 2012 election cycle -- Sheldon Adelson, the billionaire casino magnate based in Las Vegas.
During the 2012 Republican primaries, Adelson and his wife, Miriam, gave $20 million to Winning Our Future, the super PAC created to support former Speaker of the House Newt Gingrich with whom Adelson has been friends since the mid-1990s. In the general election, Adelson contributed $30 million to Restore Our Future, a super PAC supportive of Mitt Romney, and $23 million to American Crossroads, an advocacy super PAC co-founded by Karl Rove. In all in the 2012 cycle, in support of Republican presidential and congressional candidates and their causes, Adelson contributed a staggering $150 million, mostly through super PACs.
It's not surprising, then, that among the current Republican presidential candidates competition to win his endorsement -- and financial support -- has been fierce. It has become so intense it's been given its own nickname in certain political circles -- the Adelson Primary. So, as one candidate after another flew to Las Vegas to woo Adelson, usually meeting with him one-on-one at his flagship casino, The Sands, it was headline-grabbing news when word leaked in mid-October that Adelson was leaning toward endorsing Marco Rubio, the first-term senator from Florida whose strong performance in the debates has helped raise his national profile. "Two people familiar with [Adelson's] thinking," Politico reported on October 12, "said he has become increasingly confident in the senator's political skills and believes he is the kind of fresh face the Republican Party needs in 2016."
That's all well and good, but does Rubio want Adelson, especially given Rubio's recent endorsement by Paul Singer, the powerful Wall Street billionaire? After all, Rubio gets access not only to Singer but to his extensive network of like-minded contributors who often follow Singer's lead in supporting causes and candidates. Beyond that, there are new questions -- triggered by a recently filed complaint -- about the source of Adelson's fortune, estimated to be between $26.9 and $29 billion, making him one of the richest men in the world.
On November 3, Campaign for Accountability (CFA), a Washington-based watchdog group, filed a complaint with the Federal Election Commission alleging that the source of a significant portion of Adelson's wealth may prevent him from making political contributions. "In 2004, [Las Vegas Sands, Adelson's company] expanded its gambling enterprise to Macau [in China near Hong Kong]," CFA Executive Director Anne L. Weismann writes. "This expansion is responsible for Mr. Adelson's great wealth, transforming him from a minor player in the gambling world to 'the undisputed top dog in the $150 billion global gaming industry [to quote Forbes]."
But here's the problem. "Macau long has had deep ties to [Chinese] organized crime," the complaint states, quoting a report from the U.S.-China Economic and Security Review Commission that said "[i]t is common knowledge that the operation of VIP rooms in Macau casinos [has] long been dominated by Asian organized crime[.]" The complaint continues: "Casinos in Macau...are heavily dependent on the junket system as the primary source of income.... [J]unkets channel as much as $3 billion a month from the Chinese mainland to Macau."
The complaint names two men -- Cheung Chi Tai and Ng Lap Seng, both connected to Chinese organized crime -- with whom Adelson's Macau casino properties have done business (and may still be doing business). Ng "is believed to be a member of the Chinese crime gang the Shui Fong Triad and has a business relationship with Sheldon Adelson," the complaint states. Cheung "was identified in a 1993 U.S. Senate report as a key leader of a Chinese organized crime gang, the Who Hop To Triad." Why would Adelson do business with such shadowy figures? Because they run a number of the highly lucrative junkets that have made Adelson's Macau casinos a cash cow.
Literally a cash cow. "Mr. Ng was recently arrested and charged [in New York] with lying about his reasons for importing more than $4.5 million in cash into the United States. When stopped by a customs agent at John F. Kennedy International Airport on the way out of the country, one of Mr. Ng's business associates was found to have an undeclared $100,000 in his carry-on bag. He claimed the money belonged to Mr. Ng and was cash left over from a home renovation project."
The complaint continues: "Given the extent to which Mr. Adelson's wealth derives from his Macau casinos -- and the extent to which those casinos derive their profits from the triad-controlled junkets that are heavily involved in money laundering -- it is quite likely Macau organized crime funds and foreign money have wound up in the coffers of candidates for federal office and/or in the treasuries of dark money groups supporting them." The complaint quotes Senator John McCain appearing on PBS: "Much of Mr. Adelson's casino profits that go to him come from his casino in Macau...which says that, obviously, maybe in a roundabout way, foreign money is coming into an American campaign, political campaigns."
Since it is illegal for a campaign to accept foreign contributions, CFA is asking the FEC to investigate the source of Adelson's contributions. That those contributions may have resulted from Chinese organized crime makes them doubly troublesome. "On information and belief," the complaint concludes, "Sheldon Adelson, with the assistance of Cheung Chi Tai and Ng Lap Seng, has financed many of his campaign contributions with foreign money, including but not limited to profits generated by illegal activities conducted by foreign nationals using [Adelson's] Macau gambling enterprise."
Campaign for Accountability also sent a letter to the U.S. Senate Committee on Homeland Security and Governmental Affairs asking the committee to "investigate the role of Chinese organized crime in the Las Vegas Sands following recently released court documents [from a wrongful termination lawsuit] indicating the company has ties to at least two men well-known to law enforcement authorities" -- Ng and Cheung.
So, in the 2016 election cycle, Republican candidates -- like Rubio -- now have an obvious problem. When they accept money from Sheldon Adelson are they prepared to answer the question: Did that money come from Chinese organized crime?
REAL LIFE. REAL NEWS. REAL VOICES.
Help us tell more of the stories that matter from voices that too often remain unheard.