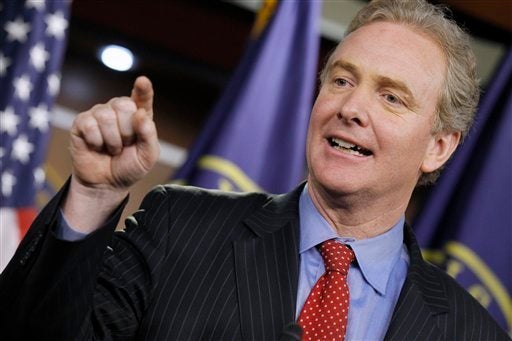 WASHINGTON -- A Democratic congressman on Thursday sued the Federal Election Commission in an effort to close a massive disclosure loophole before individuals and corporations have the chance to secretly funnel hundreds of millions of dollars into the 2012 presidential and congressional elections.
That law clearly called for disclosure of donors to groups making "electioneering communications." Those are defined as the broadcast ads that refer to a federal candidate in the period 60 days before a general election or 30 days before a primary election.
But in 2007, the FEC added a regulation -- see section (c)(9) -- that complicated the original definition. Now disclosure is only required if a donation is explicitly made "for the purpose of electioneering communication."
As a result, a political group can -- and many now do -- refuse to divulge its donors on the grounds that those supporters were simply giving money to further the group's agenda, in a general sense.
"Not only is [the FEC regulation] inconsistent with the plain language of the statute, it is also manifestly contrary to Congressional intent and has created the opportunity for gross abuse," the lawsuit states. "Congress sought to require more, not less, disclosure of those whose donations fund 'electioneering communications.' The FEC's unlawful regulation produces a result that frustrates Congress's objective."
Van Hollen's case alleges that corporations in the 2010 campaign "exploited the enormous loophole created" by the FEC change.
Indeed, the massive increase in undisclosed spending was one of the biggest stories of the 2010 election cycle. Millions of dollars from donors who remain unidentified was spent by political groups -- conservative organizations, in particular. The Chamber of Commerce alone was responsible for nearly $33 million in untraceable spending.
Donors who prefer secrecy have flocked to nonprofit 501(c)(4) advocacy groups like former Bush administration adviser Karl Rove's Crossroads GPS, and to 501(c)(6) business associations like the Chamber.
In the wake of the Supreme Court's Citizen United decision last year, disclosure is basically the only legal remedy left for those who worry about a return to large-scale corruption, graft and deal-making. That ruling removed any limits on how much corporations can spend in federal elections.
But the Court explicitly upheld McCain-Feingold's disclosure requirements.
"The First Amendment protects political speech and disclosure permits citizens and shareholders to react to the speech of corporate entities in a proper way," lead author Justice Anthony Kennedy wrote for the majority in the 5-4 decision. "This transparency enables the electorate to make informed decisions and give proper weight to different speakers and messages."
Longtime campaign finance reform champion Fred Wertheimer's Democracy 21 group is among the backers of Van Hollen's lawsuit.
"We are going to pursue this very aggressively," Wertheimer told The Huffington Post. "Our goal here is to try to get decisions in advance of the 2012 presidential and congressional elections."
"This is the first step in a series of steps that we intend to take to try to ensure that secret money is ended in our federal elections," he said. "The danger here is well known: Secret money sloshing around in American politics is going to result in corruption and scandals, as it has in the past."
Van Hollen also requested in a petition filed Thursday that the FEC revise its regulations on "independent expenditures" in federal elections. Unlike "electioneering communication," these donations don't have to fall within the proscribed time window. (This complaint was not included in Van Hollen's lawsuit because independent expenditure regulations are older, and therefore require a petition as a precursor to legal action.)
FEC action, however, is widely considered the least likely solution to these problems. The six-person commission, which has a long history of dysfunction, is now almost completely deadlocked. Its three Republican commissioners have blocked any moves toward further disclosure.
In fact, the three conservative commissioners announced their support for an even more restrictive disclosure standard, just last fall. Their proposed change in disclosure standards would require it only for donors who earmarked their funds for specific ads.
The terms of five of the commissioners will have expired by the end of April, but the nomination process is also deadlocked. The White House waiting, as is tradition, for Senate Minority Leader Mitch McConnell (R-Ky.) to recommend replacements for his party's seats; McConnell is refusing to do so.
Republicans have not historically been against disclosure. Their recent opposition appears to stem from a calculation about which party benefits more from that subset of corporate campaign contributions that the companies will make only if they can be kept secret.
*************************
Popular in the Community