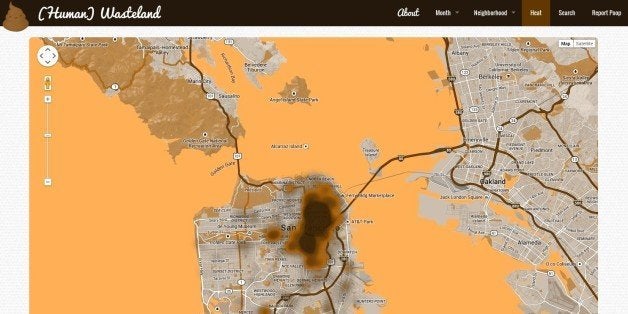 SAN FRANCISCO, Dec 31 (Reuters) - Jennifer Wong has found a way to track the homeless and determine where help is needed: mapping where people defecate on the streets of San Francisco.
Wong, a Web developer, used a city database to create the interactive maps, which she dubbed "(Human) Wasteland." They dramatically illustrate the problem of homelessness in a city of sharp divides between rich and poor.
Wong's maps won a competition at work. She donated some of her winnings to a project that provides mobile toilets and showers to the homeless.
The maps are based on the database of complaints about human feces and urine phoned in to the city's Department of Public Works in 2013. On the maps, the complaints are depicted with tiny images of what look like unwrapped chocolate Hershey's kisses.
From June-November 2014, more than 5,000 complaints were phoned in, most of them in the Tenderloin, the downtown neighborhood of the homeless, shelters and cheap hotels.
But the maps, published on Wong's website (http://mochimachine.org/), also show a concentration of poop in much of northeastern San Francisco and in the onetime hippie enclave of Haight-Ashbury.
The maps prompted some tongue-in-cheek humor about human excrement. But they also started a conversation about the need for affordable housing in the increasingly expensive Bay Area, as well as for toilets, laundry facilities and showers for the homeless.
"There's not much choice other than the street when a homeless person needs a bathroom," said Wong. "It's pretty clear where the need is."
She said her curiosity was initially piqued when she learned that the city tracks feces and urine complaints. She found the complaints in the Department of Public Works online database as she was working on a neighborhood tracking project for a subsidiary of the real estate company Zillow.
"I grew up in the Bay Area," Wong said. "San Francisco has a reputation as a city that offers lots of services for the homeless. But I realized there's so much more we should be doing, like providing toilets."
Advocates for the homeless believe the number of people on the street will increase as housing prices climb. The official homeless count in San Francisco is 7,500, although service providers believe it is closer to 10,000.

As human waste complaints rose, the Department of Public Works launched a pilot program called the Tenderloin Pit Stop in the summer to deliver and collect portable toilets for the homeless every day.
Complaints in the area have dropped, and the city is considering expanding the operation to other areas, according to spokeswoman Rachel Gordon.
Wong, meanwhile, donated some of the winnings from her project to an innovative project called Lava Mae - a slight twist on "wash me" in Spanish - that recently began providing toilets and showers on wheels.
Lava Mae was launched by philanthropist and former marketing executive Doniece Sandoval, who obtained a decommissioned city bus and outfitted it with two private units with a shower, changing area and toilet.
The bus parks outside different homeless facilities three times a week, and is hooked up to fire hydrants, with water feeding into a propane-fueled heater.
Lava Mae hopes to put three more buses on the street in 2015.
"To have a bit of privacy and get clean can make a big difference in people's lives," Lava Mae manager Leah Filler said.
The bus is a hit with the homeless. "People don't realize how not having access to things like showers and toilets can make our lives so much harder," said a happy Jeremy Runcon, 36, at the Youth With a Mission homeless facility in the Tenderloin. "How can anyone get a job when they smell?" (Editing by Jill Serjeant and Jonathan Oatis)

Related