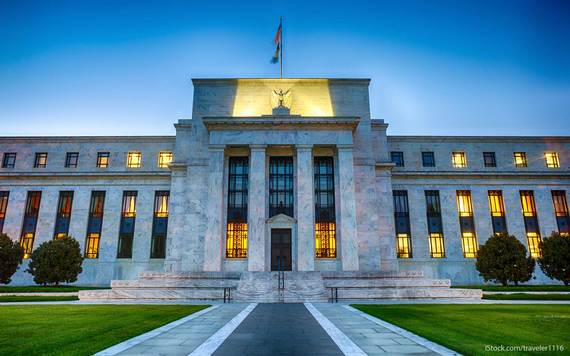 After another month of carefully watching the markets, the Board of Governors of the Federal Reserve System have decided to delay an interest rate hike again. The announcement didn't come as a surprise to many, despite the Federal Open Market Committee December forecast of raising rates four times in 2016. Consequently, the FOMC now expects to grant only two rate increases this year and two more in 2017, according to the most recent Summary of Economic Projections.
"Most committee participants now expect that achieving economic outcomes similar to those anticipated in December will likely require a somewhat lower path for policy interest rates than foreseen at that time," said Janet Yellen at her press conference post-meeting.
At the December FOMC meeting, the committee instituted the first rate hike since June 2006, raising the target range for short-term interest rates to the current level of 0.25 percent to 0.5 percent. The Federal Reserve will maintain these rates for now, but expects them to reach 0.875 percent by the end of the year.
Key Issues Behind the FOMC Decision
Some of the main topics discussed in the Federal Reserve meeting were household spending, the housing sector, inflation, the unemployment rate and their impact on overall economic conditions. Improvements in both household spending and the housing sector were highlighted and the FOMC noted that strong job gains are one of the key indicators of an improving labor market. While inflation has risen over the past few months, it still falls below the committee's 2 percent long-term objective.
"Inflation is expected to remain low in the near term, in part because of earlier declines in energy prices, but to rise to 2 percent over the medium term as the transitory effects of declines in energy and import prices dissipate and the labor market strengthens further," stated the FOMC press release. "The Committee continues to monitor inflation developments closely."
Before granting another interest rate hike, the Committee noted it will continue to closely monitor a variety of economic indicators, such as labor market conditions, indicators of inflation pressures and inflation expectations and data on financial and international developments.
"The Committee expects that economic conditions will evolve in a manner that will warrant only gradual increases in the federal funds rate; the federal funds rate is likely to remain, for some time, below levels that are expected to prevail in the longer run," said the press release. "However, the actual path of the federal funds rate will depend on the economic outlook as informed by incoming data."
How Will the Federal Reserve's Decision Impact You?
The Federal Reserve doesn't set the interest rate for mortgages, auto loans and savings accounts, but its actions have a trickle-down effect. The FOMC's decision not to increase the federal funds rate might have a positive impact on your budget if you're thinking about taking out a loan, but if you're nearing retirement age, you probably won't view it as favorably.
Regardless of your financial priorities, an incremental Federal Reserve rate hike won't have much of a short-term impact on your budget. If rates continue to steadily rise -- seven or eight small increases -- over the next few years, this is when you'll start to notice a difference.
Generally speaking, an interest rate hike can have a positive impact on the stock market, because investors view it as a sign the economy is prospering and it can also cause rates on your savings accounts to rise, allowing you to earn higher interest payments. On the flip side, bond prices tend to fall when rates rise, so the lack of Fed movement this month could be very good for your portfolio.
While you wouldn't notice a much of an impact for traditional 30-year mortgages or auto loans, an interest rate hike could increase your monthly payment a bit. The rise would be much more rapid for adjustable-rate mortgages (ARMs) -- as much as double -- so if you're thinking about making a major purchase, you might want to do so sooner rather than later. Most credit cards also have variable interest rates, so it's advisable to pay your debt off as quickly as possible now while rates are low, because this will eventually impact your monthly payment.
Stock Markets React to FOMC Decision
The stock market didn't wildly react to the Federal Reserve announcement. Wall Street insiders predicted the FOMC wouldn't raise rates, but sought insights as to when the next hike would occur. Before the announcement, the market remained steady, briefly rising after the decision, before settling back down, until another upswing during Janet Yellen's press conference. At approximately 1 p.m. EST the S&P 500 was up 13 points -- 0.7 percent -- the Dow Jones Industrial Average increased 95 points -- 0.6 percent -- and the Nasdaq gained 39 points -- 0.8 percent.
The next Fed meeting will be held on April 26 and April 27 at 2 p.m. EST.
More from GOBankingRates:
Popular in the Community