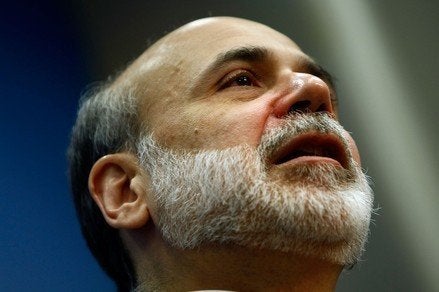 Two days before Ben Bernanke's confirmation hearing, most Democrats on the Senate Banking Committee are withholding judgment, waiting to hear directly from the chairman of the Federal Reserve.
Given the depth of the ongoing economic crisis, the hearing promises to be a lively one, as senators plan to take out their constituents' anger on the monetary policy chief. Bernanke will likely have a difficult time explaining why the Fed wants to keep bank lending to a minimum while the lack of bank lending is exacerbating the unemployment crisis. At a meeting of the Federal Open Market Committee earlier in November, Fed officials expressed concern that banks might start lending again.
The Fed is required by law to keep inflation low and to maximize employment. But, according to Sen. Sheldon Whitehouse (D-R.I.), the Fed only seems interested in performing one of those tasks. High unemployment keeps wages down. Wage growth is seen by the Fed as a sign of inflation and something that should be kept down.
Before voting to confirm Bernanke, Whitehouse told HuffPost he wants to hear "[t]hat they're willing to take their eyes off an exclusive gaze on the welfare of Wall Street and start giving a red hot damn about the American public."
Sen. Tim Johnson (D-S.D.) -- a a favorite of Wall Street -- told HuffPost that he has decided to vote to confirm Bernanke, but Sens. Charles Schumer (D-N.Y.), Tom Carper (D-Del.) and Mark Warner (D-Va.) all said they'd wait until hearing from Bernanke. Committee Chairman Chris Dodd (D-Conn.) said earlier that he's inclined to support Bernanke but that his confirmation is not a "foregone conclusion."
Sen. Bernie Sanders (I-Vt.), who caucuses with Democrats, said that he will oppose Bernanke's nomination. Sanders and other critics have been unimpressed by Bernanke, who failed to foresee the housing bubble's collapse and who has withheld information about its lending practices from Congress.
Rep. Ron Paul (R-Texas) and Rep. Alan Grayson (D-Fla.), who led a successful effort recently to move House legislation to audit the Fed, have asked Dodd to postpone the vote until Bernanke turns over information relevant to assessing his performance.
The Fed has lost much of its luster in the Senate; the recent financial reform proposal from Dodd strips it of much of its regulatory power, which it largely elected not to use over the past decade.
Bernanke, however, won't need much Democratic support. Nominated by President Bush before being re-nominated by Obama, Bernanke has won the backing of Sen. Mike Johanns (R-Neb.) and Judd Gregg (R-N.H.). Many Republicans look to Gregg for leadership on economic issues. (He was briefly tapped to be Obama's Commerce Secretary, before withdrawing his name.)
Sen. Bob Corker (R-Tenn.), however, said today he was unsure whether Bernanke would have the votes on the floor or to get out of committee.
The committee's top-ranking Republican, Richard Shelby (R-Ala.), wasn't excited about voting for Bernanke. "I used to be a big defender of the Fed, but I think the Fed has utterly failed as a regulator," he said. Asked if he'd support him, he said, "We'll see."
The GOP praise of Bernanke, insofar as it goes, skips the cause of the crisis and focuses on his reaction to it. "He was a dynamic force at a difficult time for the country," Johanns said.
Fed critics are concerned, however, about Bernanke's response to the crisis. Despite turning on the monetary spigot full blast to prevent the collapse of the financial industry, banks have tightened lending practices, contributing to rising unemployment.
"Bank credit declined in September and in the first half of October," the minutes of the recent Fed meeting report. "[B]ank lending standards and terms tightened further and demand continued to decline, on net, for most types of loans in the third quarter... The pace of decline in total loans at large banks continued to exceed that at smaller banks... Bank loans continued to contract sharply in all categories."
At a speech two weeks ago, Bernanke said that "some important headwinds -- in particular, constrained bank lending and a weak job market -- will likely prevent the expansion from being as robust as we would hope."
But "constrained bank lending" is just what some Fed leaders want, according to meeting minutes.
The Fed is mandated by law to maximize employment, but focuses on inflation -- and "expected inflation" -- at the expense of job creation. At its most recent meeting, board members bluntly stated that they feared banks might increase lending, which they worried could lead to inflation.
Suffering high unemployment in order to keep inflation low cuts against the Fed's legal mandate. Or, to put it more bluntly, it is illegal.
"The Board of Governors of the Federal Reserve System and the Federal Open Market Committee shall maintain long run growth of the monetary and credit aggregates commensurate with the economy's long run potential to increase production, so as to promote effectively the goals of maximum employment, stable prices, and moderate long-term interest rates," reads the relevant statute.
The tight lending policies, meanwhile, are hurting small businesses far more than large firms, which are benefiting from the lower wages and expanded pool of job seekers.
From the minutes: "Participants noted that the dichotomy between significant easing of conditions in capital markets and continuing tight conditions in the banking sector implied that financing conditions differed for large and small firms. Large firms with access to debt and equity markets for financing had relatively little difficulty in obtaining credit and in many cases also had high levels of retained earnings with which to fund their operations and investment. In contrast, smaller firms, which tend to be more dependent on commercial banks for financing, reportedly faced substantial constraints in their access to credit. Limited credit availability, along with weak aggregate demand, was viewed as likely to restrain hiring at small businesses, which are normally a source of employment growth in recoveries."
Jeff Muskus contributed to this report
Popular in the Community