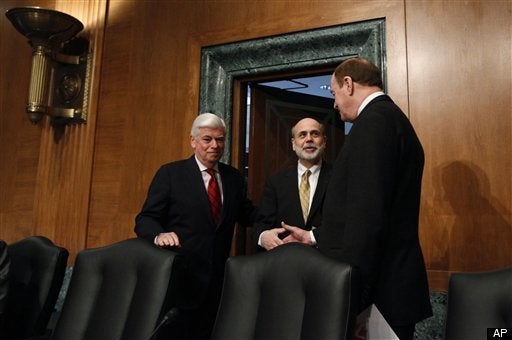 The Federal Reserve has won its battle to maintain singular regulatory oversight of America's major financial institutions, the Financial Times reported Sunday night.
Senate Banking Committee Chairman Chris Dodd (D-Conn.) gave up the fight for a new super-regulator over the weekend, and will propose financial reforms this week that leave the Fed in control of big banks and the rest of the major Wall Street players, sources told the FT.
The parties allegedly responsible for the Fed's victory are easy to guess. The FT's sources point the finger at Treasury Secretary Tim Geithner and Fed Chairman Ben Bernanke, who is unsurprisingly speaking up more loudly now that he's won reconfirmation:
"Until, frankly, chairman [Ben] Bernanke was confirmed I think the Fed's hands were kind of tied," said a banking industry figure who has held discussions with one of those [regional] Fed presidents. "Now he is chairman for the next four years ... the Fed has been able to be more aggressive in fighting for its authority."
Related
Popular in the Community