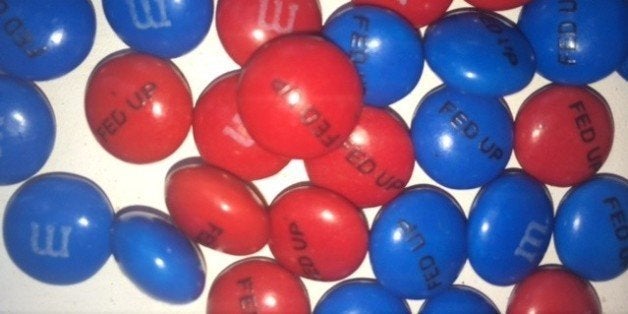 The producers of hit food documentary "Fed Up" delivered "Fed Up"-themed M&M's to 29 members of the House of Representatives today, to encourage them to vote against an agriculture appropriations bill that the producers said could make school lunches across the country less healthy than they already are.
Each 1.5 oz tin of M&Ms -- which were stamped with the words "Fed Up" and colored red and blue, to match the candies on the movie's poster -- contained 24.75 grams of sugar, less than half the 55 grams that the producers found are in a typical school lunch today.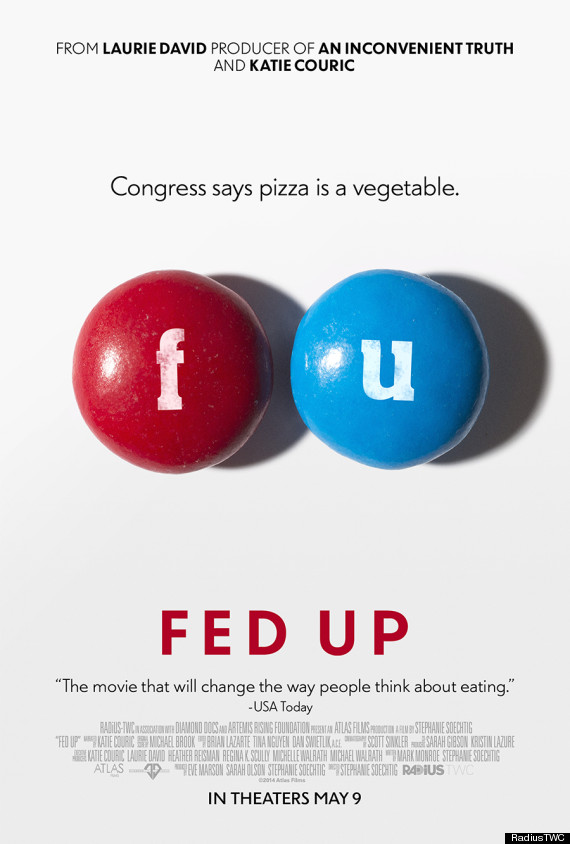 The "Fed Up" poster featured M&Ms similar to those the movie's producers gave out today.
"We wanted to remind these politicians what's really at stake with their vote on school lunches," Fed Up filmmakers Stephanie Soechtig and Laurie David wrote in a joint statement. "It is stunning how disconnected they are from the consequences of their political games.
"They might be out on the town today enjoying a leafy salad, followed by a leisurely trip to the Congressional gym, but once they get back to their office they'll have a reminder on their desk that the policies they support would give kids garbage to eat five days a weeks, 200 days a year," they continued.
Soechtig and David, whose movie has grossed $1.2 million since its release on May 9, initially wanted to send the Congressmen actual school lunches, but they settled on the candy after discovering that prepared lunches would be difficult to get past the Hill's security.
The delivery arrived hours before the House began debate on the bill, which includes a rider that would allow public schools to opt out of a set of nutrition standards that Michelle Obama pushed forward in 2010 if they demonstrate that implementing the standards presents them with undue financial hardship. The 29 representatives who received the candy were those who voted in favor of the rider in committee last week.
Though 90 percent of the nation's schools have implemented the nutritional standards, some school administrators have complained about the high cost of compliance. The sponsors of the rider, including Appropriations committee chairman Robert Aderholt (R-Ala.), have argued that it would give these administrators "flexibility" to implement the standards on a timetable appropriate for their financial position. The producers of "Fed Up" and their allies in Congress, however, say that the rider would deal an unacceptably brutal blow to the fragile progress made on school lunch health so far.
Representatives Sam Farr (D-Calif.), George Miller (D-Calif.) and Rosa DeLauro (D-Conn.) issued a statement to that effect before the vote today.
"Our kids deserve more healthy fruits, vegetables and whole grains not more sugar and salt," Rep. Farr said. "Four years ago, Congress made a promise to school parents that their tax dollars would no longer be wasted on junk food in the lunchroom. We are here to uphold that promise and save healthy school lunches. The new standards are working. 90 percent of schools are successfully meeting them and we are reversing the obesity epidemic."
CORRECTION: A previous version of this story identified Robert Aderholt as a representative from Georgia.
Popular in the Community