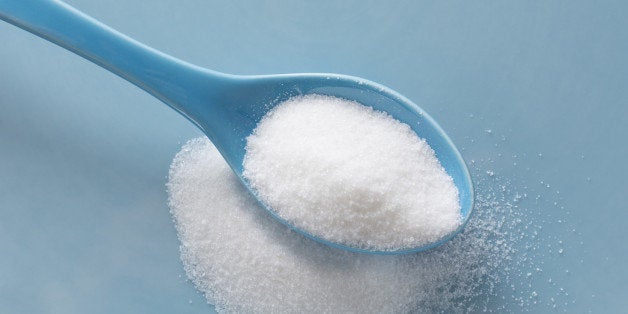 All my life I have struggled with sugar addiction. My parents kept a pretty low sugar home, but I would greedily grab candy from my grandparents' candy bowl and would covertly down powdered sugar by the spoonful from our pantry at home. As a young adult, when I got stressed out at work, which was often, I would go downstairs to the drugstore and buy a bag of something sweet and chewy, then work through the sugar rush and headache that would ensue.
As I got older, I became aware of the addictive power of added sugar. It became clear to me that the more sugar I ate, the more I craved, and I worked on taming my addiction. When it crept back up, I went cold turkey for a few days to conquer the cravings, but it's an ongoing struggle.
As a parent, I have been disheartened by how ubiquitous added sugars are in our kids' lives. There is added sugar in our kids' cereals, yogurt, pasta sauce, ketchup, even their whole grain breads! Even parents who think they are raising healthy eaters can easily find their kids consuming more added sugar each day than is recommended by health professionals. And as I discovered from an early age, that sweetness is addictive.
When I became involved in the movie Fed Up! last year, which was produced by Katie Couric and Laurie David and directed by Stephanie Soechtig, I became frightfully aware of the devastating health consequences all that added sugar is having on our kids, from obesity at an early age, to its consequences of diabetes and heart disease, and later on, increased risk of cancer.
But there's a powerful way to get kids and adults to become aware of all that sugar in their diets and make healthier choices, as well as put needed pressure on food manufacturers and sellers to reduce the sugar in our food. As a member of the Media Advisory board of Fed Up!, I have watched the film with many people, young and old. Every single person I spoke to after they saw the film was motivated to make immediate and significant changes in their diet. My friend Sherri gave up her daily soda habit. Some kids I know gave up sugary cereal and eating candy or desserts during the week, and stopped drinking fruit juice.
Because the movie is so powerful and action oriented, my hope is that every child in the U.S. has a chance to see it. The most natural place for that to happen is in their schools. However, until now, the price of showing the film in schools has been prohibitive for most, including at my children's school.
That's why I'm supporting the Kickstarter campaign led by the producers of Fed Up! to raise enough money so that every teacher and child in our country has a chance to see the film and learn what steps they can easily take to avoid this major public health epidemic and live a healthier life. Please visit the Fed Up! kickstarter page, watch the video, and donate what you can so that every teacher in America who wants one can get a Fed Up! Food Education kit to use in their classroom.
P.S. I'm hopeful that my upcoming cookbook, which will be published by the American Diabetes Association in February 2016, will also help people who have diabetes or pre-diabetes eat healthier, lose weight, and avoid the harmful health consequences of the disease that will affect 1 in 3 Americans by 2050.
Aviva Goldfarb struggled like many busy moms to put a nutritious dinner on the table for her family amidst the chaos of daily life. That led to her creating The Six O'Clock Scramble, an online dinner planning solution for busy parents. She is a Today Show and Washington Post contributor, author of the acclaimed Six O'Clock Scramble cookbooks, and frequently appears in major national media such as the The Katie Couric Show and Prevention magazine.
Popular in the Community