House music sensation Fedde le Grand, best known for his 2006 track "Put Your Hands Up 4 Detroit," sat down with The Huffington Post at Ultra Music Festival to discuss his theatrical debut, a stunning electronic dance music performance at the Royal Theatre Carré in Amsterdam. We chatted about what it's like to realize you have to pee when you're onstage in front of 50,000 people, before getting down to the exciting news of Fedde's "GRAND" show.
Fedde shared the exclusive premiere of his video "The Aftermovie" with HuffPost.
"GRAND" features live vocalists, moving stages, indoor fireworks, Dutch Show ballerinas, live trapeze acts and a legion of break-dancers. How do you prepare for a festival of this size, this nature? Can you share any of your creative process or are there any pre-show rituals you do? I don't have too many pre-show rituals. I make sure that I go to the bathroom because there's nothing more annoying then when you're like ... "Oh, thanks." We know that feeling all too well from a crowd perspective! I can't imagine. No, it actually works the exact same way -- though for a stage set [like Ultra] it's usually only an hour or so, which is doable, but still annoying.
You've just released "Robotics" with Jewelz & Sparks. Can you talk about that collaboration? Do you ever feel there's a conflict between putting new material forward and playing what the crowd knows? Yeah, but I think the most important thing is what you put hours into. If you play something that you actually don't like even though you know it works for [the crowd], the temptation is usually just to play that record because it works so well. So if you don't do that, and stick to your guns [...] I think that's the most important thing: keeping your own style. And within that field, you can do whatever and see what works.
We've heard a lot about your show with RTL Live Entertainment, "GRAND." Can you talk about what it's like as a DJ to now be working on a new theatrical production, with all the aspects of a live show? Basically I've wanted to my own show for a long time. The main reason to do it now is that before, you would always have time-code, which is how to sync up the lights, visuals, and everything … and it meant that once you press play [that program] is played out until it sucked. Which is horrible as a DJ, because it basically means that you're not playing it right and I'm not going to be just play-backing and flailing my arms.
But now there's a system that [allows the DJ] to play how you would normally play [a live set], and it'll still be synced. After doing so many shows in Vegas, Sensation, Ultra, TomorrowLand, I wanted to make a maximum entertainment show. We really go from Cirque du Soleil kind of stuff to proper hip-hop dancing, to theatrical. It was an overwhelming success: we started with two nights, but sold out right away and ended up doing six, which is great. And we're doing the Ziggo Dome next year -- the biggest show we've ever had in mind. So you're doing a live set, but with all these theatrical arts tied into it. What is it like to be the DJ and also the director? It's actually great. I had to get used to it because you're onstage alone and then all of a sudden there's like 20 guys, stuff happening, things moving. But the weird thing is that I had to see the final show on video. I'm in the show itself, so it was kind of scary to see if everything how you planned it out in your head actually worked, but most things actually worked perfect and some thing actually even better, which is great.
Did you do any dress rehearsals or was it pretty much a dry run on opening night? No, aside from special edits for the music, [because different beats] work better for the dancers. The process started with the music, then another crew made visuals so everything would sync, and then it went to the choreographer ... which was challenging to make sure everything was on time and still interesting. Everything had to be something cool that you wouldn't expect. So you think you'll be doing more of this stuff in the future? Yeah. I'll be doing a big one next year again that will be at the Ziggo Dome [in Amsterdam]... But the next step is a smaller-scale, transportable inspiration of that. We can't wait!
Watch Fedde's full Ultra set:
The above transcription was edited for brevity and clarity.
Before You Go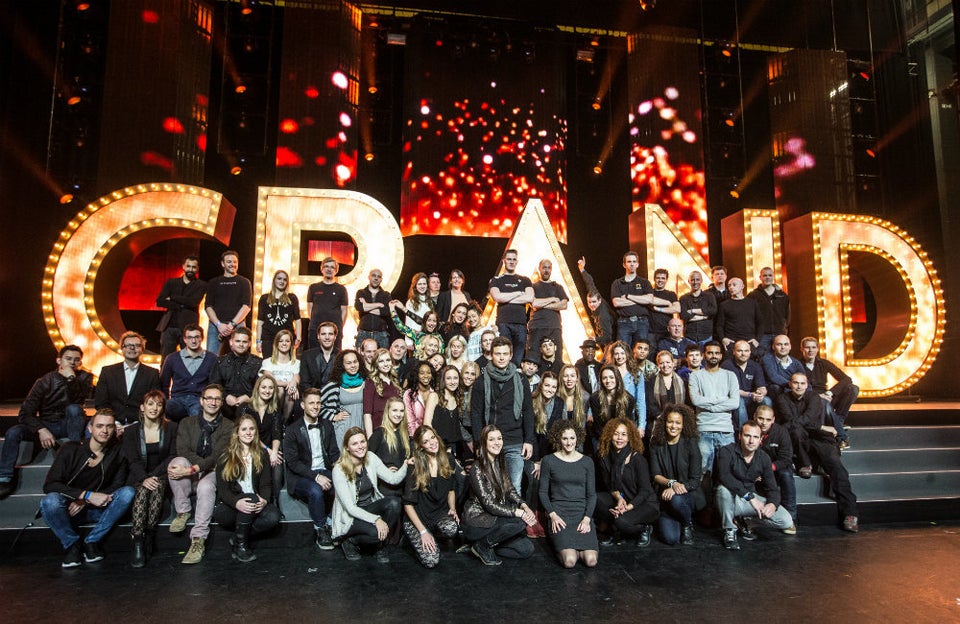 The GRAND Show
Popular in the Community