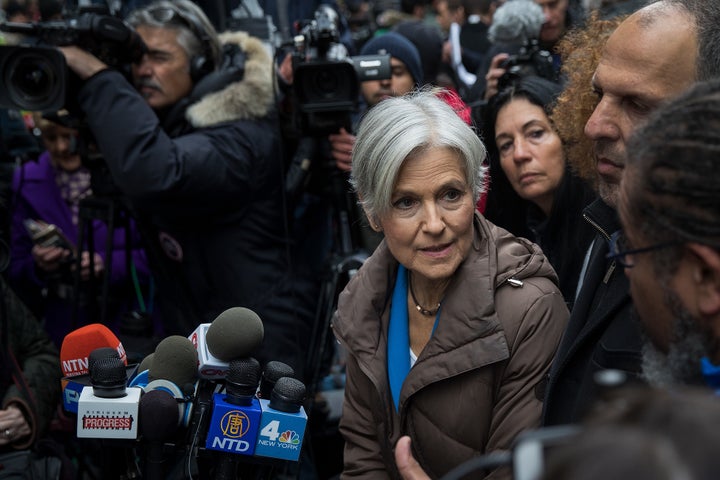 Michigan's Court of Appeals ordered the state government on Tuesday evening to undo its previous approval of an election recount requested by Green Party presidential nominee Jill Stein.
The decision will not interfere with the ongoing recount in the state, however, due to a 2-1 ruling by the U.S. Court of Appeals for the 6th Circuit that came out around the same time, according to the Detroit Free Press.
The Court of Appeals for the 6th Circuit upheld a ruling that U.S. District Judge Mark Goldsmith issued early Monday morning ordering the recount to proceed at noon that day, and precluding it from stopping until "further order of this court."
Michigan's Republican Attorney General Bill Schuette and President-elect Donald Trump filed separate lawsuits with the state appeals court on Friday seeking to block Stein's crowdfunded recount effort in the Great Lakes State.
The panel of judges on Michigan's Court of Appeals accepted Schuette's and Trump's arguments that Stein, who came in a distant fourth place in Michigan, was not an "aggrieved" party with standing to challenge the election results.
At the same time, the judges appeared to acknowledge that their order would not take effect in light of Goldsmith's original ruling, the Detroit Free Press reported.
The challenge to the recount will now head back to Goldsmith.
Although Stein insists her crowdfunded recount efforts aim merely to authenticate the vote, given the prospect of foreign hacking and other tampering, she has chosen to seek recounts in three closely fought states ― Michigan, Pennsylvania and Wisconsin ― that together cost Hillary Clinton the election. That choice has stoked speculation that Stein is seeking to ingratiate herself with Democrats.
If Stein's efforts fail decisively in any one of the three states, the chances for overturning Trump's victory disappear.
A recount in Wisconsin that began Thursday continued on Tuesday after a federal judge declined a request by a Trump voter and two super PACs to halt the recount.
In order to prompt a recount in Pennsylvania, Stein is suing the state in federal court. Unlike the other two states, Pennsylvania requires voters seeking a statewide recount to contest an election as "illegal." Stein and a Pennsylvania voter are challenging those standards after encountering difficulties with a state-level lawsuit contesting the election.
Popular in the Community