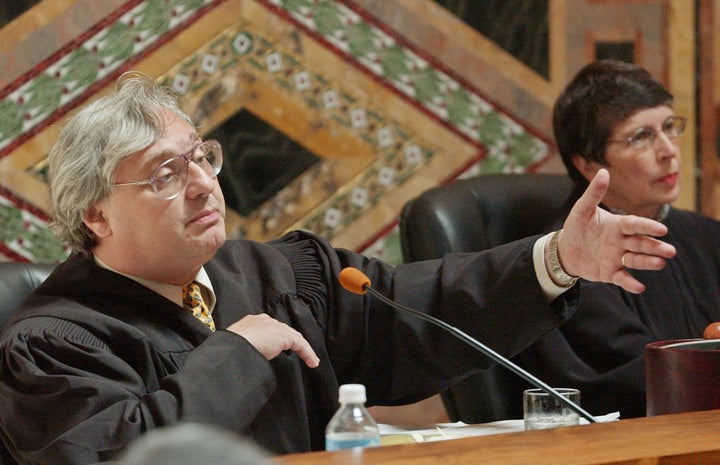 WASHINGTON ― The judicial branch of government is ready to deal with its sexual harassment problems. It's just not waiting to hear from any court employees who may have been harassed.
James Duff, director of the Administrative Office of the U.S. Courts, the administrative agency of the federal courts, told the Senate Judiciary Committee on Wednesday that his working group tackling sexual misconduct in the courts has come up with lots of recommendations. They include establishing a hotline for staff to seek counseling, clarifying the process for filing complaints and identifying sexual harassment complaints as a separate category in annual statistics.
Duff created the group in January at the request of Supreme Court Justice John Roberts, after a prominent federal judge, Alex Kozinski, announced his retirement in the wake of 15 women alleging he'd made lewd comments and touched them inappropriately.
But his working group didn't survey law clerks or any other court employees about whether they had experienced or witnessed sexual harassment. It only sought recommendations for reforms through a online mailbox. The group also didn't include any law clerks as members.
Jaime Santos, an associate at Goodwin Procter and former law clerk to two federal judges, said the judiciary "missed the opportunity" to understand the frequency and severity of its problem with harassment and abuse.
"The working group's report is entirely forward-looking," she said. "You can't solve a problem if you haven't studied its scope. Employees are not going to feel comfortable coming forward to report harassment when the judiciary has expressed no willingness to study even the egregious allegations that led to the working group's formation."
Employees are not going to feel comfortable coming forward to report harassment when the judiciary has expressed no willingness to study even the egregious allegations that led to the working group's formation.

Jaime Santos, a former law clerk to two federal judges
After the Kozinski bombshell, Santos organized a December letter with more than 650 signatures from current and former law clerks calling for significant changes to stem harassment of federal judicial employees. They are pushing for a confidential national reporting system that court staff can access.
Santos said she's spoken to dozens of law clerks and other court staff about workplace harassment and, at least anecdotally, it's happening often.
"Some shared stories about being asked sexual questions during job interviews, hearing their judge or co-clerks speak about female attorneys in derogatory and objectifying terms, and being groped or kissed in public and in private," she said. "Many knew of other law clerks or employees who had been subjected to harassing or abusive behavior in chambers as well."
Duff conceded his group's report is forward-looking, but said regardless of how pervasive sexual harassment may be in federal courts, the group is working on trying to eliminate it. Pressed to gauge how severe of a problem it is, Duff said he thinks the judicial branch "doesn't rank very high."
"I don't think the judiciary has any idea," Santos countered. "We're recommending a survey to find out what harassment or abusive behavior they've witnessed. The statement that this isn't pervasive is just a guess."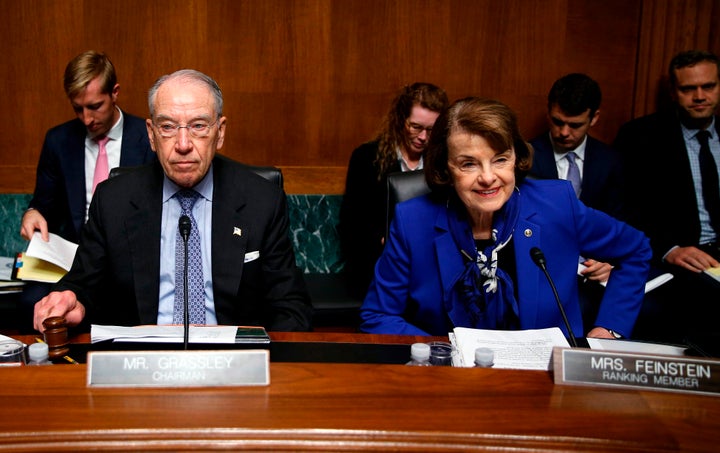 Weirdly, some senators could not believe sexual harassment exists within the federal courts ― a branch of government overwhelmingly run by men in positions of power.
"Of all places, you wouldn't think it would happen in the judicial branch of government," lamented Sen. Chuck Grassley (R-Iowa), the committee chairman.
"What is really surprising to me is that the problem exists in the federal judiciary," said Sen. Dianne Feinstein (D-Calif.), the ranking member.
Others were perplexed why people care more now about stopping sexual harassment than they have in the past.
"I think we've decided as a society and a culture that we do not want to be a country of creepy old men," concluded Sen. John Kennedy (R-La.). Maybe! But other reasons might be that more women are in positions of power than before, and they are using their positions to raise issues more relevant to them.
Kennedy also wondered aloud if there are different degrees of sexual harassment. (There are.) 
"Can you be a major league pig? A minor league pig? A sometimes pig?" he asked. "You're still a pig."
Calling all HuffPost superfans!
Sign up for membership to become a founding member and help shape HuffPost's next chapter
BEFORE YOU GO