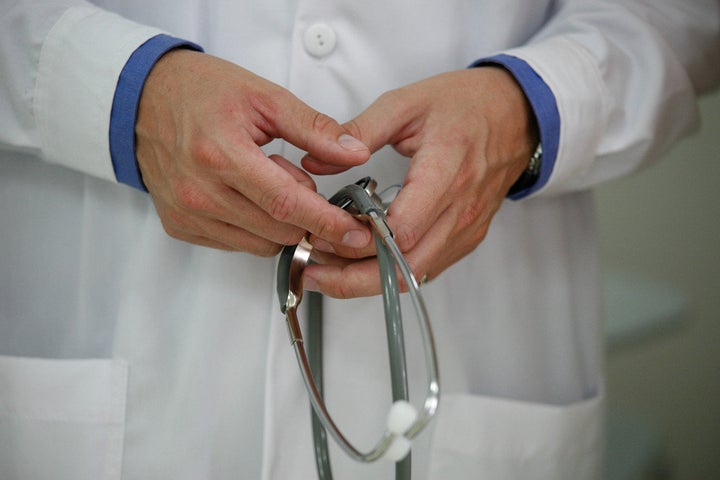 Dr. Michelle Carnes is a public health analyst with the Substance Abuse and Mental Health Services Administration (SAMHSA), a federal agency based in Maryland. She is also part of the agency's Sexual and Gender Minority Interest Group, which was involved in organizing a very special event April 3 for their colleagues to attend. In conjunction with LGBT Health Awareness Week, SAMHSA put together a panel on LGBT behavioral health -- and they didn't skimp on addressing the needs of those of us at the end of that acronym.
Bi and trans health issues were given as much attention as gay and lesbian ones, which is, sadly, a rarity at events like this. Considering that bi and trans communities 1) have unique health concerns, 2) often have poorer health than other groups under the LGBT umbrella, and 3) all too often lack the attention they deserve, I'm personally hoping that this federal example will inspire a trend.
I recently had the opportunity to connect with Dr. Carnes to learn more about the day's program. (Full disclosure: I was one of the speakers at this event.)
Is this something you do every year, or is it new? If this is new, do you plan for it to become an annual event?
As you would expect from any agency that offers services and support for LGBT-focused programs, we do offer staff development opportunities like this one periodically to increase our staff's capacity to respond effectively to the needs of the people our programs serve. We typically offer events around times of the year such as Pride Month, LGBT Health Awareness Week, National Coming Out Day, National LGBT History Month. We plan to keep offering these opportunities for our staff, to keep building their knowledge of and experience with LGBT behavioral health needs.
SAMHSA as an agency is involved in many activities serving LGBT behavioral health needs. For instance, our Garrett Lee Smith Suicide Prevention grants allow grantees to focus on LGBT youth suicide prevention as a high-risk population. Ten of our new grantees are adapting best practices to serve LGBT youth in their communities. We're also updating our free publication, "A Provider's Introduction to Substance Abuse Treatment for Lesbian, Gay, Bisexual and Transgender Individuals," to help support behavioral health providers in treating LGBT populations. We also created Larkin Street Stories, a series of five- to seven-minute videos designed to support outreach and culturally competent care to LGBT homeless youth -- also free through the samhsa.gov website. In conjunction with our efforts to serve LGBT behavioral health needs through our work, we're committed to training our staff to administer our programs effectively.
What were you hoping attendees would get out of the LGBT Health Awareness Week event?
SAMHSA administers programs in prevention, treatment, and mental health -- fields which are related and, in order to be most effective, must work together to address LGBT behavioral health disparities. Our goal is to help educate our colleagues about the issues that cut across prevention, treatment, and mental health, strengthening the work each of us does. We ask that these fields work together in our programs, and we work to model that approach at our agency, as well. In addition, we want to provide an opportunity for our colleagues to make connections between these larger health considerations and the programs they administer, as well as consider the ways they can partner up to decrease LGBT behavioral health disparities.
Tell me more about the Sexual and Gender Minority Interest Group.
Certainly! The SAMHSA Sexual and Gender Minority Interest Group (SGMIG) is a working group at SAMHSA with membership that fulfills a variety of functions, in service to LGBT behavioral health needs. We monitor and provide input on Request for Application language (grants) to better understand and inform how our programs are engaging LGBT populations. We track LGBT behavioral health disparities and track how our programs address them.
We partner with our sister agency, HRSA [the Health Resources and Services Administration], to review the resources and the public materials we develop to support the field serving LGBT behavioral health needs. For example, we just launched our Top Health Issues for LGBT Populations, a free publication that equips prevention professionals, health-care providers, and educators with information on current health issues among LGBT populations. It also includes an overview of terms related to gender identity and sexual expression and contains seven fact sheets, plus PowerPoint slides that can be used individually or together.
Thanks to Dr. Carnes for her time, and to SAMHSA for creating this important program.
Popular in the Community