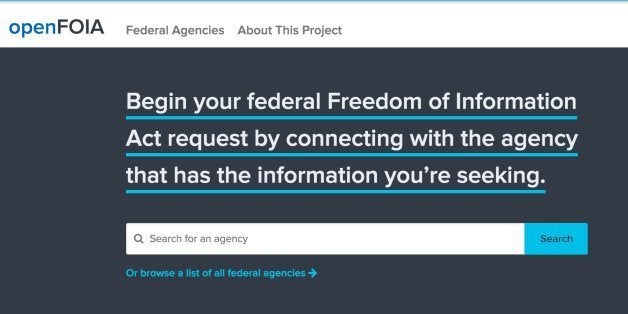 On this "#FOIAFriday," there's a glimmer of hope for reporters swapping tales of woeful responses to their Freedom of Information Act requests on Twitter: The first version of 18F's openFOIA website quietly went live a few weeks ago.
18F, the new software development shop for the federal government, has been building a new FOIA hub for the Department of Justice for months. The group is working towards fulfilling a commitment the United States made in late 2013 to modernize the Freedom of Information Act, which gives the public the right to access information from the federal government.
For now, the site is relatively spartan: It's a searchable directory of agency policies, links and contact points. It's useful, but not transformative. There's also one key element missing -- you can't actually submit a FOIA request through the site.
However, that feature is coming soon, according to Beverley Lumpkin, a spokeswoman for the U.S. Department of Justice.
"We're definitely committed to launching a consolidated request portal that will allow the public to submit a request to a single agency from single website," Lumpkin said. "We will have additional tools to enhance the user experience and be more user-friendly."
John Wonderlich, policy director at the Sunlight Foundation, a nonpartisan nonprofit that advocates for government transparency, was positive about the site, even if it's not fully finished yet.
"This looks like a great start to a tough problem, centralizing FOIA information and services across government agencies and departments," he said.
But, he noted, there's still more work to do.
"This doesn't yet fill the most ambitious FOIA-related commitment in the U.S. Open Government Partnership National Action Plan -- a 'consolidated online FOIA service' -- which will be a huge boon to public requesters when it allows for online submission and tracking of FOIA requests," said Wonderlich. "Hopefully, this release will serve as the groundwork for such a system."
For now, the most notable feature of the site is that it lists the processing times for simple and complex requests for each agency. You can find out that the Department of State takes 66 working days for simple requests and 333 days working days for complex ones. The Bureau of Land Management takes five working days and 27 working days. And so on.
Harvard Shorenstein fellow Nicholas Sinai, who recently served as deputy U.S. chief technology officer in the White House, said in a blog post that he is excited about the potential of this "new front door for the FOIA request process." He called openFOIA a "down payment" on the administration's "vision" for a universal FOIA request service, like the one outlined in a mockup last year. That mockup of an imagined website included a link to allow people to submit requests.
The site does not have an analytics page, which could show the public in a single glance how long agencies take to respond to requests compared to one another or over time. I put in a feature request for one, as the site is currently in alpha mode and asking for public feedback.
The site's makers said on GitHub that openFOIA would not allow FOIA processing offices or government employees to log into the system. Various software vendors do make such backend systems for government employees to process and track requests. Federal agencies could use some help in this department: According to a report by NextGov on FOIA technology, the U.S. Department of Transportation relies on 11 different FOIA operations for its requests.
The most likely explanation for 18F not developing this feature is lobbying by private-sector firms that make commercial FOIA software.
"In December of 2013, a maker of FOIA software for the government approached me with concerns regarding the federal FOIA portal project, particularly with concerns over a consolidated filing tool as well as processing tools," said Mike Morisy, the co-founder of MuckRock.com, which allows people to file and share FOIA requests. "They asked me if I'd be interested in coming down to D.C. to weigh in against consolidating the portal. They, and other vendors, have expressed concerns about whether consolidating all federal FOIA processes into a single suite of tools will produce the best outcomes for either agencies or requesters."
It's unfortunate that backend development is unlikely. The next FOIA ombudsman at the Office of Government Information Services could use better tools to track requests and arbitrations, and to audit how agencies are performing.
In the future, the Justice Department could stimulate more competition by building a standardized read/write application programming interface (API) for FOIA requests. That way, vendors could compete to build the best systems for requesting, tracking and receiving FOIAs on top of the government's platform, catalyzing a more innovative marketplace for requesters.
Creating and scaling that kind of API isn't up to 18F, although it's a challenge worthy of the talent they've brought on board. It's a software development shop, and the U.S. Department of Justice is its client. Ultimately, the features that 18F builds or does not build are going to be up to the Department of Justice.
Until then, this site is a commitment in the right direction.
Related
Popular in the Community